Tips for Professional-Quality Results
Benefits of Container Herb Production
Container herbs provide some distinct advantages to growers of all abilities — commercial growers and their retail customers, as well as home gardeners. Along with the versatility and portability that container herbs provide, herbs in containers offer added longevity and marketability. Here are some recommendations from Johnny's Research Team to help bring you optimal success with container herb production.
Benefits to Growers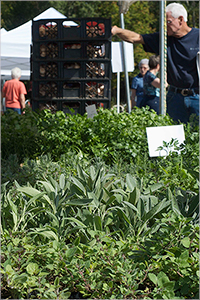 Time to market. Potted herbs have a quick turnaround time of 4–8 weeks, depending on the variety. See Container Herb Production Time-Table, below.
Return on investment. Fresh herbs are a high-value crop, with a favorable return on investment.
Shelf life. Depending on the variety, potted herbs can last for several weeks with proper care. If you are marketing directly through a farmer's market or farmstand, unsold pots can easily be maintained until your next market day. Fresh-cut herbs have a much shorter shelf life and don't hold up well to handling.
Ornamental display. Potted herbs display nicely at market alongside vegetables and flowers by adding elements of visual and aromatic interest.
Benefits to Consumers
Quality. Because potted herbs are living plants, they provide optimum freshness and a much longer shelf life than fresh-cut herbs. This gives your customers a high-quality product that they appreciate, as well as the added convenience of a longer storage period.
Tips for Successful Container Herb Production
Follow these recommendations to help ensure your success with container herbs.
1 • Start out with popular and easy-to-grow crops.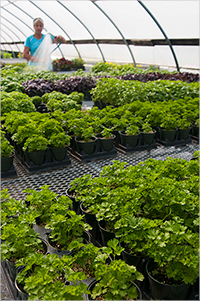 2 • Select varieties with demonstrated container performance.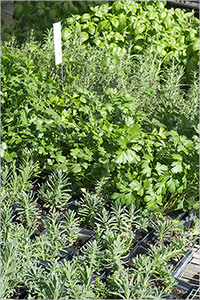 For long-lasting, attractive, and filled-out containers, select varieties that are compact, densely branched, and slow to bolt, such as the compact Genovese basils and 'Fernleaf' dill.
For a quicker turnaround time, choose faster-growing varieties such as the standard Genovese basils and 'Bouquet' dill. Be aware that varieties with a faster crop time can also have the potential to become tall and unruly, and may bolt faster in a container than more compact varieties.
Some potted herbs will maintain a good appearance longer than others. For example, many varieties of dill and cilantro tend to bolt quickly in hot conditions and will not be marketable once this has occurred. Others, such as most varieties of thyme and rosemary, and even some basils, can be kept trimmed to prevent bolting and increase lateral branching, which also has the potential to improve the appearance and yield of the plant. Trimmings from overgrown plants can be marketed as fresh-cut herbs.
3 • Grow an assortment and time your plantings.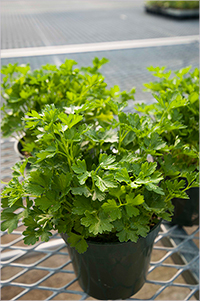 Offer your customers an assortment of culinary herbs to pique their interest. Crop times vary, so careful scheduling is necessary to supply a consistent assortment.
To compare days to germination, days to harvest, and annual-perennial status by growing zone, consult our Herb Culture Comparison Chart.
4 • Offer specialty varieties.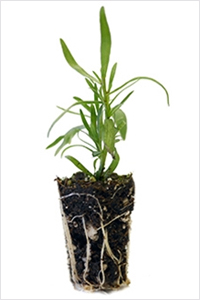 5 • Plan to offer seasonal culinary pairings.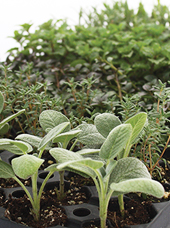 Grow herbs that pair well with your seasonal assortment of vegetables.
Time your plantings so that herbs are ready to harvest with the vegetable crops for culinary pairings. Examples:
6 • Use containers of appropriate size.
3–6"-diameter pots are commonly used for retail herb production.
We recommend a 4"-diameter pot to provide a nice balance between space considerations and growing an optimal plant size for good market appearance and value.
7 • Sow according to recommendations.
Seeds can be sown directly into the retail container OR sown into a plug tray and transplant into the retail container, 2–3 weeks later, to finish.
Refer to our Key Growing Information for Herbs or the seed packet backs, for variety-specific sowing recommendations.
Crop Production Time-Table for Container Herbs
Times listed below are approximate — they may vary with growing conditions.