Carthamus (Safflower) - Key Growing Information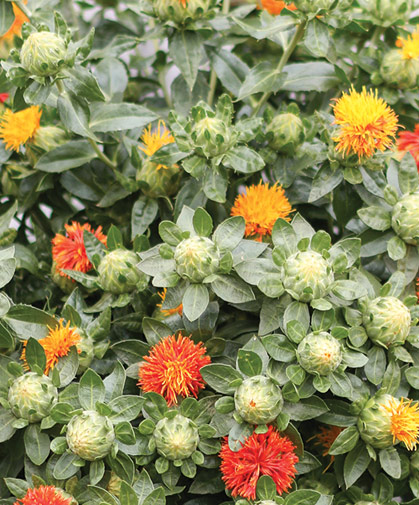 DAYS TO GERMINATION:
10-14 days at 68-72°F (20-22°C)


SOWING:
Direct seed (recommended) - Sow after danger of frost. Cover seed lightly. Note: After germination, 65°F (18°C) is the ideal temperature for seedling development. Transplant - Sow into 50-cell plug tray, or preferred seedling container, 4-5 weeks before planting out. Harden off and transplant out after danger of frost.


LIGHT PREFERENCE:
Sun. Southern growers - provide approximately 30% shade or some afternoon shade.


PLANT HEIGHT:
18-24".


PLANT SPACING:
6-9".


HARDINESS ZONES:
Annual.


HARVEST:
Fresh - Cut stems when flowers have begun to open and show color. Stems harvested before color is showing will not open in storage. Dried - Flowers are completely open, air dry.


SOIL REQUIREMENTS:
Average well-drained soil.


USES:
Fresh or dried cut-flower.


SCIENTIFIC NAME:
Carthamus tinctorius