Dianthus (Sweet William/Carnation) - Key Growing Information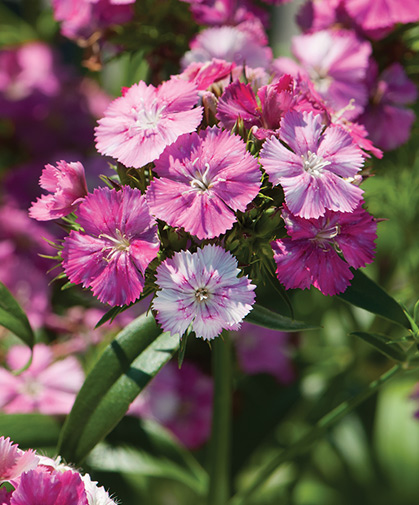 DAYS TO GERMINATION:
7-14 days at 65-72°F (18-22°C)


SOWING:
Transplant (recommended) - Sow 6-8 weeks before last frost. Lightly press seed into growing medium. Transplant into cell packs or 3-4" containers 20-25 days after sowing. Harden off and transplant out 6-8 weeks after sowing. Cool temperatures of 50-55°F (10-13°C) are required to keep the plants low growing and basal branching. Avoid warm temperatures in excess of 65°F (18°C), especially at night, which will produce soft growth. Direct seed - Early spring when a light frost is still possible.


LIGHT PREFERENCE:
Sun.


PLANT HEIGHT:
Varies.


PLANT SPACING:
6".


HARDINESS ZONES:
Zones 6-8. Best results when planted as an annual.


HARVEST:
10-20% of flowers in cluster or spray are open.


SOIL REQUIREMENTS:
Rich, sandy, well-drained soil that is slightly alkaline.


USES:
Excellent commercial cut flower and is also suitable for gallon container production with one plant per gallon container. Also makes a lovely bedding plant.


PELLETED SEED:
If using pelleted seed, we recommend consistent soil moisture during the germination period. Pelleted seed must be kept cool and dry prior to planting, and should be used within one year of purchase.


SCIENTIFIC NAME:
Dianthus spp.