Digitalis (Foxglove) - Key Growing Information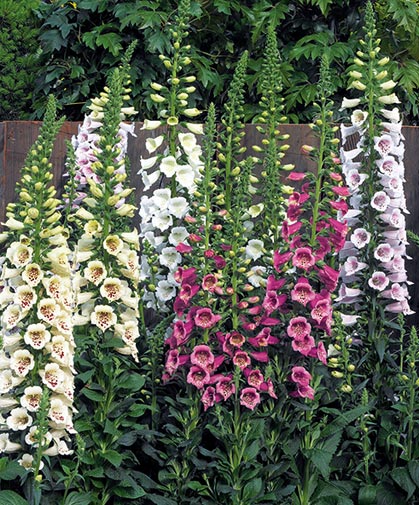 DAYS TO GERMINATION:
14-21 days at 65-70°F (18-21°C).


SOWING:
Transplant (recommended): Sow 10-12 weeks before planting out. Light is required for germination. Do not cover seeds or, to hold seed in place, cover lightly with fine vermiculite. Bottom water or mist to avoid covering the seed with displaced soil. Transplant into cell packs or larger containers after the first true leaves appear, 15-20 days after sowing. Harden off and transplant outside after the last frost. Direct seed: Sow as soon as soil can be worked, only in areas with long growing seasons. Do not cover seed as light is required for germination. Keep soil moist.


LIGHT PREFERENCE:
Sun/Part Shade.


SOIL REQUIREMENTS:
Moist, well-drained soil.


PLANT SPACING:
12"


HARDINESS ZONES:
Zones 4-8.


HARVEST:
Fresh: Harvest when the lower 1/3 of flowers on a spike have opened. Deadheading encourages additional blooms.


USES:
Excellent cut flower. Borders, masses, woodland plantings, and cottage gardens.


SCIENTIFIC NAME:
Digitalis spp.