Gypsophila (Baby's Breath) - Key Growing Information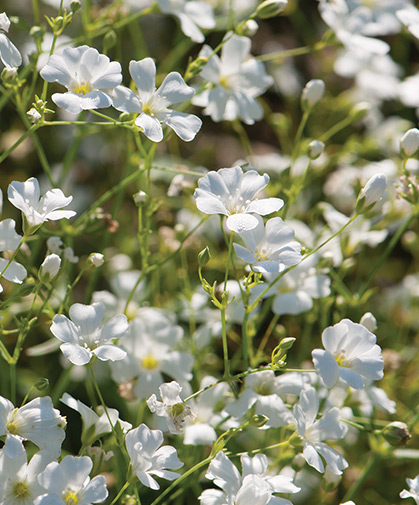 DAYS TO GERMINATION:
7-14 days at 70-72°F (21-22°C).


SOWING:
Sow every 2 weeks to ensure a continuous supply of blooms throughout the summer.


Direct seed (recommended):
After last frost sow 1/8" deep and barely cover.


Transplant:
Sow 6-8 weeks before last frost. Transplant into cell packs or larger containers when the first true leaves appear. Harden off and transplant outside after the last frost.


LIGHT PREFERENCE:
Sun.


SOIL REQUIREMENTS:
Relatively poor soil. Rich soil causes vigorous growth which is easily beaten down by rain.


PLANT SPACING:
8".


HARDINESS ZONES:
Annual.


HARVEST:
Fresh: Harvest when 70-90% of the flowers in a spray are open.


USE:
Cut flower.


PLANT HEIGHT:
18-24".


SCIENTIFIC NAME:
Gypsophila elegans