Helipterum (Paper Daisy) - Key Growing Information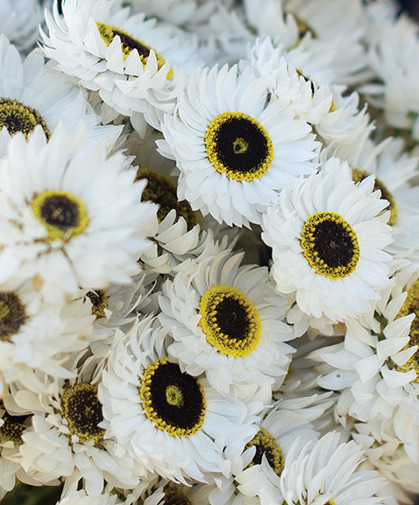 DAYS TO GERMINATION:
14-21 days at 65-75°F (18-24°C)


SOWING:
Transplant (recommended) - 6-8 weeks before last frost. Transplant out after danger of frost has passed. Direct seed - Sow after last frost. Gently press seeds into soil surface or cover seed lightly as light aids germination. Keep soil moist until emergence. Sow seeds every 2"; thin seedlings to 6-8" apart.


LIGHT PREFERENCE:
Sun.


PLANT SPACING:
6-8".


HARDINESS ZONES:
Annual.


HARVEST:
Fresh or dried - Before flowers are fully open. Flowers continue to open after cutting. Hang to dry.


SOIL REQUIREMENTS:
Well-drained, sandy soil is ideal.


USES:
Fresh or dried cut flower, borders, beds.


SCIENTIFIC NAME:
Rhodanthe chlorocephala


ALTERNATE NAME:
Acroclinium, Immortelle, Paper Daisy, Australian Everlasting, and Everlasting Daisy