Spilanthes (Toothache Plant) - Key Growing Information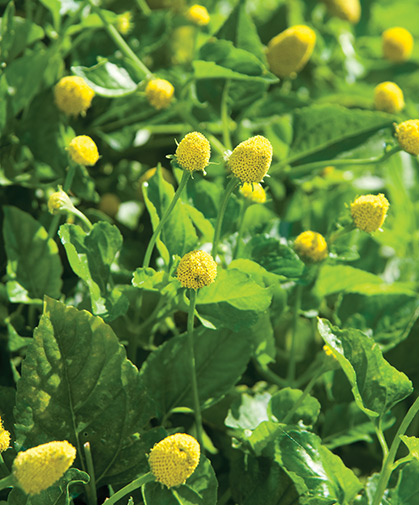 DAYS TO GERMINATION:
5-7 days at 72-76°F (22-24°C).


SOWING:
Transplant (recommended): Start seeds in flats about 6 weeks before the last frost. Sow 1/4" deep, and transplant to individual containers when the seedlings are large enough to handle. Transplant outside in the spring after the last frost. Direct seed: In the spring, direct seed 1/4" deep as soon as the soil can be worked and after the last frost. Place 4-6 seeds together every 6" or sow about one seed per inch. Thin to one plant (or a clump of 2-3 seedlings) every 6-12" when seedlings are a couple of inches tall.


LIGHT PREFERENCE:
Sun.


SOIL REQUIREMENTS:
Well-drained soil.


PLANT SPACING:
12 -18".


HARDINESS ZONES:
Annual.


HARVEST:
Fresh: The leaves can be picked at any time, but it is best to wait until after the plant has reached several inches in height. Continue picking leaves during and after blooming. Use fresh leaves for best flavor.


USES:
Bedding plants, containers, and window boxes. Use leaves in salads.


SCIENTIFIC NAME:
Spilanthes oleracea