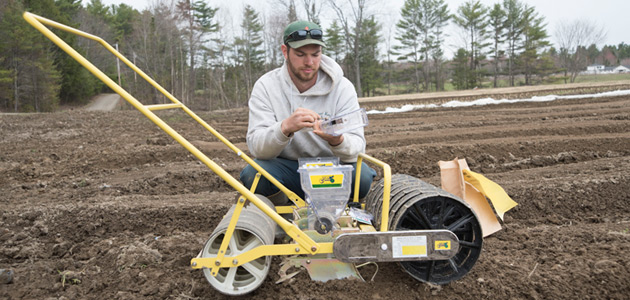 Quick-Guide to Choosing a Seeder

✓ Efficiency ✓ Precision ✓ Affordability
Selecting a Seeder for Small-Scale Growing
When it's time to choose a new seeder, growers and gardeners look for a design that suits their individual style and strikes the right balance between efficiency, precision, and affordability.
We developed this guide to help inform the decision-making process of small-scale growers and gardeners researching different types of seeders. These are the aspects to that process that we cover here:
To begin, there are the Main Goals of Direct-Seeding, which are important to keep in mind while considering the many Factors that Will Influence Your Decision, some of which will carry more weight than others in your calculation.
A review of the Key Advantages & Limitations of each of our most popular seeder designs will give you a better sense of what these tools can and cannot do.
A variety of Comparison Charts, Assembly & Instruction Manuals, and Demonstration Videos provide Further Resources on the features and options available for different types of seeders.
Talking with others about their experience is informative when choosing a piece of farming equipment. We've recently been in touch with a wide diversity of growers, to learn what they have to say about their seeders, and include some of their input and feedback as well.
This information should help put you in a position to determine your best option — if you need some additional answers to narrow the field, you can always give us a call.