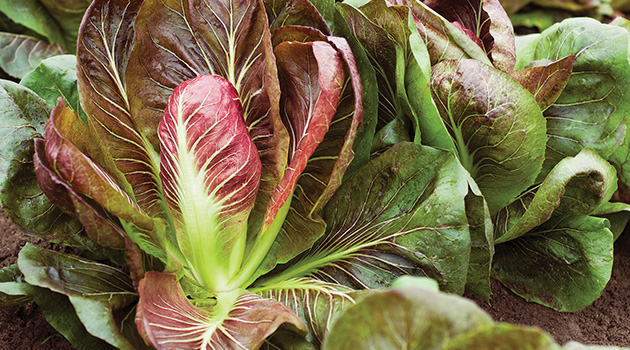 Johnny's

RADICCHIO

Planting Program
Radicchio Succession Planting & Season Extension
There are several types of radicchio, also known as Italian chicory (Cichorium intybus, Asteraceae). When different varieties are planted, their varying cultural characteristics enable growers to produce this crop across the seasons.
Johnny's Radicchio Planting Program is specifically designed to take the guesswork out of succession-planting the different varieties, allowing you to maximize your harvest window. To achieve a successful extended harvest, choose varieties by their transplanting and harvesting slots, as depicted in our chart below, as well as by their days to maturity.
Additional distinguishing features to consider as you formulate your planting program include each variety's open-pollinated or hybrid status; availability of organic or conventional seed; and the type of radicchio, names for which reflect selection and preservation of various head forms and coloration characteristics by families and farmers in different regions of Northern Italy — round rosso di Chioggia, speckled variegata di Lusia and variegata di Castelfranco, and tall rosso di Treviso and sugarloaf types, among others.
Johnny's Planting Programs