Artemisia (Sweet Annie) - Key Growing Information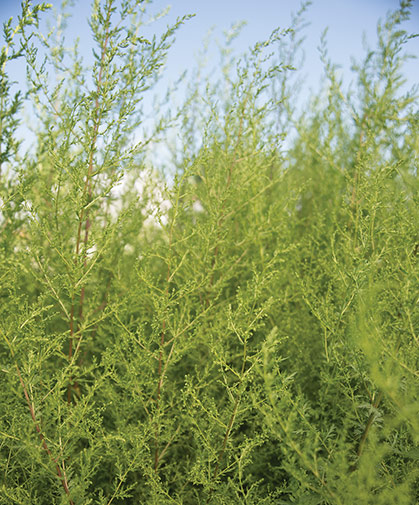 DAYS TO GERMINATION:
7-21 days at 70-75°F (21-24°C)


SOWING:
Transplant - Sow 5-6 weeks before planting out. Barely cover the seed. Bottom water or mist to avoid covering the seed with displaced soil. Transplant to cell packs or larger containers when the seedlings have the second set of true leaves. Harden off and transplant outside after the danger of frost has passed. Direct seed - Sow after danger of frost. Cover seed lightly with soil. Broadcast seeding is not recommended. Keep moist. Thin to desired spacing.


LIGHT PREFERENCE:
Sun.


PLANT HEIGHT:
48-72".


PLANT SPACING:
12-24".


HARDINESS ZONES:
Annual.


HARVEST:
Fresh or Dried - Once flower heads have developed on stems.


SOIL REQUIREMENTS:
Average soil.


SCIENTIFIC NAME:
Artemisia annua


ALTERNATE NAMES:
Sweet sagewort, sweet wormwood, Chinese wormwood