Nigella - Key Growing Information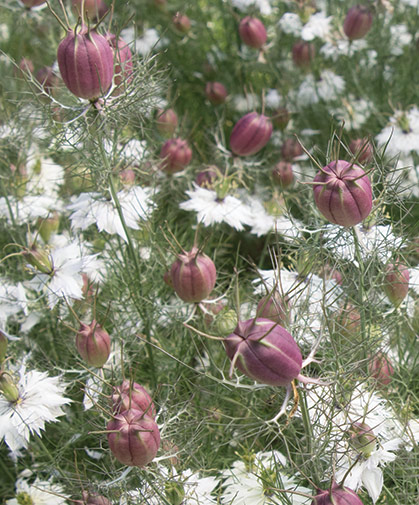 DAYS TO GERMINATION:
10-14 days at 60-65°F (16-18°C).


SOWING:
Sow 3-4 times every 2-3 weeks early in season for continuous flower/pod production. Direct seed (recommended) — Sow in early spring when soil temperatures reach 60°F (16°C). Fall sow where winters are mild. Cover lightly with soil as light is required for germination. Transplant — Sow 4-6 weeks before last frost. Plants are sensitive to root disturbance.


LIGHT PREFERENCE:
Sun.


SOIL REQUIREMENTS:
Average soil with good drainage.


PLANT SPACING:
2-9".


HARDINESS ZONES:
Annual.


HARVEST:
Fresh: When flower buds fully colored or pods have begun to develop. Dried: When seed pods are firm to touch.


USES:
Excellent cut or dried flower. Border plants.


SCIENTIFIC NAME:
Nigella spp.


ALTERNATE NAME:
Love in a mist