Ornamental Peppers - Key Growing Information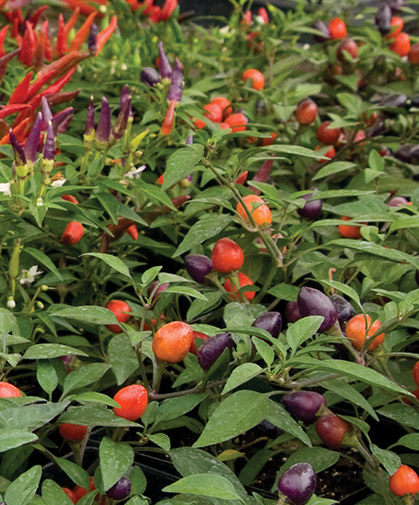 DAYS TO GERMINATION:
10-14 days at 80-90°F (27-32°C).


SOWING:
Transplant (recommended): Sow seeds in 20-row or shallow flats, 4 seeds per inch, 1/4" deep in late March or April, 8-10 weeks prior to transplanting outside. Transplant into cell packs or 3-4" containers when first true leaves are about 1/2" long. Larger pots produce stronger root systems. Grow plants at 70°F (21°C) during the day and 60°F (16°C) at night. Do not over-water, but do not let the leaves wilt. Use fertilizer
such as fish emulsion or a balanced, soluble fertilizer to maintain a good green color. Harden off seedlings by reducing water and temperature for a week before transplanting out. Set plants outside in June or when the soil is 70°F (21°C) and the weather is settled, about 12-18" apart in rows 24-36" apart, or 2 rows on plastic mulch, 18" between plants. Use of plastic mulch and row covers is recommended.


LIGHT PREFERENCE:
Sun.


SOIL REQUIREMENTS:
Light, well-drained soil with a pH of 6.5 and plenty of phosphorus. Go easy on nitrogen, as an excess produces large plants with few fruits.


PLANT SPACING:
12-18" in rows 24-36" apart.


HARDINESS ZONES:
Annual.


HARVEST:
Fresh: After peppers begin to ripen for different color effects. Dried: Harvest when at least 90% of peppers on stem are red; orange peppers will continue to ripen to red. Hang to dry. For best effect fresh or dried, strip foliage from stems.


USES:
On taller varieties, stems with fruit intact are excellent in cut or dried arrangements. Fruit is edible and very hot. Can be dried for use in ristras. For beds, borders, edging, or containers.


SCIENTIFIC NAME:
Capsicum annum