Like so many of us, chef Frank Giglio reached adulthood without ever hearing much about the field of plant breeding. That all changed when he and his wife Camille moved to Three Lily Farm, the education and retreat center they run on 26 acres in Thorndike, Maine. Through a serendipitous childhood family friendship, Frank and Camille met Emily Rose Haga, Johnny's tomato and pepper breeder, who had also just moved to Maine.
A second, parallel connection formed between Frank and Johnny's via the Unity Food Hub, where Frank served as the fulcrum chef at our 1st Annual Seed-to-Table Variety Tasting last year, a role he will be expanding upon for our upcoming 2nd Annual Seed-to-Table Variety Tasting, to be held later this month. Frank is now one of the first people to be introduced to many of the new varieties bred by Johnny's, helping us test their culinary potential before they hit the market.
The Seed-to-Table Pipeline
Most of us are familiar with the Farm-to-Table movement. But the life of a new variety doesn't start at the farm when the seed is planted. It begins many years earlier with plant breeders, who develop new varieties through careful crossing and selection over several generations, followed by collaboration with farmers and chefs/eaters to test the promising new varieties before release. The Seed-to-Table movement goes deeper behind the scenes where our food comes from, and helps bridge stronger connections between breeders, growers, and eaters.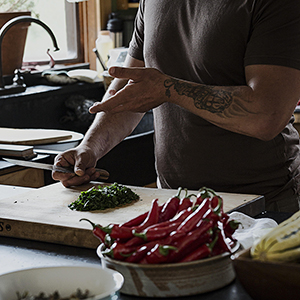 Frank demonstrates how to prepare 'Red Ember' Cayenne Relish — his Maine variation on the classic Balinese
sambal matah
.
(See below for recipe.)
Here's a distillation of the Seed-to-Table pipeline for Johnny's Variety Tasting Events:
During winter the plant breeders work closely with the Unity Food Hub to coordinate on-farm trials with experienced Maine farmers. The farmers are requested to plant seed and grow out the promising new varieties we are looking to bring to market and for which we need real-world feedback. Once mature, the crops are harvested and delivered via the Unity Food Hub to a series of high-end regional chefs who have agreed to give them a solid trying-out. The chefs apply their talents and inspiration to develop new, one-of-a-kind recipes, and bring their favorite results to the table. The doors to the event are thrown open and the public invited to freely attend, to meet the breeders, farmers, and chefs; experience these new varieties for themselves; and learn about their whole story from seed to table. The participants not only get a sneak-peak at what we've been working on, but also have the opportunity to provide candid feedback on the whole eating experience as they taste the prepared dishes alongside raw and plain-cooked versions.
Frank had recently received a sample of the year's first field-harvested 'Valentine' grape tomato and 'Red Ember' cayenne pepper, and we were curious for news on how the chef-crop pairing was progressing. So we got in touch with Frank, and he and Camille graciously invited us to their farmhouse kitchen for an update.
Taste-testing at Three Lily
Before we continue, it bears mention that although they live entirely off-the-grid in rural Central Maine, the Giglios are anything but removed from the Zeitgeist. Not only is this entrepreneurial young couple at the vanguard of the sustainable community food system in this neck of the woods, but Frank is a classically trained, NY Times Bestseller chef of considerable renown.
With his strong focus on wild, seasonal, and local ingredients, 'Valentine' and 'Red Ember' make an especially great match for Frank because he is fanatical about extending the shelf life of an ingredient, particularly here in Maine. Having waited all year long to taste fresh tomatoes and peppers, when they finally do come into season, he immediately asks himself, How could I eat these in January, without having to buy out-of-state tomatoes or peppers? Frank's fascination with fermentation, salting, drying, and smoking as means to extending the life of ingredients, maximizing nutrition, and building flavor lends itself well to these two varieties.
Here is a preview of the culinary potential of this yet-to-be released pair in Frank's capable hands.
RECIPE: 'Red Ember' Sambal Matah (Balinese Relish, Maine Style)
Note: Sambal matah is a famous raw relish from the Gods island of Bali. Frank spent a period of time leading yoga teacher training at a retreat in Bali back in 2010, and became enamored of the dish the Balinese cooks prepared fresh each morning from ginger, garlic, shallots, lemon grass, red chilies, and coconut oil. Sambal has been the making of many a great dish; this recipe is Frank's Maine variation on the theme.
INGREDIENTS
INSTRUCTIONS
Combine all ingredients in sterilized, 1-quart canning jar.
Cover, refrigerate, and use as desired. Frank especially loves to top roasted fish and potato salad with a spoonful or two of this relish.
Works in Progress
Frank is exploring the culinary characteristics of 'Valentine' in a variety of ways. In the process of preserving the harvest for later enjoyment, he is experimenting with concoctions that include a fermented 'Valentine' hot sauce, a smoked 'Valentine' jam, and smoked–dried 'Valentine' ketchup — which is simply out-of-this-world delicious. He notes 'Valentine' has a flavor profile with sweetness that nicely balances with smoke.
Frank has been experimenting with fermented foods for about 10 years. He read about basic food preservation principles and practices in Sandor Ellis Katz's The Art of Fermentation, which he calls the fermentation Bible, and worked with a friend in Vermont to learn more about the production side of doing ferments.
Here is a summary from Frank of one of his most intriguing possibilities.
Making Miso with 'Valentine' Tomato
Miso can be a year-long endeavor for anyone who wishes to create a more traditional-style ferment. But with short-term miso cultures, you can have a finished product in less than a month's time. Miso generally consists of 3 ingredients; a bean (traditionally soy), salt, and koji grains (rice inoculated with Aspergillus oryzae). Once the ingredients are cooked and mashed together, a year-long ferment follows, allowing the bacteria to work its magic.

I decided to add in the 'Valentine' tomato in powdered form to see how the naturally sweet flavor incorporates into the final product. I suspect the sugar content will also help feed the bacteria as it ferments.
These are just a couple of the one-of-a-kind concepts emerging from the bustling Three Lily kitchen. If you're in the area the third weekend in September, be sure to stop by the Unity Food Hub, where you can sample tasting flights of all our new varieties, both raw, preserved, roasted, and in chef-prepared dishes. If you'd like to grow your own crop, check our catalog or website in November, when seed for these new varieties becomes available.