Above: Table of hotties at Johnny's annual Pepper Palooza
10 Types of Chilis to Bring the Heat to Your Harvest
by Steve Bellavia, Pepper Product Manager
So Hot, They're Cool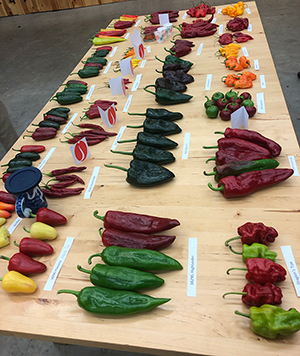 Demand for hot peppers is up, up, up, and supply is in hot pursuit, according to Fresh Plaza, a worldwide news aggregator for the fresh produce industry. While capsicum devotees seek out and get creative with the hots, market farmers and growers are sowing, growing, and marketing them with equal ardor and zeal.
Meanwhile back at the research farm, Johnny's invests considerable time and energy toward sourcing, breeding, trialing, refining, and selecting the most promising pepper varieties from around the globe. From the hundreds we plant and scrutinize annually, only those that exhibit reliably superior performance and flavor make it into our line-up.
This year we've expanded our line of peppers to offer even more options for a diversity of consumers — from specialty ethnic markets to foodies to high-end chefs with a nose for the novel. Looking to add new varieties to this year's grow list? To help you choose, we've drawn up this compendium of the 10 Types of Hot Peppers we offer: from Anaheim to Cayenne, Padrón to Santa Fe, we touch on origin, cultural, and culinary features. And for pepperheads of all magnitudes, we've included some tidbits about capsaicin and the Scoville Heat Scale, along with a recipe for 'Dragon's Toe' Jam to cool things down!
Author Steve Bellavia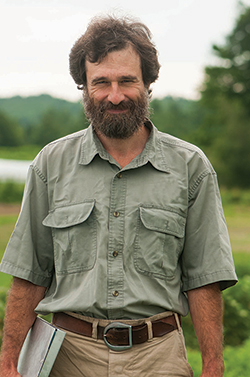 Pepper Product Manager, R&D, Johnny's Selected Seeds
Dial up the Scoville Heat Scale
Ever wonder what causes the buzzing sensation on your lips and tongue when you eat a hot pepper? Credit goes to a whole group of phytochemicals called capsaicinoids, the concentrations of which contribute to their pungency.
The subcomponent of capcsaicinoids that is responsible for their pungency is capsaicin, or CPS to molecular biologists. Capsaicin stimulates our nerve cells to create the tingling, redness, and sweating associated with pepper consumption. At the cellular level, CPS has been studied for its ability to induce a process called nonshivering thermogenesis, in which cells burn energy to release heat, increasing our metabolism and body temperature.
The author of one study notes capsaicin as the "first natural drug" known to augment the thermogenesis process, helping to explain some of its effects on the health of the body.
Hot chili peppers, are customarily categorized by their capsaicin content — their heat. They are commonly ranked on the Scoville Heat Unit (SHU) scale, on which a bell pepper contains 0 SHU, a Piquillo approximately 1000, a Guajillo approximately 3000, a Serrano 10,000–23,000, and a Habanero 350,000–570,000. The score on the scale represents the level of dilution required for the sensation of heat to disappear completely.
The prize for hottest pepper known changes hands over the years. Currently it's claimed by 'Pepper X,' at over 3 million Scoville Heat Units, bred by the same individual who created the 'Carolina Reaper,' a C. chinense cultivar bred in South Carolina. Some of us wax nostalgic for the days before 'Bhut Jolokia,' a C. chinense pepper from India, was toppled from it pedestal as the hottest, at a mere 1 million Scoville Heat Units.
Johnny's Pepper Heat Scale
At Johnny's, we rank our peppers on a relative scale of heat, from slightly hot to extremely hot, designated with 1 to 5 pepper icons. We prefer this shorthand version because of the wide variation in SHUs, both between crops of the same variety when grown under different conditions, individual plants within a single crop, and even peppers from the same plant. Look for the pepper icons in the Quick Facts boxes of our product webpages and alongside each variety in the Hot Pepper section of our catalog.

Learn More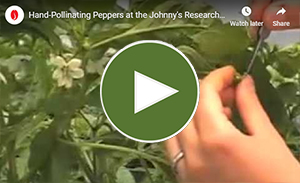 Watch a tutorial on a technique we use each year to cross parent plants in our classical pepper breeding program.
We hope this overview helps pique your desire to grow and taste-test the latest additions of hots and exotics to our line of peppers. Along with being great for revving up the metabolism, we think they complement our more traditional, tried-and-true hotties. Add one or more to your grow list this year, and let us know how they grow for you!
More Resources