California Poppy (E. californica) - Key Growing Information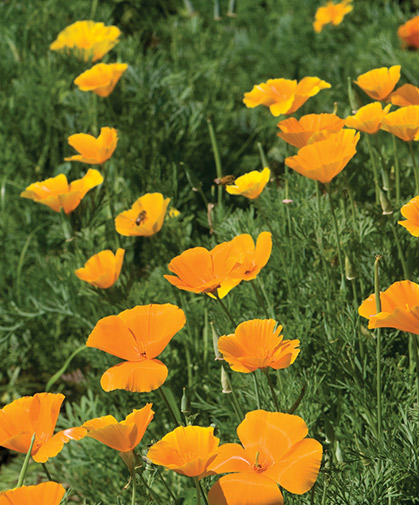 DAYS TO GERMINATION:
14-21 days at 60-65°F (16-18°C).


SOWING:
Direct seed (recommended): After last frost, sow in place covering seed with 1/4" of soil. Thin to stand 6" apart when first true leaves appear. Cool nights are required to flower freely.
Transplant: Sow 2-3 weeks before last frost directly into cell packs or containers. Lightly cover seeds with medium. Bottom water or mist. Harden off and transplant outside after the danger of frost has passed. Seedlings are difficult to transplant. Cool nights are required to flower freely.


LIGHT PREFERENCE:
Sun.


SOIL REQUIREMENTS:
Well-drained, sandy soil with low fertility.


PLANT HEIGHT:
12-15".


PLANT SPACING:
6".


HARDINESS ZONES:
Annual.


USES:
Beds, borders, and rock gardens. Commonly used as a wild flower.


SCIENTIFIC NAME:
Eschscholzia californica