Pricing & Profitability for Today's Flower Farmer
"
[L]ook around and see what other growers are growing and complement their offerings — don't compete. When we all grow different crops, we all win…
"
— Contributor Julio Freitas of
The Flower Hat
in Bozeman, Montana, a farmer-florist and design educator
Photo courtesy of Rebecca Hollis Photography
Pointers from a Diversity of Pros
There's no magic formula. Our panel of flower farmers discusses how to personalize your approach to recordkeeping and crop tracking to establish fair pricing, enhance profitability, and adapt to an everchanging landscape.
Against the backdrop of a pandemic, resilience and adaptability proved the strongest threads woven through the fabric of any farm. Many flower growers had already ordered the season's seeds and bulbs before COVID hit. Flowers bloomed and seasons marched on. Few farmers had the luxury of pressing the pause button but rather forged ahead, despite uncertainty.
I heard from one farmer who added lisianthus stems to grocery bouquets rather than tossing those luxury stems into compost. I learned how event florists quickly shifted to selling (and delivering) Mother's Day arrangements when weddings were cancelled. It's more important than ever to find new market channels for flowers, and I'm impressed by the myriad ways floral entrepreneurs are showing resilience while adapting to today's ambiguous landscape.
Getting a solid grasp on the cost of growing the flowers you sell is one of the best ways to mitigate uncertainty. I called Diane Szukovathy, co-owner of Jello Mold Farm in Mount Vernon, Washington and co-founder of the Seattle Wholesale Growers Market, the regional cooperative, to get her input. My question: How do you part with unprofitable crops and how do you know what is most profitable? She laughed, admitting, "We're trafficking in beauty, for crying out loud. It's hard to be rational!"
According to Diane, as flower farmers evolve and their farms mature, they reach a point where they're "finally tired enough to say, 'If we're going to stay in business, we're going to have to get real about making a living at it.' "
I had heard the story of how Jello Mold shifted from growing hundreds of cut-flower varieties to specializing in a narrower selection of value-added perennials, such as hellebores, and woody ornamentals, such as lilacs. I wanted to learn more.
Come spring, Jello Mold's hellebores are highly sought after by Seattle area floral designers who gobble up every stem the farm produces. "But there is a risk" in a narrow crop plan, Diane notes. "The last two years in a row we've had crazy late frosts, down into the 20s. Hellebores are frost-resistant, but when developed clear to the full-flower stage and there's a 22° freeze, we thought we had lost it all. About one-quarter of them came back, but it demonstrates how quickly you can lose a whole crop — even one you think of as a permanent crop. We're just now getting a crop insurance claim settled from last year."
This is a case in point as to why a diversified crop mix can be an insurance policy, of sorts. Similarly, as other flower farmers have pointed out to me, growing across multiple field locations that offer different microclimates can provide crops a measure of protection from extreme weather trends.
In the face of the uncertain nature of the business of flower farming, we wanted to hear from a diversity of flower farmers about their best pricing and business practices, as well as tips for turning a productive field into a profitable one. In addition to Diane from Jello Mold (Growing Zones 7b/8a/8b), we surveyed these four flower farmers, representing varying levels of experience and ecozones.
1 • What is your most profitable flower crop (and how do you you know this)?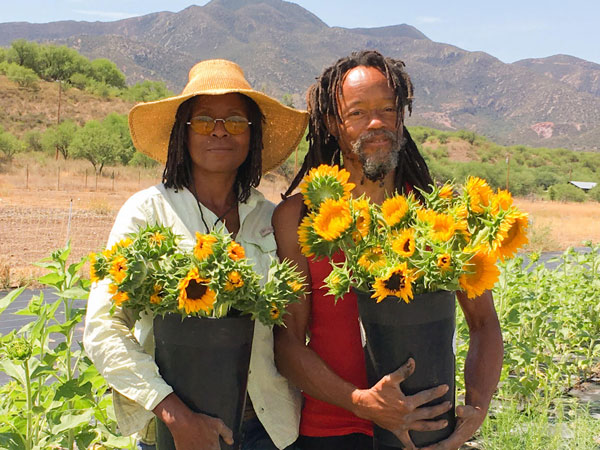 — Aishah Lurry •
Patagonia Flower Farm
, Patagonia, Arizona, with husband Sebastian Lurry
Photo courtesy of Perin McNelis
Julio Freitas: Sweet peas have been my most profitable crop in 2020. It was the first year I started them really early in the winter instead of waiting until mid-spring, and that has paid off. We planted about 25 double plants of five different colors and have been harvesting five to ten 15-stem bunches a week of each variety. It has been a low-maintenance crop, with easy germination, just requiring a round of pinching and a weekly application of high-nitrogen fertilizer until blooming began.
Mara Tyler: I would say our most profitable crop is probably lisianthus. We grow thousands of plants per year, and we sell every stem — and wish we had more. The plants are relatively inexpensive to buy in. They do well in our funny climate. Every year we add more, while also trying to plant them earlier and harvest them later because it is such a wonderful stem to put into a bouquet or an arrangement — they last forever. Lisianthus are an amazing bridge crop between the peonies in May and the dahlias in August. We try to have lisianthus consistently from June to September.
Lisa Ziegler: The group of flowers that require the lowest investment with the highest return are annuals. This makes them the perfect fit to learn how to farm, to find customers, to learn to sell, and to begin building a solid business foundation. When you hit those inevitable hiccups of business, your loss with annuals flowers is minimal — but the wins are potentially big. Ninety-five percent of our production has been annual flowers for our 22 years of flower farming. They give the biggest bang for the buck.
Sometimes profits are hidden. Tracking sales in an informative way through bookkeeping software can provide beneficial reporting, but sometimes the "value" of a crop is not reflected on paper. One example is the production of sufficient filler crops for weekly mixed bouquets. The amount of labor that can be wasted, searching for more filler to harvest and fretting over making sufficiently-sized bouquets (and then resorting to using more valuable focal flowers because I don't have enough filler), takes profit from a mixed-bouquet operation. Fillers may not be a big number on the sales report, but they are priceless in an efficient and profitable bouquet operation. I remember those days when we had to produce 200 mixed bouquets for two local supermarket chains, as well as supplying 23 florists, which gives me a healthy respect for the profitability of those "non-headliner" flowers.
Learn more about Flower-Farmers' Favorite Foliages & Fillers…
Aishah Lurry: Sunflowers are one of my most profitable crops. My customers love them and can't get enough of them. I can sell sunflowers in solo bunches or mixed bunches, and I can also dry them. Sunflowers represent about 40% of my business for the current season. I will plant more next year, so it will probably grow to more than 50%.
Diane Szukovathy: Working with the Seattle Wholesale Growers Cooperative, we've discovered that profitable crops depend on how and to whom you are selling. If you're selling into a farmers' market, which is basically retail, you can make a good markup on a $20 bouquet. But if you want to sell wholesale (to florists and retailers), it's really hard to make a living with a one-seed, one-stem crop because of the labor involved. There are some things you can do to cut expenses, such as streamlining farm processes. That said, I do like cut-and-come-again annuals because they are more profitable crops. Examples would be Icelandic poppies and amaranth. I'm also really keen on rudbeckias right now, because there are multiple stems per plant and because they store well for up to 3 weeks in the cooler after harvest, offering more flexibility for selling.
2 • What is an example of a flower you love, but that isn't a good moneymaker?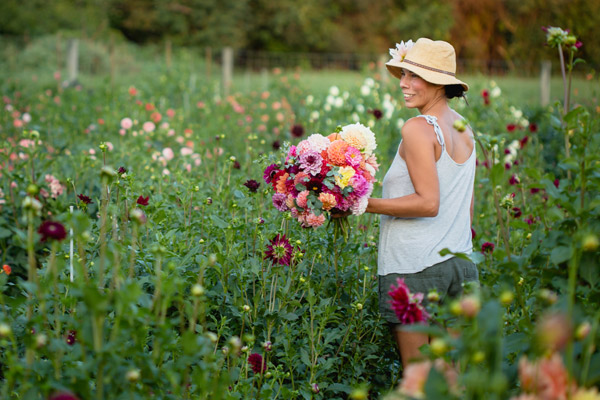 — Mara Tyler,
The Farm at Oxford
, Lincoln University, Pennsylvania
Photo courtesy of Mariya Stecklair
Mara Tyler: I am in this business for the long haul, which means I have to balance revenue with the joy of it all. I try not to grow crops I don't love. Instead, I buy them from other local farmers like me, and support their efforts at growing things that I don't enjoy (like sunflowers, for example!). I try to maximize my time spent on both those that generate revenue and that I really love, such as dahlias or peonies. Farming is hard, and the very idea of growing a flower that I hate just because I need it in a bouquet is a drag. I would much rather support other growers' efforts in that arena and spend more time in my dahlia field.
A great example of a "money-sink" flower that I love are garden roses. In the climate here in Southeastern Pennsylvania, roses are horrible growers, rife with disease and slow to bloom, but I just adore them and will always grow them. Roses won't even break even for me, but that's okay because they bring me so much joy.
Lisa Ziegler: As a gardener, I love sweet peas. As a commercial flower farmer, I give them little to no room in our field. To obtain a really usable cut flower for our commercial customers, we harvest the vines with multiple stems, to get the length needed. Those sweet peas are labor-intensive because they require trellising, and there just isn't enough time for appropriate re-growth for them to be productive enough to keep them as a viable crop, given our urban farm's very limited space. I still grow about 10 feet of sweet peas to get my fix — but they are just too much of a "flash crop" to be profitable.
Aishah Lurry: The one crop that I am growing that is not paying for the space that it uses are roses. They're still here because I love the look and I am infatuated with the scent. It is my own personal joy that keeps them here. My space is so small — 4000 square-feet. So if I had to do it again, I might think twice about making the investment in roses.
There is an annual that I no longer grow, even though I adore it: cosmos. Nothing can compare with the airy look of a cosmos floating above an arrangement or bouquet. I have found, though, that no matter how early the stage of harvest, the vase life is unexciting to me. In a mixed bouquet, cosmos are the first to fade when everything else looks good. So that's a problem.
Julio Freitas: Sunflowers! I really love them, but when you're growing for wedding designs, sunflowers just don't sell. We also let go of the Benary's Giant Salmon Zinnias a couple of years ago, but I'm planning to bring them back since most growers in our area have quit growing them.
3 • Do you track "cost of goods sold" so you can determine which crops are better moneymakers? Are you relying more on experience or on detailed recordkeeping?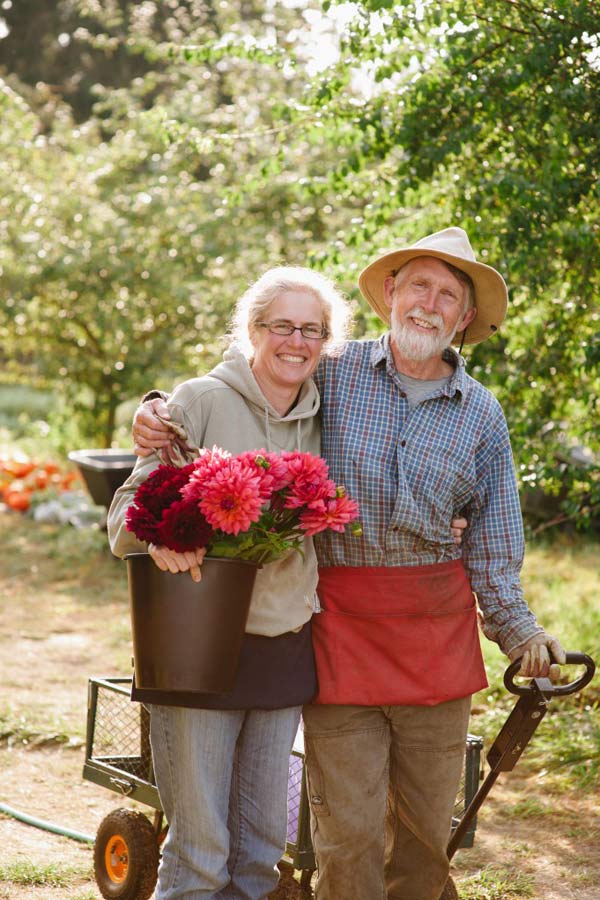 — Diane Szukovathy,
Jello Mold Farm
, Mount Vernon, Washington, with husband & co-owner Dennis Westphall
Photo courtesy of Mary Grace Long
Lisa Ziegler: The reality is that beyond tracking what is sold (by either straight or mixed bunches) to our commercial accounts through our invoicing system in Quickbooks, it's all based on my observations. A constant thread throughout my course, Flower Farming School Online: The Basics, Annual Crops, Marketing, and More, is to have your ear to the ground in all areas of the business related to profitability. Smart growers are asking how a particular task or process can be done more efficiently, which leads to saving and more profit.
Aishah Lurry: Up until this spring, yes, I totally ran my business on experience. But I had big plans for this year, and it was to take my business to the next level. I knew I needed to know exactly what funds were going in and what funds were going out. So I started working with Jerry Kasprzak of Porch and Prairie Farm and Farmer-Florist U, who created the most amazing spreadsheets that easily allowed me to break down the cost that goes into each crop, including labor. The spreadsheets have allowed me to clearly see which crops are my highest moneymakers. I've learned that I can't expect to charge the same for a dahlia stem as another farm without knowing the difference between our farms. For example, I might order a truckload of compost and hire two men to come in with a tractor to till it in and spread it out. And on your farm, you use a no-till process and you don't dig up your tubers each year. Our cost of production, and thus our cost per stem, will be completely different.
Diane Szukovathy: A turning point for us was reading Richard Wiswall's book, The Organic Farmer's Business Handbook, which came out several years ago. Even though it's geared to vegetable farming, I found I could take the principles and easily apply them to flower farming. The basic premise is, you have to be very rigorous in doing cost studies. You'll quickly figure out that your labor is by far your biggest expense, so if you start costing your own labor, you may discover that there are crops you're paying money to grow. Our brains may think we know what's profitable, but math will tell a different story, and you might discover like I did one year that I paid $287 to bring a crop of stock to market. That's the last thing you want to be doing as a farmer when you're exhausted.
Learn more about Recordkeeping During the Busy Farming Season…
Julio Freitas: I work mostly from experience. In the early years, I used to keep records, but since our focus is designing weddings, I've let go of recordkeeping, because I know which crops I need for weddings and which ones are worth growing versus buying from other farms. Our best moneymakers are sweet pea, ranunculus, scabiosa, delphinium, dahlia, and yarrow. I believe that if we had a hoop house, scented geranium and celosia would be in this mix, too.
Mara Tyler: I always have a general idea for how much things cost, especially after five years, so I can eyeball a harvest and/or know what the costs were for each crop and whether I should continue with it. I know how many hours we spent weeding that crop and I factor that in, too. I cut out varieties that do not really bring that joy or pay the bills. I love charts, spreadsheets, data, but in reality I just don't have the time to sit down and crunch all the numbers on a regular basis. It all lives in my head.
4 • What advice do you have for beginning farmers who need to start making smart decisions about what to grow and what will produce income for their farm?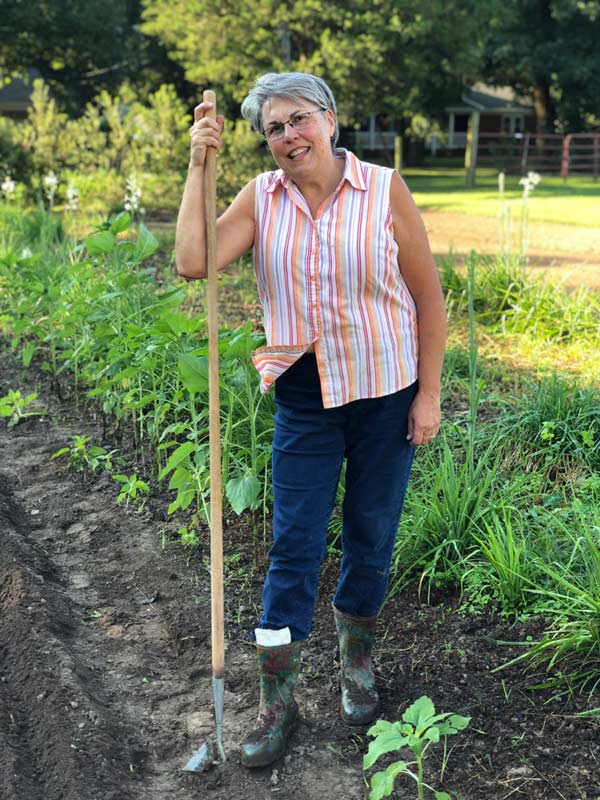 Aishah Lurry: Do your research and have a "practice year" and see what grows well. Don't wait until spring! Check out Lisa Ziegler's Cool Flowers book on growing early spring annual crops. Find flower farming communities to connect with on social media, because a sense of community is essential. Utilize the page's search tool when you have questions because someone has probably had the same problem. Keep good notes; you will thank yourself the following year. Start tracking your revenue, profit margin, COGS (cost of goods sold), OPEX (operational expenses), and labor from day one, whether you're a dabbler, a hobbyist, or planning to farm for profit. If you are clueless like I was, find a program that will give you the tracking tools to be profitable. By doing this from day one, you will save yourself so much stress and strain from backpedaling in year two, three, or four.
Diane Szukovathy: One of the things we've done at the Growers' Market is to say, "Okay, if we can't grow a particular crop for a certain price, then we need to raise the price." That's another way to be profitable. You don't have to not grow a particular crop. You can charge more to bring it to market — especially if there's demand.
Julio Freitas: Decide where you will sell your flowers first: weddings, CSAs, farmers' markets, florists, or wholesale customers. They all require different crops. Instead of ordering every seed under the sun, pause and think for the future. Determine if there is a market for what you're planning to grow, but don't determine that based on your taste alone. You must take into consideration your clients' taste. If you're growing for weddings and florists, look around and see what other growers are growing and complement their offerings. Complement — don't compete. When we all grow different crops, we all win. I'm always looking for weird, textural and interesting crops to grow, because I know I can turn to other farmers for those lush, more focal blooms.
Mara Tyler: Have a goal in mind for your farm 5 to 10 years down the road. Don't be afraid to modify that goal as you gain more experience as well. The landscape may be changing and you can adapt with it.
In a similar vein, don't be too set on one way of doing things on the farm. Look for ways to improve. We have changed the operations side many times, and while it is easy to look and see what others are doing and feel less than adequate, run your farm based on your goals and how you want to achieve them.
Trial plant and discard those that don't work out. There are absolutely things that we have abandoned along the way because they didn't work out for us. Put those flowers in a "garden" instead of your commercial field if you still want to enjoy them. And take a business course if you don't have a background in business or marketing. It's important to nurture both the growing side of the business and the sales and marketing side of the business. You can't have a business if you don't have a place to sell the stems you grow.
Lisa Ziegler: Start small, begin with low investment, and learn how to run and build a profitable flower farming business before you start making big investments. Resist becoming intoxicated with those beautiful, high-investment flower crops until you have customers to sell them to and gather some experience under your belt. Those flowers will be there when it's time for your business to grow and sell them — and you'll nail it with success and profit.
Factor in the Knowns, then Fill in the Gaps
Clearly, what my conversations with these growers reveal is that you should have some method of recordkeeping to know whether the crops you grow are profitable. As unpredictable as events the past season have been for so many, now's the time to review each crop and crunch some numbers. Do some planning to figure out how you'll track expenses moving forward, and don't forget to include labor you don't pay for — your own.
While you may not be able to future-proof your flower farm, turning a profit each year, however modest, will help your business weather the inevitable uncertainties of the cycles and seasons to come. Of course, profitability is not an end in itself. Resilience and adaptability come from being open to learning new ways to turn challenges into opportunities. Like most flower lovers, we all have our weaknesses, Diane acknowledges. "It's fun to grow the latest varieties and the cool colors because our customers respond to that," she says. "Streamlining what we grow can get boring. So I'm trying to look for gaps in the market that I can fill with new offerings."