Sweet Peas - Key Growing Information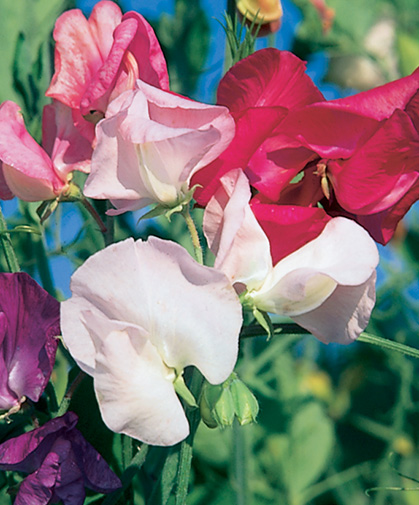 DAYS TO GERMINATION:
14-21 days at 55-65°F (13-18°C). To aid germination, seeds can be presoaked for 24 hours in room temperature water prior to planting.


SOWING:
Transplant (recommended) - Sow 1/4- 1/2" deep into 72-cell flats or preferred deep-cell seedling container, 4-5 weeks before planting out. Darkness is required for germination. Direct seed - 6 weeks before last frost. Seedlings won't be damaged by light frost. Pinch when 6-8" tall to encourage denser branching and more flowers. Trellis support is required.


LIGHT PREFERENCE:
Sun.


PLANT HEIGHT:
Varies. Support such as Hortonova vertical trellis is needed to support plants.


PLANT SPACING:
6".


HARDINESS ZONES:
Annual.


STEM LENGTH:
6-16".


VASE LIFE:
4-6 days. Sweet Peas do not store well, but if necessary store at a temperature of 36-39°F (2-4°C).


HARVEST:
Half the flowers on a stem are open. Harvesting flowers increases blooms.


SOIL REQUIREMENTS:
Rich, deep, loamy, moist, well-drained soil. 6-7 pH preferred.

TIP:
Using white on black plastic or straw mulch will help keep roots cool and the plants productive for a longer period.


USES:
Cut flower, backs of borders, fences, trellises, arbors, and cottage gardens.


SCIENTIFIC NAME:
Lathyrus odoratus