Borage - Key Growing Information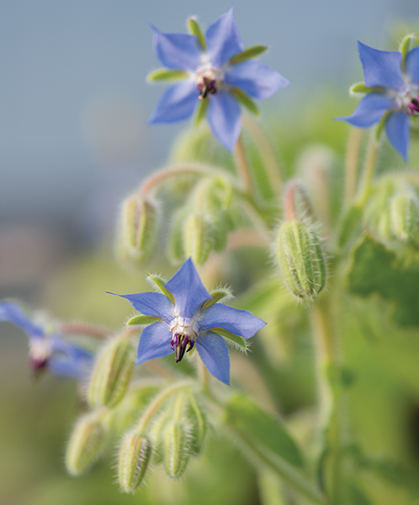 DAYS TO GERMINATION:
7-14 days.


SOWING:
Direct seed (recommended): Sow seeds as soon as the soil has warmed in the spring. Plant 1/4- 1/2" deep, 3 seeds per foot in rows that are 24" apart. Thin to 12" spacing for individual plants.
Transplant: Starting borage for transplanting is possible, but not recommended, as it develops a taproot and is somewhat difficult to transplant.


LIGHT PREFERENCE:
Sun.


SOIL REQUIREMENTS:
Grows well in average soil and will perform well even in poor soils.


PLANT HEIGHT:
18-30".


PLANT SPACING:
12".


HARDINESS ZONES:
Annual.


HARVEST:
Harvest borage as it begins to flower. Dry flowers quickly under moderate heat with good air circulation.


Note:
Borage readily self-sows.


SCIENTIFIC NAME:
Borage officinalis