Dill - Key Growing Information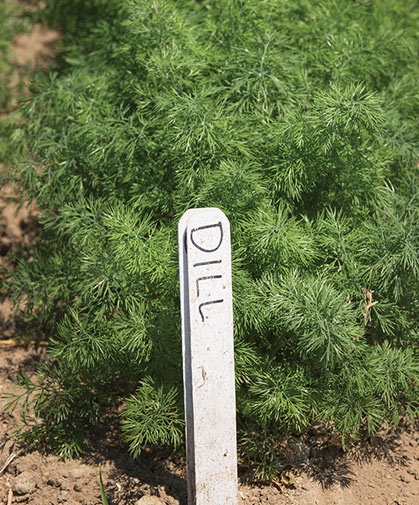 DAYS TO GERMINATION:
7-21 days at 65-70°F (18-21°C)


SOWING:
Direct seed (recommended) - Sow in spring as soon as the soil can be worked. Sow seeds 1/8- 1/4" deep, 1/4- 1/2" apart, in rows at least 3" apart. Thinning is not necessary. Successive sowings can be done every three weeks to harvest fresh greens continuously. Transplant - Dill can be started indoors in containers or cell trays. Sow 3-5 seeds per cell. Transplant out using 2-4" spacing in rows at least 4" apart.


LIGHT PREFERENCE:
Sun.


PLANT HEIGHT:
Varies.


PLANT SPACING:
1/4- 1/2".


HARDINESS ZONES:
Annual.


HARVEST:
Foliage may be harvested once the plants have become established right up to flowering. Harvest seed heads just as the seeds begin to turn a golden brown. Foliage and seeds can both be dried and stored for future use. Dry foliage in the dark to preserve flavor and color.


SOIL REQUIREMENTS:
Prefers a rich, light soil, but will grow in most soils.


SCIENTIFIC NAME:
Anethum graveolens