Agritourism Trends among Herb Farms
by Lynn Byczynski, Author & Founder of Growing for Market
Part retail nursery, part gift shop, part classroom, the herb farm has become one of the most popular types of agritourism destinations. Customers are willing to travel long distances to visit a farm where they can walk through display gardens, have a cup of tea and a scone, or take a class.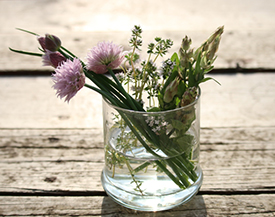 Display gardens are an important component because they show people the many ways that herbs can be used in the garden. The display gardens can be divided by themes: kitchen garden, healing garden, scented garden, butterfly garden, moon garden (all white plants), sunshine garden (all yellow), and so on. Although display gardens themselves are not revenue producers, they can drive sales if plants are clearly labeled and available for sale nearby.
Plant labeling. A retail greenhouse should offer a wide selection of plants that are labeled with their herbal properties. The more information, the better. Many people find plants so much more interesting when they hear the stories behind them.
Vegetable & herb pair seedlings. Some growers are making a full line of vegetable seedlings or plants available, especially heirloom varieties, in season. Organic transplants of both vegetables and herbs will have a marketing advantage at an herb farm because gardeners who intend to consume or otherwise use the herbs personally are motivated to grow herbs organically.
Dining. A tea room or restaurant is a logical extension for farms with the space, talents, and interest in food service. Herb farm eateries run the gamut from tea-and-scones on a patio to full-fledged restaurants with nine-course menus of local food priced at hundreds per person. Menu items should feature herbs in the description, of course. A few examples found on herb farm menus: lavender shortbread; parsley–lovage sauce; chervil–chive butter; rose geranium ice cream; rosemary–thyme chicken salad… the possibilities are limitless.
Educational opportunities are provided, such as lectures and workshops on a wide range of topics about gardening, cooking, crafts, and natural health. Some farms host free classes by local authors or chefs to draw customers in to the farm; others charge for workshops that result in a product for the customer to take home such as a wreath, an herb container garden, a selection of herbal teas, a garlic braid, and similar crafty items.
Gift shops. Again, the breadth of the herb category offers a huge range of possibilities with farm-made or purchased products, including food items, body products, candles, books, cut or potted herbs, gardening tools and accessories, decorative and seasonal items.
Events such as weddings and retreats can be a profitable sideline for a destination farm with one or more suitable buildings and/or great scenery.
Running an herb farm requires horticultural knowledge, an interest in retail, and marketing skills. A beautiful location, well-kept grounds, and proximity to a city or travel corridor can also be important contributory components. Growers who are attracted to the idea are encouraged to do an online search for "herb farm" to explore websites that provide a glimpse into this interesting and potentially profitable farm business.
About the Author
Lynn Byczynski was growing organic vegetables and cut flowers for market when she decided to create a magazine that would help market gardeners nationwide share experiences and information. Her first issue of
Growing for Market
appeared in January 1992, and
GFM
has been published continuously ever since, becoming renowned in the market-gardening world for realistic articles that provide practical, how-to information about growing and selling produce and flowers.
Byczynski and her family have been growing vegetables and cut flowers since 1988, selling through CSAs, at farmers' markets, to chefs, grocery stores, and florists. They currently grow cut flowers and hoophouse tomatoes on about 2 acres of their 20-acre farm near Lawrence, Kansas.
She is also the author/editor of two of our favorite books about market farming,
The Flower Farmer
and
The Hoophouse Handbook
.