Ideas for Generating Income from the Herbs You Grow
by Lynn Byczynski, Author & Founder of Growing for Market
Herbs are often called the useful plants, and with good reason. They are valuable for culinary, cosmetic, medicinal, and ornamental products, offering a world of mercantile possibilities. They can be sold as live plants all season long, sold freshly cut for culinary use, made into herbal bouquets, or dried and used in herbal crafts.
Take up the study of herbs yourself and become a local herb expert. As you help people see the many ways they can use herbs in their daily lives, your herb business will prosper. Here are a few ways to make herbs a profitable part of your market garden.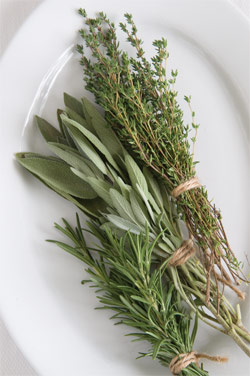 About the Author
Lynn Byczynski was growing organic vegetables and cut flowers for market when she decided to create a magazine that would help market gardeners nationwide share experiences and information. Her first issue of
Growing for Market
appeared in January 1992, and
GFM
has been published continuously ever since, becoming renowned in the market-gardening world for realistic articles that provide practical, how-to information about growing and selling produce and flowers.
Byczynski and her family have been growing vegetables and cut flowers since 1988, selling through CSAs, at farmers' markets, to chefs, grocery stores, and florists. They currently grow cut flowers and hoophouse tomatoes on about 2 acres of their 20-acre farm near Lawrence, Kansas.
She is also the author/editor of two of our favorite books about market farming,
The Flower Farmer
and
The Hoophouse Handbook
.