Root Parsley - Key Growing Information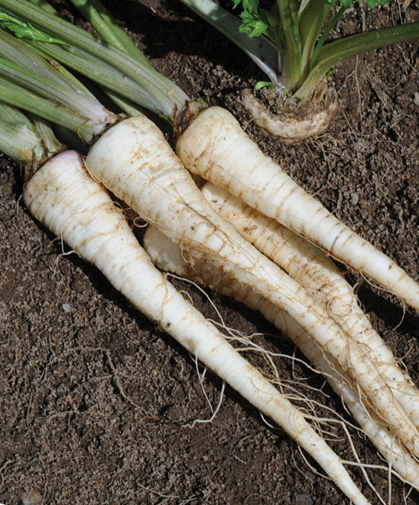 CULTURE:
Root parsley grows best in deep, moist, fertile soil. Direct seed in early to midspring after danger of frost, 1/4– 1/2" deep, 1–2 seeds per inch in single rows or in 2–3" wide bands 12–18" apart. Seeds germinate in 14–30 days. Keep soil surface moist during the germination period. Thin plants to 1–3" apart, depending on desired root size. Control weeds with frequent shallow cultivation. Plants are cold hardy and can withstand some freezing in the field.

HARVEST:
Loosen with a spading fork
and lift when roots have reached desired size.

STORAGE:
Trim tops and store at 32°F (0°C) and 95% relative humidity.

AVG. DIRECT SEEDING RATE:
1 oz./350', 2.9 oz./1,000', 5.2 lb./acre at 40 seeds/ft. in rows 18" apart.

SEED SPECS:
Avg. 24,000 seeds/oz.

PACKET:
200 seeds.