Flavor Over Fiber Snap Bean Eating Quality Recommended Snap Bean Varieties
It all comes down to FLAVOR. We grow beans to feed ourselves and others, so the eating experience is what we consider above all else when selecting our bean varieties.
The Case for the Crooked Bean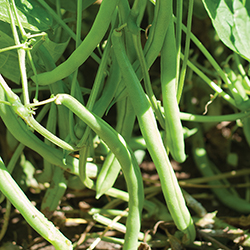 Eating quality tops Johnny's list of criteria when selecting all types of bean varieties — including our tender, tasty snaps!
View All Our Bush Beans
Two primary factors influence the eating quality of snap beans: flavor and fiber. The more flavor the better, and the less fiber the better.
Because processing beans are cut during the canning process, straightness is not important, so a breeder of processing beans can focus on breeding good flavor and low fiber. Fresh market beans, in contrast, the ones you see in the produce section of the supermarket, are bred to be straight, and hence have higher fiber content than processing beans. Straightness makes them prettier and easier to pack and ship and stack and store, but not nearly as tender as processors.
Johnny's beans may not be quite as straight as your typical supermarket bean, but they are much tastier!
Beauty Tip: Water stress is another factor known to influence pod shape and quality, so to grow beautiful beans, it's important to ensure regular watering or irrigation to keep water stress to a minimum during flowering, pod set, and pod growth.
Here are some additional criteria that are important for us when selecting our snap beans (as well as other types of beans).
Seed color. In cool, moist soils, dark-seeded beans germinate better than white-seeded beans. The reason most modern commercial beans are white-seeded is because they look better when processed. The seeds of dark-seeded varieties become grayish when processed.
Upright plant. We look for beans with a sturdy, upright growth habit. A plant that stands up well will minimize pod-to-soil contact, which results in less disease and fewer rotten bean pods. An upright plant is easier to weed and to pick.
Yield. Pick, Pick, Pick! The key to maximizing yield is to keep the plant picked so it continues to produce. For a crop like beans, this means every 5–7 days for regular bush beans, and every other day for filet beans.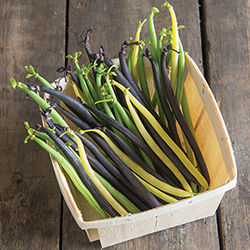 Johnny's line of beans includes a delicious selection of snap varieties. Here are some recommendations for season-long snap bean success.