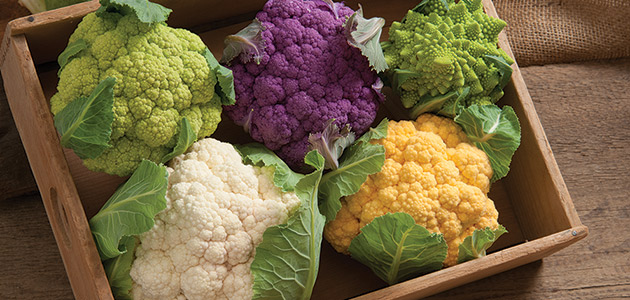 Johnny's CAULIFLOWER Planting Program
Cauliflower Succession Planting & Season Extension
Johnny's Planting Programs are designed to take the guesswork out of succession planting, allowing you to easily extend your harvest throughout the growing season.
Successive plantings of different cauliflower varieties in the appropriate seasonal slots and sequence will allow you to maximize your yield, quality, and harvest window. Choose from a dozen cauliflower varieties by type, days-to-maturity, heat and cold tolerance, color, and optimal sowing/harvesting periods.
For the most deliciously tender, attractive, and marketable results with standard white cauliflower varieties, follow our simple blanching tips.
Sowing & Harvesting Period
Cool/
Spring
Warm/
Summer
Cool/
Fall
Cold/
Winter
Features
| | | | | |
| --- | --- | --- | --- | --- |
| Note | Days to Maturity | Heat Tolerance | Cold Tolerance | Color |
| Most reliable all-season Romanesco | 78 | Very good | Good | Green |
Tech Tip: How to Blanch White Cauliflower Varieties
Exposure to the sun can cause the heads of white cauliflower varieties to turn yellow or light purple. Some varieties are self-wrapping, which helps prevent this process from occurring. For varieties that are not self-wrapping, a simple blanching method can be used to produce the creamy-white heads that many look for in cauliflower. Follow these tips for uniformly white heads.
The time to begin blanching is when the developing heads are just visible through the leaves, about 1–2" in diameter.
Gather the outer wrapper leaves and pull them over the heads, securing them together with twine, clothespins, or a rubber band.
Another method is to crack the midribs of the leaves and fold them over the head until it is completely covered. Do not break the leaves, or they may blow away.
Check the heads as they develop. Tied or covered heads may be subjected to increased humidity levels, increasing their susceptibility to Alternaria.
Blanching becomes less important in the cooler, shorter days of fall.
Note there is no need to tie the leaves around the heads of colored cauliflower varieties — to achieve their rich coloration they require exposure to light!