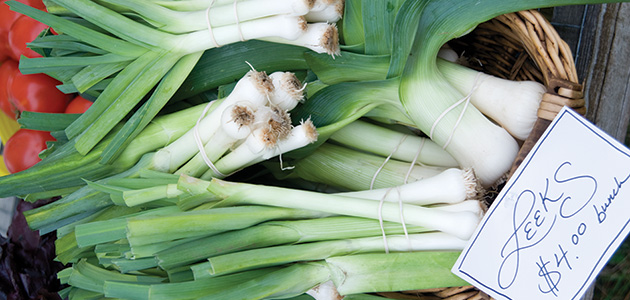 Johnny's Leek Harvesting Program
Extend Your Leek Harvest Across 7 Seasonal Slots
Johnny's Leek Planting/Harvesting Program is designed to take the guesswork out of planting, allowing you to maximize yield and quality over the widest possible harvest window.
First, use the chart below to choose varieties for planting by their projected sequential harvest slots:
1) summer; 2) summer/late summer; 3) late summer/early fall; 4) fall; 5) fall/late fall; 6) late fall; and 7) winter.
Next, plant several leek varieties with different maturity dates at the same time.
Then, harvest in succession. Each leek variety will mature in its appropriate seasonal slot from a spring planting. The less cold-tolerant leeks are faster-growing, and the more cold-hardy leeks are slower-growing.
Johnny's Planting/Harvesting Programs
Leeks • Planting/Harvesting Program
HARVEST SLOT
LATE FALL/WINTER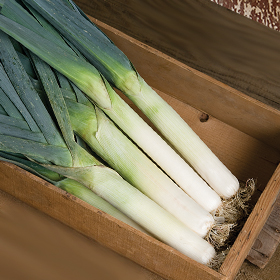 Days to Maturity: 110
Hybrid (F1). Large, uniform, and very frost hardy.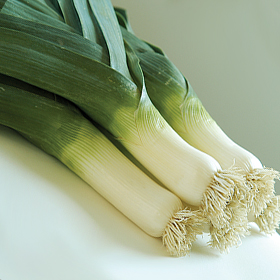 Days to Maturity: 120
Open-pollinated (OP). Very winter-hardy leek. Organic seed.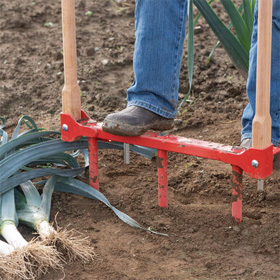 To achieve optimal blanching and long, white shanks.
Three rows of 9½" dibbles.
Designed for 30"-wide beds.
Tech Tip: When to Harvest & How to Store Your Leeks
Our Leek Harvesting Program allows you the option of producing the maximal quality and yield across the seasons by planting several leek varieties with differing days to maturity, then harvesting in succession.
Timing of your leek harvest can be made in a less formal fashion if desired, however. Just dig as necessary; the leeks can be harvested at any time during the season and in some cases they can be held later in the field, if desired. We recommend you trial for the best results for your needs.
Leeks will store for several weeks. Clean the plants and store at near-freezing temperature in boxes or in a humid cooler, or, place the roots in a moist soil/sand/peat mix and store in a root cellar under the same conditions as onions. Tops will stay green if exposed to some light.