Planning for Opening Day or First Delivery Date
by Lynn Byczynski, Author & Founder of Growing for Market
Whether you sell at a farmers' market, roadside stand, or to wholesale accounts, you know how important the first market or delivery day can be. From a financial standpoint, you've been spending money for months on production, and it's high time to start recouping some of those expenses. From a marketing standpoint, your offerings on opening day will set expectations for the season and start to build a customer base.
That's why it's important to have as much produce as possible to sell when your market opens. You need a critical mass of crops ready for harvest; without it, you might decide going to market is not worth the trouble. So if you're going to plant anything to sell early in the season, you might as well plant as much as possible.
Figuring out when to plant so that you have a full table on opening day can be a complicated business. Johnny's has created a Target Harvest Date Calculator that allows you to input the date of your opening day or other big event, then shows you the date to plant various crops. However, this calculator is based on Days to Maturity for each vegetable, and that figure is obtained from the breeders who trial it in the field at a normal planting time. It does not take into account variables such as growing in a hoophouse or Quick Hoops™ tunnel when day length is shorter and temperatures lower than at the normal planting time.
If you use the Target Harvest Date Calculator to figure production for an early market, you will need to make adjustments to the planting date to reflect conditions at your own farm. How much should you adjust the date? We wish we could provide specific information, but that simply has not been researched by anyone yet. Eliot Coleman has started collecting information for his farm in Maine, and he has found that crops grown over the winter can take two, or even three times the published Days to Maturity. He addresses this aspect of his research in The Winter Harvest Handbook, pages 48–50.
Pam Dawling, who writes about vegetable production for Growing for Market, has found that at her farm in Virginia, winter sowings are very slow, even in the hoophouse where they have enough warmth. For example, radishes planted in early September take 29 days. Those planted in late November take 77 days, and those planted at the end of January take 65 days.
From these two examples, you can see that Days to Maturity is affected by day length as much as temperature. The best advice we can give is to keep careful records about planting and harvest dates for every crop. Over time, you will have the data to be able to predict how much time to add to the published Days to Maturity for a crop, based on your day length and temperature.
About the Author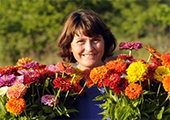 Lynn Byczinski, Author & Founder of Growing for Market
Lynn Byczynski was growing organic vegetables and cut flowers for market when she decided to create a magazine that would help market gardeners nationwide share experiences and information. Her first issue of
Growing for Market
appeared in January 1992, and
GFM
has been published continuously ever since, becoming renowned in the market-gardening world for realistic articles that provide practical, how-to information about growing and selling produce and flowers.
Lynn and her family have been growing vegetables and cut flowers since 1988, selling through CSAs, at farmers' markets, to chefs, grocery stores, and florists. They currently grow cut flowers and hoophouse tomatoes on about 2 acres of their 20-acre farm near Lawrence, Kansas.
She is also the author/editor of two of our favorite books about market farming:
• The Flower Farmer
• The Hoophouse Handbook