Microgreens are a super-quick crop that can be grown year-round. They are also relatively easy to grow, but not entirely foolproof. For beginners, some are more dependable than others.
Out of the dozens of different microgreen selections we offer, we chose these 5 varieties, plus 3 carefully curated mixes, as our top recommendations for those new to growing this crop.
Whether you're looking to add diversity and profitability to your operation or simply to give them a try, here are the best microgreens for getting off to a successful start.
Microgreens can be grown from many different types of seeds, including herbs and flowers as well as vegetables.
You can grow single varieties or mixes of different crop types and varieties.
If growing single varieties to harvest at the same time, use our Fast-Growing Microgreens and Slow-Growing Microgreens Comparison Charts to compare their growth rates and time your sowings accordingly.
5 Easy Microgreen Varieties
If you're feeling adventuresome, start off by growing one or more of the following 5 varieties.
We've selected these varieties because in our experience, they reliably produce dense, uniform stands that are easy to harvest. They also offer a pleasing diversity of flavors, from mild to spicy, and an attractive range of colors, shapes, and textures.
3 Easy Micro Mixes — Let Johnny's Mix It for You!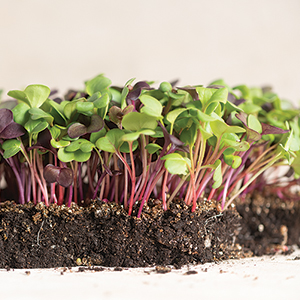 If you're ready to get started but prefer to keep things simple, premixed microgreens blends are the way to go.
Micro mix can consist of many different kinds of vegetables — amaranth, arugula, beets, broccoli, cabbage, kale, mizuna, mustards, pac choi, radishes, to list a few — as well as tender herbs such as basil, fennel, and cutting celery.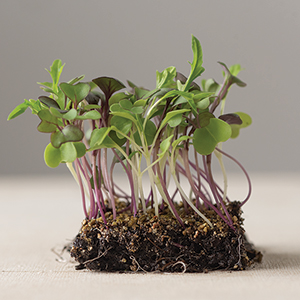 At Johnny's, careful selection and trialing have gone into the development of our premixed blends, so they reliably provide the advantages of uniform, compatible growth rates, a range of textures and colors, and well-balanced flavors.
We are pleased to offer all three of our easy-to-grow microgreens mixes in both conventional and certified-organic seed.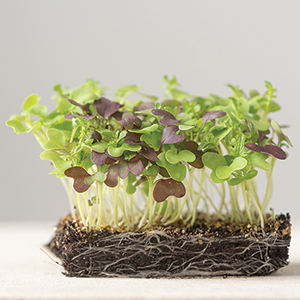 You can offer these mixes individually or combine the mild product with the spicy one post harvest, according to preference.
8 Is Great … but There Is More!
These are just 8 out of dozens of micros that can be grown year-round.
Once your program is up and running and you've mastered these easy varieties, you may be ready take it to the next level by trying new varieties, diversifying, and customizing your mixes.
Maybe growing our 'Rainbow Sprinkles' Beets & Chard Mix is the next step on your micro learning curve!
Based on what grows well for you and what you like best, we encourage you to experiment over time and develop your own signature mix.
Learn More
If you'd like to get started now, the following resources will show you how.