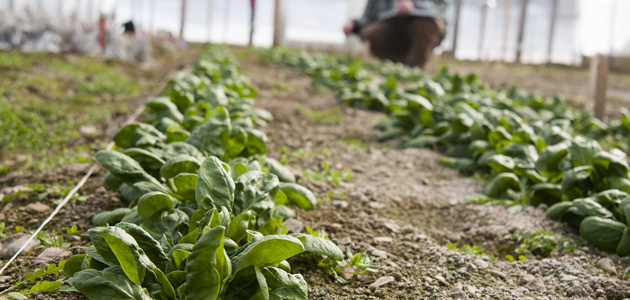 Johnny's SPINACH Planting Program
Spinach Succession Planting & Season Extension
Johnny's Spinach Planting Program is designed to illustrate which spinach varieties to plant, grow, and harvest in sequence, allowing you to extend your spinach harvest across the seasons. Slow-growing spinach varieties mature best under warm conditions, whereas faster-growing varieties mature best under cooler conditions.
Establish your spinach production plan by evaluating the sowing and harvesting slots indicated in the charts below. Additional key distinguishing features include leaf shape (round, oval, arrowhead), texture (smooth, semi-savoyed, savoyed), and color; days to maturity (DTM figures are for "farmer's market baby leaf size"); growth rate and tendency to bolt; and disease resistances, including strains of downy mildew and white rust.
Notes:
Resistances to downy mildew races are high (HR) unless otherwise noted.
Varieties are listed in order of increasing number of days to maturity.
Choose Spinach Varieties by Sowing & Harvesting Periods
Tech Tip: Winter Spinach Production
At higher latitudes, such as here in Albion, Maine, spinach can be grown in a hoophouse right through winter. The key is to have the spinach established before the day length drops below 10 hours, after which growth rate slows to a standstill but tolerance to cold temperatures remains in effect, allowing for winter harvest and overwintering for early spring harvest.
Seeding for winter production occurs at the warmest time of the year, when spinach traditionally performs poorly. Keep the soil moist and cool, but monitor well to prevent damping off. Irrigating the soil cools it in two ways: first, by physically cooling the soil with cold water; and second, by evapotranspiration, by which evaporation draws heat from the soil.