Miso-Glazed Kabocha Squash
Recipe Video with Pete Zuck, Vegetable Product Manager, R&D
Kabocha: The Late-Winter Squash of Record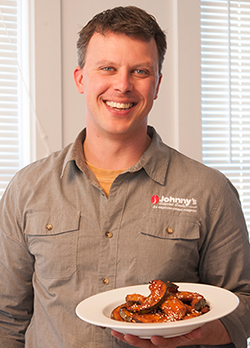 It is not surprising that kabocha is the squash-of-record in Japan. The Japanese market is very particular about eating quality in vegetables, and the kabocha are among the finest types, as well as having the longest storage potential.
In searching for ways to experience squash the way they do in Japan, I've been trying a few variations on miso-glazed kabocha. The concept is simple and the recipe adjustable, and it highlights everything that's so great about this squash. It incorporates the core flavors of sweet, sour, salty, and probably umami — a flavor concept embodying "pleasant savoriness," first defined in Japan over a century ago.
I hope you enjoy it enough to try it six different ways!
— Pete Zuck, Vegetable Product Manager, R&D, Johnny's Selected Seeds
Pete's Miso-Glazed Kabocha Recipe
Prep Time : 20–30 min
Cooking Time : 25–35 min
INGREDIENTS
SQUASH
~1½-lb kabocha squash, seeded and cut into ¼-inch slices.
The dark orange fibers which line the seed cavity should be scraped clean from the flesh.
Do not peel the squash — kabocha skin is delicate and perfectly edible, and it will help hold the pieces together after cooking.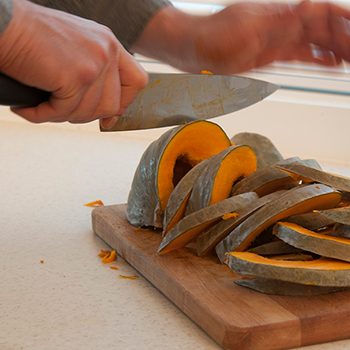 GLAZE
⅓-cup white miso paste
2 Tbsp rice vinegar
¼-cup mirin or sake
3 Tbsp vegetable oil
2 Tbsp soy sauce or tamari
2 Tbsp brown sugar, packed
1–2 Tbsp fresh grated ginger
1 tsp toasted sesame oil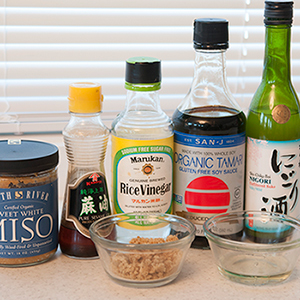 OPTIONAL GLAZE VARIATIONS
Chili paste to taste, to liven it up, or tamarind paste to taste (1–2 tsp), for a tangy kick. Neither should affect the consistency of the glaze.
Substitute umeboshi plum vinegar for all or part of the soy sauce for a fruitier flavor.
Substitute lemon or lime juice for all or part of the rice vinegar for a citrus twist.
GARNISH
DIRECTIONS
Preheat oven to 375°F/190°C.
Combine all glaze ingredients in large bowl (including optional ingredients). Whisking is fine, but an immersion blender will really mash up the small chunks of bean in the miso and make a smoother liquid.
Toss enough squash slices in the glaze to coat thoroughly while still leaving about one-fourth of the glaze in the bowl for later use.
Place the coated slices on a baking sheet. Oil is recommended on the sheet to prevent sticking. It is also helpful to overlap the slices so they are propped up on each other, rather than laying flat on the sheet. This helps with sticking and also promotes even cooking.
Bake 15 minutes.
Remove from hot oven. Flip slices over, brush the remaining glaze onto both sides, and sprinkle slices with sesame seeds.
Return slices to the oven and bake until the squash is cooked through and the glaze darkens to a deep, lustrous brown and the squash has softened but can still be handled without falling apart. This may take 10–20 minutes, depending on the density of the squash and oven temperature.
Enjoy!

Miso-Glazed Kabocha Squash