Winter Squash - Key Growing Information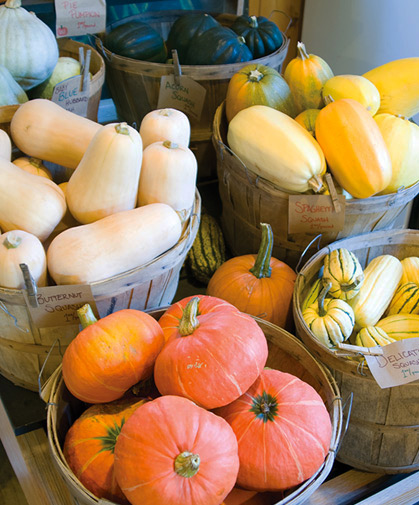 SCIENTIFIC NAME:
Cucurbita spp.

CULTURE:
Fertile, well-drained soil is best.

FROM TRANSPLANTS:
Sow 2–3 seeds in 2" containers or plug trays 3 weeks before transplanting outdoors. Thin to 1–2 plants/cell with scissors. Transplant after frost danger when weather is warm and settled. Plants should be spaced 18" apart for bush and small-fruited varieties, with 4–5' between rows. Plants should be spaced 24–36" apart for large-fruited varieties, with 6–12' between rows. Take care not to disturb roots! Plastic mulch and fabric row covers will help plant establishment, reduce weed pressure, and exclude insect pests.

DIRECT SEEDING:
Sow in late spring after frost danger when soil is warm, minimum 62°F (17°C) for treated seeds and 70°F (21°C) for untreated seeds — seeds will rot in cool soil, especially cool, wet soil. Sow 1-2 seeds every 12" (24-36" for large-fruited varieties) 1/2–1" deep. Thin to 1 plant per spot. Rows 6' apart, 12' apart for larger fruit.

DISEASES:
Cucumber beetles can carry bacterial wilt and must be controlled. Gummy stem blight (black rot) causes black, sunken spots to appear on fruits in storage and the tan scabby patches on butternuts in the field. Downy mildew may occur in damp weather. Powdery mildew can occur in hot or cold temperatures, or during dry periods. Consult your local Extension agent for specific fungicide control. Choose well-drained soil to avoid Phytophthora.

SPRING COLD PROTECTION:
AG-19 (heavier grade) floating row covers will provide about 4° of frost protection and add warmth for vigor and an earlier harvest.

INSECT PESTS:
Protect young plants with floating row covers. Cucumber beetles, squash bugs, and vine borers can be a challenge. Pyrethrin offers some control. Squash bug eggs laid on the underside of leaves may be located and crushed. Keep borders well mowed. For vine borers, cut out of vines and hill soil over the wound. Clean up refuse in the fall, and spring-plow the ground to bury the pupae. The butternut type has solid vines usually not bothered by borers.

FALL FROST:
Frost kills leaves and can thus facilitate harvest; however, temperatures below 28°F/-2°C can also damage fruits and cause spotting and poor storage. Mature fruits can usually tolerate 1 and sometimes 2 or 3 light frosts without substantial damage. Sprinkler irrigation wards off moderate frost damage to fruits.

HARVEST:
Before heavy frost, cut stems about 1" from the fruit when stem is drying and skin is hardening. Handle fruits gently, as they can bruise easily.

CURING:
Cure in the field to dry and toughen skins by exposing fruits to sun for 5–7 days or so, covering in the evening if frost is likely. An indoor method of curing is to expose squash to 80–90°F (27–32°C) with ventilation for 3–5 days.

STORAGE:
Store at 55–60°F (12–15°C), 50–75% relative humidity, and good air circulation. An accumulation of sub 50°F (10°C) exposure events causes chilling injury, reducing storage life.

DAYS TO MATURITY:
From direct seeding; subtract about 14 days if transplanting.

AVG. DIRECT SEEDING RATES:
(At 2 seeds/ft., rows 6' apart.) Group 1: Hubbard, Kuri 50'/oz., 850'/lb., 8 1/2lb./acre. Group 2: Buttercup, Kabocha, Spaghetti, 75'/oz., 1,250'/lb., 5 3/4lb./acre. Group 3: Butternut, Acorn, 155'/oz., 2,500'/lb., 3lb./acre. Group 4: Delicata, Sweet Dumpling 225'/oz., 3,750'/lb., 2 lb./acre.

SEED SPECS:
See individual varieties.

PACKET:
30 seeds.