A 3-tiered Marketing Approach
1. BEGINNER STRATEGY • Spice It up with Arugula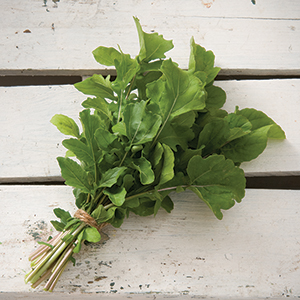 If marketing in an area where the only available salad greens are lettuce, begin by offering arugula. This distinctive peppery green from the mustard family is increasingly popular at farmstands and on grocery store shelves across much of the US. It may be sold as salad mix or bunched.
There are two main types of arugula — the standard salad type (Eruca sativa) and the more rustic, wild type (Diplotaxis tenuifolia). Salad arugulas have smoother, broader, oak-shaped leaves and a vigorous growth rate. They are suitable for salad mix or bunching.
Wild arugula types typically have narrow lobed leaves and a slower growth rate. This more pungent type is prized by chefs and best suited for salad mix.
Be sure to cover arugula as soon as it's planted, and keep it covered to control flea beetles. Under certain conditions, these pests can seemingly destroy a crop in a day or less.
Marketing Tip: Cross-sell arugula with cherry tomatoes as a summer salad suggestion. Arugula is generally not featured in hot dishes unless added just prior to serving — stirred into soups, added to omelettes, or wilted atop pasta or pizza.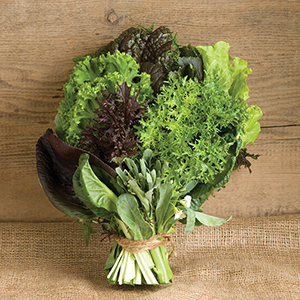 If marketing in an area where arugula is a familiar and lettuce is old news, incorporate Asian greens and mâche.
Asian greens add color, flavor, loft, and weight to salad mix. Combine with arugula, lettuce, chicory, and herbs such as parsley or basil for mesclun mix. Grown to full size, Asian greens work well in stir-fries. Cross-sell with carrots, cilantro, peppers, and onions as a stir-fry starter mix.
Mâche is a cool-weather crop. It thrives in the late fall, winter, and early spring. In mild areas it can be field-grown and harvested throughout the winter. In Northern areas it performs well in a hoophouse or caterpillar tunnel. Mâche is easy to grow, but can be hard to clean. Rinse harvested rosettes gently to avoid bruising the leaves.
Marketing Tip: To maximize profit margin, time plantings to ensure plentiful product is available across the holiday season.
Learn more about Johnny's Asian Greens — Plus 5 Easy Recipes.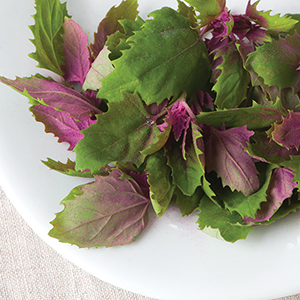 In higher-end markets, creativity is key. Differentiate yourself with unique salad mixes by rotating combinations of specialty greens with the changing seasons — purslane and 'Magenta Spreen' in the summer; minutina and claytonia in the fall and winter, for example.
You can also incorporate edible flowers such as pea blossoms, violets, borage, calendula, bachelor's buttons, and nasturiums. For restaurants and caterers, offer edible flower bouquets. These can be kept fresher and added to dishes upon order and day of event.
Marketing Tip: Offer prebunched mixed greens for sautées. Include any of the Asian greens, mustards, kale, Swiss chard, and mini broccoli.
Greens Harvester Demonstration