A 3-tiered Marketing Approach
1 • BEGINNER STRATEGY • Spice It Up with
Arugula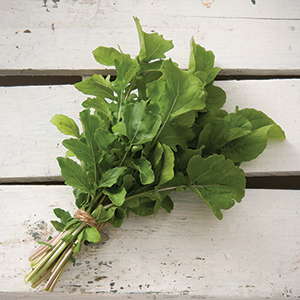 If your market is located in an area where the only available salad greens are lettuce, begin by offering arugula. Known for its unique taste and flavor, this leafy green from the mustard family can be peppery, hot, bitter and sweet — somehow all at once. Arugula can be sold as salad mix or bunched and is in steadily high demand at farmstands and grocers across much of the US.
Types of Arugula
There are two main types of arugula — the standard salad types and the more rustic, wild types. They are distinct genera and species, but both are high in the phytochemicals that provide arugula's distinctive aroma and flavor profile, as well as significant potential health benefits. Here are some general features of the two species.
SALAD ARUGULA (Eruca sativa)

Also known as common arugula or salad rocket
Smoother, broader, oak-shaped leaves
More vigorous growth rate
Days to harvest approximately 21 (baby leaf) to 40 (full-size)
Suitable for salad mix or bunching
More prone to yellowing post-harvest

WILD ARUGULA (Diplotaxis tenuifolia)

Also known as perennial wall rocket
Smaller seeds
Slower to establish and grow
Days to harvest approximately 45–51
Narrower, lobed leaves
Thicker texture
More pungent flavor, prized by chefs
Best suited for salad mix
Extended shelf life
Tech Tips
To control flea beetles, be sure to cover arugula with row cover as soon as it's planted — and keep it covered. Under certain conditions, these pests can destroy a crop in a day or less.
Covering the crop with floating row cover (e.g., Agribon) can also help reduce the number of days to harvest during cooler weather.
Marketing Tips
Cross-sell arugula with cherry tomatoes as a salad suggestion from high summer into early fall.
Arugula is usually consumed raw, but can be added to hot dishes prior to serving — stirred into soups, sprinkled into omelette fillings, or wilted atop pasta or pizza.
The small yellow flowers are also edible.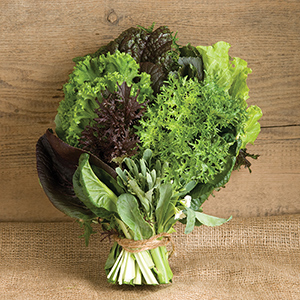 If you're marketing in an area where arugula is familiar and lettuce is old news, incorporate Asian greens and mâche.
Asian greens are tremendously diverse and versatile. They add color, flavor, loft, and weight to salad mix. They can be combined with arugula, lettuce, chicory, and herbs such as parsley or basil for mesclun mix. Grown to full size, Asian greens are key components in stir-fries. Cross-sell Asian greens with a seasonally changing kaleidoscope of distinct and preferred flavors — hot peppers, choi sums, sprouting broccolis, garlic, scallions, Chinese leeks, chives, cilantro, lemon grass, shiso, Asian basils — as a stir-fry starter mix.
Mâche is a cool-weather crop that thrives in the late fall, winter, and early spring. Also known as lamb's lettuce, corn salad, or Nüsslisalat ("nut salad"), it is a diminutive plant with thumb-sized leaves that remain tender, juicy, and mildly nutty even when temperatures plummet. In milder areas it can be field-grown and harvested throughout the winter. At higher latitudes it performs well in a hoophouse or caterpillar tunnel. Mâche is easy to grow but slow to grow, and it can be hard to clean. Be sure to harvest before flowers appear, and rinse harvested rosettes gently to avoid bruising the leaves.
Tech Tips
Asian greens in the brassica family are mostly cool-season crops, best sown in the last weeks of summer when less prone to bolting. If sowing during lengthening days, frequently pinching a few leaves from the plants can help slow down the process of bolting.
Brassicaceous Asian greens will also fare best when covered with row covers at planting, and kept covered, to deter flea beetles.
Slugs are the biggest pest of low-growing mâche, especially in cool damp conditions. Ward them off with a ring of coffee grounds, diatomaceous earth, or slug bait. Here are some OMRI-approved options for organic growers.
Marketing Tips
To maximize winter profit margin, time plantings to ensure plentiful product is available across the holiday season.
Offer tasting samples of mâche if consumers in your market region are unfamiliar. Its delicate, tender leaves have a nutty, herbal quality that is excellent in lightly dressed winter salads. Mâche pairs beautifully with walnuts, chêvre, dried cranberries, minced shallot, chopped hard-boiled eggs, or sliced roasted beets. It can also be served lightly braised.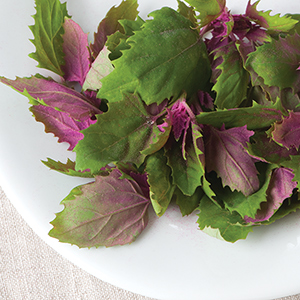 In higher-end markets, creativity is key. Differentiate yourself with unique salad mixes by rotating combinations of specialty greens with the changing seasons — purslane and 'Magenta Spreen' (aka giant goosefoot or tree spinach) in the summer; and claytonia in the fall and winter, for example.
You can also incorporate edible flowers such as pea blossoms, violets, borage, calendula, bachelor's buttons, and nasturiums. For restaurants and caterers, offer edible flower bouquets. These can be kept fresher and added to dishes upon order and day of event.
Marketing Tips
Offer prebunched mixed greens for sautées. Include any of the Asian greens, mustards, kales, Swiss chards, and mini broccolis.
Let the verdant freshness and novelty of your leafy greens leap out at prospective buyers. Preserve the product quality by keeping your greens in an ice chest or another type of cooler while at market, displaying just a sample or packet or two of each product at a time.
Mix Your Own
Choose individual varieties from Johnny's expansive selection of greens to create your own mix of specialty favorites. All of our greens varieties are selected for outstanding color, texture, and flavor.
Our baby leaf category offers scores of varieties and mixes, every one meticulously pretrialed and selected expressly for suitability in babyleaf and "teenage" production. Mix, match, and maximize your return!
Learn more
Additional Resources from Johnny's
Learn more about Johnny's Asian Greens — Plus 5 Easy Recipes

• Article

Use the charts in our Winter Growing Guide to time your sowings of many different types of greens and have them ready for winter harvest or overwinter them for the earliest possible spring harvest.
References & Further Reading
A few additional resources regarding greens, on diversity, best cultural practices, marketing, and nutritional qualities.
VIDEO • Greens Harvester Demo
Explore Our Greens Selection