Timing Your Planting Dates for Earliest Spring Harvest
Overwintering Basics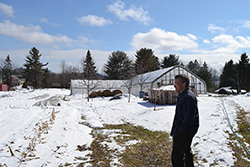 Here in mid Maine, the Persephone period ends on February 6, when daylight at our latitude again reaches 10 hours in length.

Overwintering entails establishing very young plants that can survive the winter and resume growth extra early the following spring. Once daylength increases to 10 hours, these plantings will grow rapidly.
Keep in mind that wide fluctuations in late-winter temperatures can sometimes cause overwintered crops to bolt before they reach a harvestable stage. This can be minimized by choosing varieties with greater bolting tolerance. (Our Good for Overwintering category includes varieties selected on this basis in our overwintering trial programs.)
The most calculated approach to scheduling seeding for overwintered crops involves seeding in the late fall, so that germination and the first stages of growth occur before the plant goes dormant during the Persephone period. Growth will begin again when days begin to lengthen.
Another overwintering method involves sowing just before the ground freezes, so that germination occurs after deep winter, as daylength increases and temperatures warm. This method can result in a lot of dead seed, however, if conditions do not pan out. (There is a risk that a higher percentage of seeds will rot in the soil during cold, wet conditions.)
An additional strategy is to seed just as the ground begins to thaw, or just as the Persephone period is ending (so technically, this is not overwintering). This works well for direct-seeded spinach and brassicas. Only the top inch or two of soil needs to be thawed in order to plant the seed.
Scheduling Guidelines for Planting Crops for Overwintering
Ten hours of daylight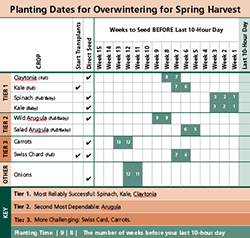 Use our clickable
Overwinter Planting Chart
as a guide, staggering your vegetable plantings by the week for successive earliest-spring harvests.
Use our clickable Overwinter Planting Chart to time your planting dates for earliest spring vegetable harvest.
Keep in mind that the planting dates are back-scheduled from the last 10-hour day at your latitude.
The number of weeks before the Persephone period is calculated for each listed crop.
The vegetable crops are grouped, as outlined in the chart key, to reflect their reliability for overwintering success.
Scheduling Guidelines for Overwintering Flowers
JOHNNY'S WINTER GROWING GUIDE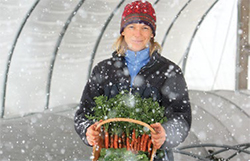 Overwintering Scheduling Guidelines
NEED A PRINTABLE VERSION?