Johnny's Educational

WEBINAR RESOURCES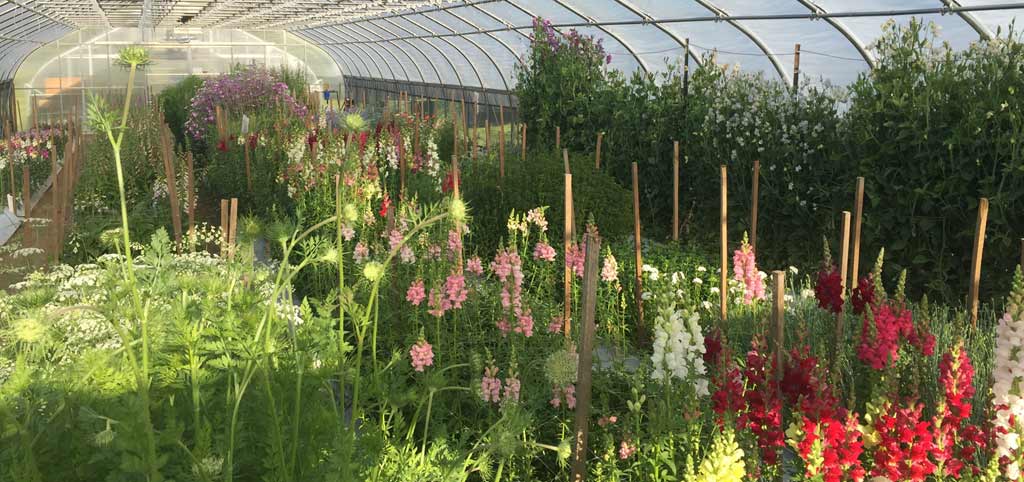 Overwintering Flowers •
How to extend your growing season with cold-hardy annuals
Welcome to the Resources page for our Overwintering Flowers webinar, a list of educational materials covering the basics of getting started with small-scale cut-flower production in the overwinter tunnel.
OVERVIEW: Joy and Hillary share what they have learned over 5+ years of working with overwintered flowers at Johnny's Research Farm in Zone 5. They walk you through the benefits of overwintering, provide crop and variety recommendations, and offer tips on getting set up for success. You'll also get updates on new crops and varieties currently under trial at Johnny's.
Joy, Molly, and Hillary additionally answer attendees' questions on overwintering flowers during the Q&A session.
About Our Presenters

Joy Longfellow is the Flower Product Technician at Johnny's, managing every aspect of the flower trialing program.
Joy enjoys exploring the challenges and possibilities of growing flowers year-round in cold climates. When she's not busy trialing flower varieties, she can often be found tending to her own backyard cutting garden.

Hillary Alger is the Flower Product Manager at Johnny's, with 7 years of experience managing the flower program.
Hillary and Joy have worked side by side to grow, document, and share their experimentation with overwintered flowers for early-season blooms.
Molly Sadowsky is a former Commercial Sales Representative for Canada and Southern Oregon.
With more than a dozen years of experience in wholesale and retail floral sales, Molly has worked closely with flower farmers to provide crop planning assistance and sales insights.
Overwintering Flowers Webinar Resources
Flowers for Overwintering • A Series of Video Clips on Crops & Methods
Introductory Articles & Worksheets for Overwintering Flowers
References & Further Learning