10 World-Class Asian Greens to Grow — Plus 5 Easy Recipes
At Johnny's we take particular pride in our Asian greens assortment. Years ago we noted a dearth of seed for growing Asian vegetables on this side of the Pacific. We began traveling to Asia to source seed for vegetables which at the time, to many, seemed exotic. Over the years we have continued our journey to develop a comprehensive assortment, to provide both home cooks and professional chefs with just about any green he or she may desire. To ensure top-notch seed quality, we established relationships with only the best suppliers, both domestic and Asian.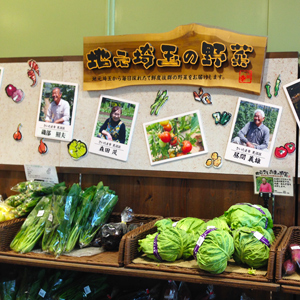 Local growers capture the limelight at a Japanese farmers' market. Whether you're provisioning at the supermarket (top image) or the farmers' market, in Japan, fresh greens take pride of place.

Our palates have gone global since then, but these greens can still be difficult to find in many areas — despite being prized by elite chefs and home cooks alike for their beauty, culinary versatility, and above all, unique flavor. Asian greens are also fast-growing, easy to grow, phytonutrient-rich and, for the most part, easy to prepare. All good reasons to grow your own.
To encourage your further explorations in the garden and the kitchen, we will highlight just 10 common and not-so-common Asian greens from our broad assortment, plus 5 simple recipes you can prepare in just minutes. (Note that although we won't be focusing on salad mix here, most of these varieties work well for that purpose. We also snuck 'Amara' in, which originated in Africa but is well-suited to Asian cuisine.)
As expected, these greens are commonly used in stir-fries and soups, but can be braised, grilled, steamed, roasted, and used in countless other ways. Of the many wonders of Asian cooking — whether Thai, Cambodian, Korean, Chinese, Japanese, Indian, Pakistani, or other regional Asian cuisine — the predominance of vegetable dishes is noteworthy. Furthermore, the vegetables share the plate or even take center stage, relative to the protein. We encourage you to explore these diverse and heathful cuisines on the internet or your favorite cookbook. Don't be afraid to experiment and use your imagination!
This standard salad mix variety is wonderful in stir-fries, fried rice, and soups at full-leaf size. It has a very mild flavor and is quite tender, so it has a very short cooking time.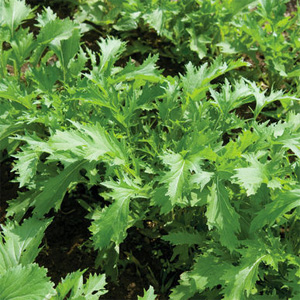 This simple recipe showcases the mild flavor of the mizuna, and makes an excellent side dish.
Ingredients
1 bunch Mizuna (approximately 12oz / ¾ lb), cut into 2–4" pieces
1 Tablespoon oil (canola, peanut, soybean, grapeseed, or coconut)
Salt or soy sauce, to taste
Instructions
Heat wok or skillet over high heat for 1 minute, then add oil.
Add Mizuna and cook for 1–2 minutes, until just tender but not overcooked.
Season to taste with soy sauce or salt and serve.
Note:
The Mizuna also may be steamed for a few minutes rather than stir-frying.
Choi sum is one of the most popular vegetables in Hong Kong, Taiwan, and China, but is not typically seen outside of Asian grocers in the US. This is unfortunate, as choi sum is tender and mildly sweet, and excellent in stir-fries and soups. Harvest just before or once a few buds have opened. Multiple harvests are possible.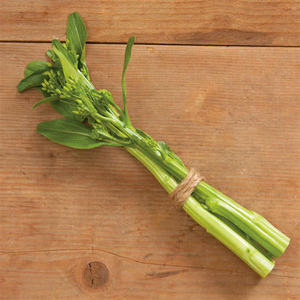 Ingredients
1 lb choi sum, cut into 2–3" pieces
1 Tablespoon oil (canola, peanut, soybean, grapeseed, or coconut)
2 large cloves garlic, sliced or minced
1 Tablespoon soy sauce
1 Tablespoon water
Instructions
Bring a pot of water to a boil, add the choi sum and cook until just tender, about 45 seconds.
Drain and set aside.
Heat wok or skillet over high heat for 1 minute, then add oil.
Add garlic and stir-fry until it starts to brown.
Add soy sauce and water and cook for 1 minute.
Add choi sum, stir, and serve.
This hybrid tatsoi is more attractive and uniform than open-pollinated tatsoi. It is wonderful in stir-fries and salads. It has an excellent, rich flavor, and its shiny dark-green leaves are very attractive. Named after Koji Uehara, who helped the Boston Red Sox win the World Series in 2013.
Also known as Japanese spinach greens, komatsuna has dark-green, highly flavored leaves. Use in soups and stir-fries, or substitute it for Chinese cabbage for a more highly flavored version of kimchee.
This diminutive variety is a Johnny's staff favorite. Plant 2–4" apart to produce small, 3–4" pac choi. They can be used whole or in halves on the grill, sautéed, braised, or stir-fried.
This nutritious, dark-green mustard of African origin is technically a mustard, but is also known as Ethiopian kale, highland kale, Abyssinian mustard, and Texsel greens. In Ethiopia it is cooked with onions and spices to create a delicious side dish. Most recipes on the internet call for kale or collards, as they are more readily available, but feel free to use 'Amara' instead. Also great in Asian soups.
This variety is quite spicy when raw, but retains just a little heat upon cooking. Prepare as an Indian side dish, or in Asian stir-fries or soups. It also is a traditional staple food in the American South. All you need to do is boil or steam it in a pot until tender with a little salt and pepper. For a more flavorful option, steam it until half-cooked, then sauté until finished.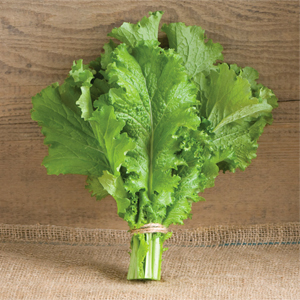 Ingredients
1 lb shredded mustard greens (green cabbage can be substituted)
2 large cloves garlic, coarsely chopped or sliced
1 Tablespoon coriander powder
½ teaspoon mustard seeds
½ teaspoon ground fenugreek
1 teaspoon cumin seeds
1 teaspoon turmeric
1 teaspoon (or to taste or omitted) hot pepper flakes
½ teaspoon salt, or to taste
2 Tablespoons oil (canola, peanut, soybean, grapeseed, or coconut)
Water, as needed
Instructions
Heat wok or skillet over high heat for 1 minute, then add oil.
Add garlic and cook until it just starts to brown.
Add all of the spices and stir for about 30 seconds.
Add ¼ cup water to the spices and mix.
Add cabbage and cook until it reaches desired tenderness, adding water by the tablespoon if it becomes too dry.
Note: This is a very flexible recipe. Some cook the mustard just a few minutes for a crisper version, while others cook it longer until it becomes tender. You can vary the quantities of spices or omit any that do not suit your taste.
Also known as Garland Chrysanthemum, Shungiku has a unique aroma and intriguing flavor like no other green. Begin harvesting leaves when the plants are 4–8" tall. The plants will produce for several weeks. Cut and bunch entire plants for retail sales. Shungiku is excellent in salads and pickles as well as many cooked dishes.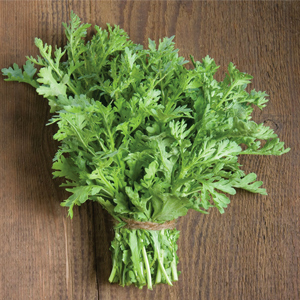 At a typical Korean restaurant, meals come with several — sometimes over a dozen — of these side dishes, known in Korean as
banchan
. Kimchee is always one of them.
Ingredients
1 bunch shungiku (approximately 12oz / ¾ lb)
1 Tablespoon black (best) or white sesame seeds, toasted
2 teaspoons sesame seed oil
¼ teaspoon salt, or to taste
Instructions
Steam or boil shungiku until tender.
Drain, chop into 1–2" pieces, then transfer to a bowl.
Heat a small pan (cast iron works best), add the sesame seeds, and cook over high heat until they begin to pop.
Immediately add sesame seeds to shungiku. The seeds will quickly burn if left in the pan.
Add sesame oil and salt, and mix well.
Serve warm or at room temperature.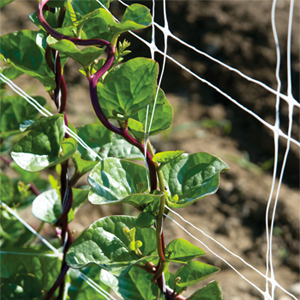 There are both red and green varieties of this heat-loving, vining plant that needs to be trellised. It grows slowly in cool spring weather, but quite fast once the weather becomes warm. Malabar spinach has a mild flavor and is used in Indian soups and curries, but can also be included in stir-fries, or, more sparingly, in salads. (Some do not care for the leaves' somewhat mucilaginous texture when raw; this is much less pronounced when cooked.)
Botanically speaking, celtuce, which originated in China, is lettuce that has been bred to have an enlarged stalk. It has a pleasant, mildly bitter flavor in spring and fall. In the summer it becomes more bitter but not unpleasantly so unless the weather has been quite hot. Use in Chinese stir-fries or eat raw.
Ingredients
2 cups celtuce, julienned
1" piece fresh ginger, peeled and minced
¼ teaspoon (or to taste) hot pepper flakes
Salt, to taste
1 Tablespoon oil (canola, peanut, soybean, grapeseed, or coconut)
Instructions
Peel the thick skin of the celtuce and julienne it.
Bring a pot of water to a boil, add the celtuce and cook until just tender, about 1 minute.
Drain and set aside.
Heat wok or skillet over high heat for 1 minute, then add oil.
Add garlic, ginger, and pepper to the wok and stir-fry until ginger and garlic just start to brown.
Add celtuce and salt, cook for another minute, and serve.
These 10 Asian greens are but a sampling of the many Asian vegetables and herbs you will find at Johnny's. If you've never grown Asian greens, don't wait another season to try a few of these specialty varieties in your garden and kitchen. And if you're already an aficionado, consider dedicating additional space to trialing a new variety or two. You may also be inspired to grow our Asian broccoli, radishes, squash, cabbages, cucumbers, beans, turnip, and eggplant, as well as basil, shiso, lemon grass, and other Asian herbs. You will find their inimitable beauty and flavor easily merit a place at the table.