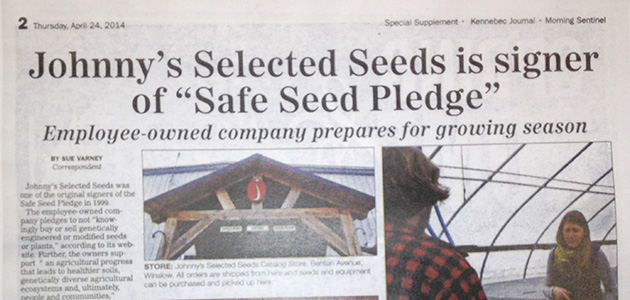 Johnny's in the News
Media Coverage of Johnny's Selected Seeds
2023
January 2023
New York Times | In the Garden | It's OK to Get Carried Away When You're Shopping for Flower Seeds | Here's how to make sure those impulse catalog purchases result in happy surprises — not buyer's remorse.
…Make a Calendar and Organize Your Packets
A favorite resource for this homework assignment is Mr. Schuyler's tattered copy of the industry classic
Ball Culture Guide: The Encyclopedia of Seed Germination
, by Jim Nau, formerly of the Ball Seed company. Seed catalogs are another important information resource, notably Johnny's Selected Seeds […for] solid, detailed growing information.
Each acquisition and any secrets revealed — the ideal sowing depth and temperature requirements, for instance — make their way onto Mr. Schuyler's spreadsheet, arranged in order of when the seeds will be sown.
Here's how to calculate that: Subtract the number of weeks each variety requires indoors from when you plan to transplant it into the garden. The earliest possible set-out date is based on how long before or after the final frost a variety can be safely set outside, according to your research. (This
online calculator
can help.)
Open the cheese drawer of the Untermyer staff refrigerator, and you'll see corresponding evidence of such planning among the packets in cold storage. Multiples are joined by rubber bands, a Post-it note affixed to each little bundle to indicate the intended start date. Cosmos, zinnias, marigolds and Mexican sunflowers (
Tithonia rotundifolia
), for instance, are marked to get going together on Apr. 1…
Growing for Market | Podcast | Reflecting on 50 years of Johnny's Selected Seeds with founder Rob Johnston
EPISODE SUMMARY
January 2023 marks the 50th anniversary of Johnny's Selected Seeds, and we talk with founder Rob Johnston about the need the company was born from, developing overseas contacts in the early days of the company when there was little variety in the
US
seed market, and changes and surprises in the seed industry over the years.
Growing Produce | 9 Ways to Keep Your Kale Crop Healthy
The key to a profitable kale crop is ensuring vigorous growth. A properly rooted, irrigated, and fertigated kale planting can regenerate bunchable leaves weekly, providing a harvest for the farmer every seven days for up to three months continuously.
I spoke to farmers and agronomists, who offer a few of their secrets for establishing and maintaining a strong kale harvest. These tips come from farmers growing from between a quarter acre to 40 acres of kale:
1. Select proven varieties for your region. 'Winterbor' (Johnny's Selected Seeds) and 'Redbor' (Tozer Seeds via Johnny's) are two successful kale varieties that growers recommend. These varieties produce weekly harvests for two to three months. New cultivars are also developed every few years. A recent flat kale variety quickly proving its place in kale production is 'Mamba' (Tozer Seeds via Johnny's). This is a vigorous lactinato-type kale farmers say regrows quickly each week for continuous harvest…
January 2023 (cont…)
Penn Live Patriot News | The best new vegetables, herbs, and fruits of 2023
We'll zero in on some of the year's best new introductions this month, starting today with the best new vegetables, herbs, and fruits of 2023.
…
Basil 'Prospera'
Basil used to be a fairly bullet-proof herb in home gardens until a downy-mildew disease emerged in Switzerland in 2003 and soon spread throughout the world. The disease now often causes deformed, spotted leaves in U.S. farms and gardens.
To combat the problem,
researchers in Israel teamed up with Israel-based Genesis Seeds
to develop a hybrid called 'Prospera' that uses mildew-resistant genes from wild basil…
Johnny's also is carrying
'Prospera Red'
, the first purple-leafed basil with high resistance to downy mildew…
…
Squash 'Sweet Jade'
The second 2023 AAS national winner is this single-serving-sized hybrid winter squash from Johnny's Selected Seeds that's both high-yielding and long-keeping.
The fruits of 'Sweet Jade', a kabocha-type squash, are only four to five inches around and weigh one to two pounds each.
The round, flat-topped green fruits are deep orange inside with a dry yet sweet flavor.
AAS judges said the size makes them ideal for single servings of roasted squash, as an edible soup bowl, or "in any Asian-style dish where a sweet, earthy, nutritious squash is typically used."
'Sweet Jade' plants have a vining habit that can send arms out six to eight feet, so give them plenty of room or support in the garden.
Fruits are ready to harvest 85 days from transplant or 100 days from direct-seeding. Production is best in full sun…
Detroit News | Bob's Garden Journal | For the best gourmet onions, sow onion seeds indoors during January
…[T]here are all kinds of gourmet onions out there. Most of the time you can only get those specialty varieties if you grow them yourself. For the most part, that involves growing them from seed.
…The secrete to growing onions from seed is to get started early. I try to sow my onion seeds indoors sometime during January. However, you can still plant onion seeds in February and get adequate results.
That means if you don't have onion seeds, now's the time to research the varieties and place your order with your favorite seed sellers. For example: … Johnny's Selected Seeds has a huge selection of
onions
, including
shallots
.
Green onions and scallions, sometimes classified as
bunching onions
, are grown the same way as bulb onions.
When shopping for seeds, stay away from
intermediate
and
short-day varieties
, as they are not adapted to our Michigan latitude. Other than that, most
[long-day] varieties
do well in our area…
January 2023 (cont…)
Detroit News | Bob's Garden Journal | Storing whole tomatoes in winter
Fresh tomatoes can be kept well into fall, sometimes even past New Year's Day in Michigan. To increase your chances of success, you just need to keep a few things in mind well before you even plant your garden.
It all starts with growing the right variety of tomato; not all types are suited for fresh storage… To increase your chances of success, use varieties with the highest ratio of solids to water in their flesh. These are most often paste or processing types. They include
Roma, San Marsano, and other so-called plum tomatoes
.
Standard slicing types of tomatoes are much too juicy and will tend to deteriorate much quicker in storage. That's not to say you can't store them for a while but they probably won't make it much past Halloween. So choose those that are labled as canning tomatoes or processing tomatoes in their description… There are many different ways gardeners store their fresh tomatoes.
I like to wrap each one individually in newspaper and place them in single layers in boxes. This works well. The main drawback to this method is you can't just glance at the tomatoes to see how they are doing, as each one needs to be unwrapped and inspected. It's now January and we still have several tomatoes in storage.
Another popular method is to hang the tomatoes in the open air in a cool, dark area such as cellar or basement. Some gardeners hang the entire plant including all the stems and leaves or even parts of the roots… Of course the simplest way of all is to simply harvest what you have and place them in a box in a cool area. Check them often and use as they ripen. Any tomatoes that begin to spoil must be removed as soon as possible to keep the remaining tomatoes intact.
No matter which method you use, keeping the stem on seems to help them last longer. You have to be careful that the stems don't poke the skins of neighboring tomatoes though.
If you decide you'd like to try storing tomatoes next fall, you might want to start your own tomato plants so you can get the tomato varieties you want.
Although seed racks in stores have tomato seeds, you'll have a much better choice of varieties if you buy directly from seed suppliers… [like]
Johnny's Selected Seeds for a wide assortment
… Order your seeds early to avoid the rush and to have the best chance of getting the tomato seeds you want.
The Berkshire Edge | THE SELF-TAUGHT GARDENER: Seedy thoughts
…When I was a child, most of the seeds we would select came from the catalog of one of the big companies, like Burpee or Park Seed, but now a plethora of catalogs arrive from companies as diverse as the population of gardeners. For me, Johnny's Selected Seeds has taken the position of Burpee's as the standard bearer, particularly of hybrid seeds of flowers and vegetables — and its growing guides, filled with advice on timing and germination temperatures, have replaced books like the
Reader's Digest Gardening Handbook
in answering all sort of questions that come up regarding the cultivation of everything from
ageratum
to
zinnias
. Johnny's sells quality seeds and their catalog is a workhorse and a guidebook…