'Green Drops' (Panicum violaceum) - Key Growing Information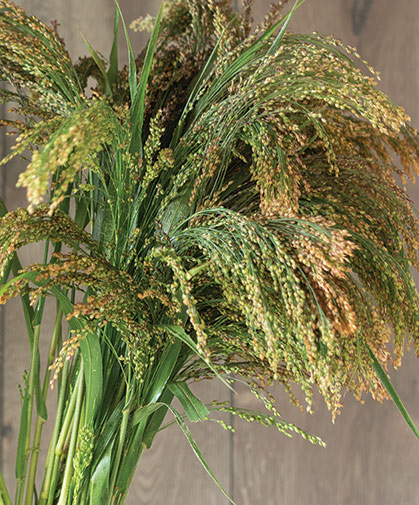 DAYS TO GERMINATION:
7-14 days at 65-70°F (18-21°C)


SOWING:
Direct seed (recommended) - Sow 1/8" deep; cover lightly. Transplant - Sow into 72 to 50-cell flats 4-6 weeks before planting out.


LIGHT PREFERENCE:
Sun.


PLANT HEIGHT:
48-58".


PLANT SPACING:
3-12".


HARDINESS ZONES:
Annual.


STEM LENGTH:
12-58".


VASE LIFE:
10-14 days.


HARVEST:
Fresh or dried: harvest when seed heads are still green or have turned color, but foliage and stems are still green. To dry, stand cut stems in a container as the weight of the seed head will curve the stems gracefully; or hang in a dark, well-ventilated space.


SOIL REQUIREMENTS:
Average, well-drained soil.


USES:
Excellent fresh cut or dried flower. Naturalistic gardens and mixed grass plantings.


SCIENTIFIC NAME:
Panicum violaceum