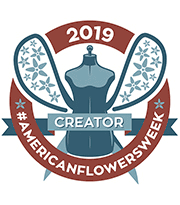 American Flowers Week, now in its 5th year, is the advocacy, education and outreach campaign created by American flowers advocate and journalist Debra Prinzing.
"Of course, like everyone in the Slow Flowers Movement, I believe that we should be celebrating American-grown flowers during all 52 weeks of the year," Debra states. "But by choosing to devote one full week to an awareness campaign, I believe we can heighten the attention on this cause — both in the media and in the public."
We join Debra in encouraging everyone involved in flower farming and floral design with America's flowers to use the #americanflowersweek hashtag to celebrate the campaign.
In view of the expansion of the American Flowers Botanical Couture Collection each passing year, Debra notes, "When flowers are seen as fashion, they ignite the imagination and stimulate new awareness of domestic floral agriculture and the art of floral design."
Johnny's & Flora's Muse Join the Floral Couture Collective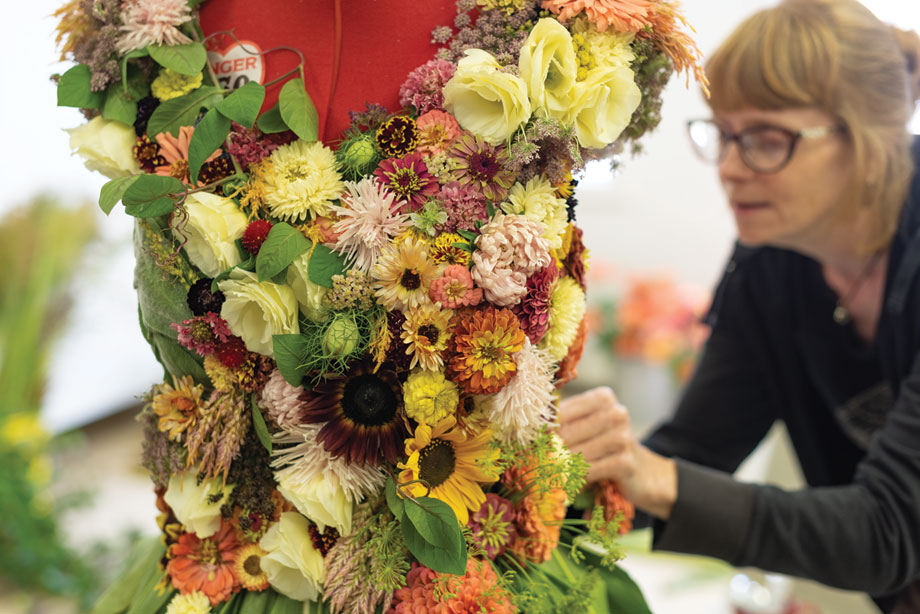 This year Johnny's Flower Team had the pleasure of partnering with floral designer Rayne Grace Hoke of Flora's Muse, to create botanical couture marking the 5th annual American Flowers Week (June 28 – July 5).
Rayne met up with the team early one chilly morning last fall, to gather several barrowsful of fresh flowers, foliages, and herbs from the farm's trialing fields and meadows. In a race against time, they stitched the materials together to fashion a gown before day's end.
Beauty being a fleeting thing, Johnny's photographers held their Nikons at the ready to capture the full, lush loveliness of the creation, before the light — and the gown's ephemeral beauty — could fade.
As one of a set of "9 fashionable floral looks" from across the US, the creation appeared in the June 2019 issue of Florists' Review in a feature titled "Red, White & Bloom."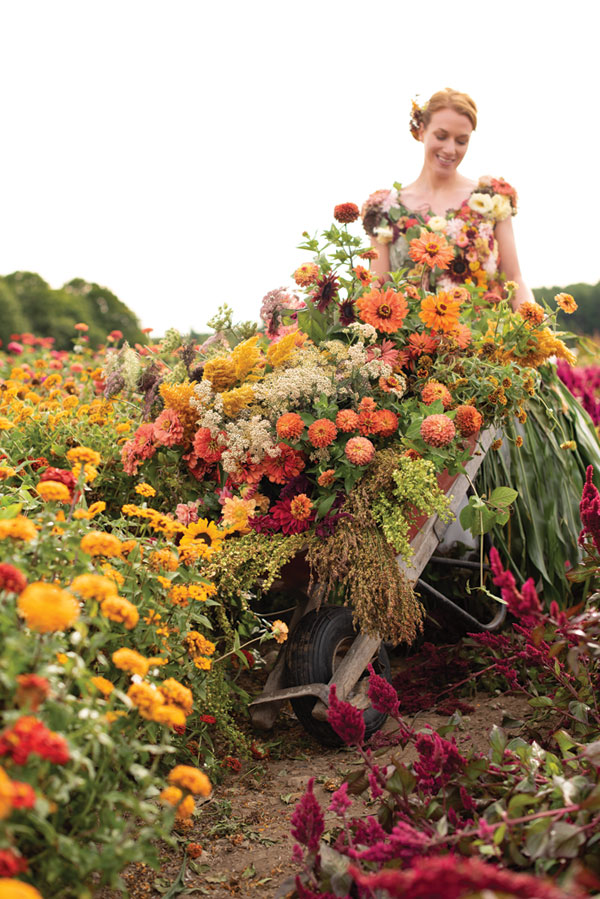 In regard to her design approach, Rayne explains:
"I let the palette of organic botanicals 'speak' to me, as their twists and swirls, colors and shapes influenced this dress design. The setting and flowers lent themselves to the natural progression that allowed me to turn our model into a flower harvest goddess. I created a pattern with flowers to mimic fabric for the dress's bodice. Grasses of all types created the garment's skirt. The key to constructing this look was to make sure the undergarment we used was fitted and could support the weight of the flowers. This is when my skills in fashion design and sewing come in handy!

"I hope my love for the stunning beauty of Maine comes through, as well as love for what I do as an artist."
Creative Credits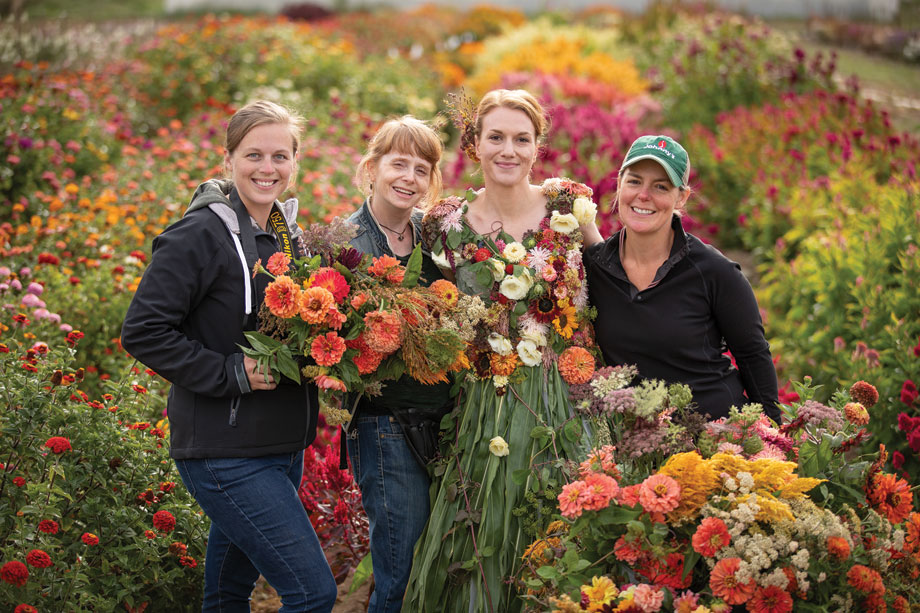 "Being able to be a part of such a fun and creative project was amazing — and I think that was portrayed through our work!"

— Kristen Earley, Johnny's Photographer
DESIGNER: Rayne Grace Hoke, Flora's Muse, Biddeford, Maine,
florasmuse.com
, @florasmuse
DESIGN ASSISTANT: Hillary Alger, Product Manager for Herbs and Flowers, Johnny's Selected Seeds
FLOWERS & FOLIAGE: Johnny's Selected Seeds, Winslow, Maine
4 Key Elements of the Gown


VENUE: Johnny's Trial Gardens, Albion, Maine
MODEL, HAIR & MAKEUP: Mary Yarumian, @marybebythesea
PHOTOGRAPHY: Kristen Earley, Johnny's Selected Seeds & Chris Pinchbeck,
pinchbeckphoto.com