Growing Power Urban Farm • Milwaukee & Madison, Wisconsin & Chicago, Illinois
40th Anniversary Grower Profile — August 2013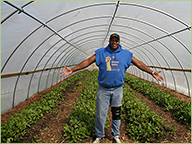 Editor's Note: Growing Power closed in November 2017. As noted in a March 2018 article on its dissolution in Civil Eats:
It's clear that Will Allen's legacy will live on in the many organizations that grew from his work. In addition to empowering a generation of community leaders all across the country, who have gone on to radically transform their lives and neighborhoods, he also succeeded at teaching and protecting vulnerable Black children in an era when very few other entities were up to the task.

A common adage for Allen was, "We're not just growing food, we're growing community." By that measure, his success is timeless…"
Our original August 2013 article appears below.
---
Growing Power, a renowned urban farm and training center based in Milwaukee, Wisconsin, works to provide equal access to healthy, high-quality, safe and affordable food. Growing in winter is an essential part of its mission.
"Eating healthy food for six months of the year or less is not the answer," says Will Allen, founder and CEO of Growing Power. "I believe the answer is eating healthy food 365 days a year. And the only way to do that is to extend the season to 365 days a year."
How Growing Power achieves that underscores the validity of an emergent form of sustainable agriculture referred to by some as "urban polyculture." To be able to grow year-round at its farms in Milwaukee, Madison, and Chicago, Growing Power has devoted 25 acres to greenhouses and hoophouses. In the heated greenhouses, growers raise fish and vegetables in an aquaponics system. In unheated hoophouses, they grow more than 40 kinds of greens all winter without burning any fossil fuels.
365 Success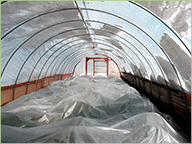 "Having the hoophouses has really helped us stay in business all year," Allen says. "We sell to 50 restaurants through Sysco (a food service distributor). If we were just growing outside, there's no way we could do that."
Equally important is the opportunity for Growing Power to provide jobs year-round. "Everyone who works for us has a permanent job, and that's different from a lot of agricultural production," Allen says. "Although we're a nonprofit, we have to function like a for-profit business; we have to have cash flow all year."
Allen believes that protected horticulture will become even more important as climate change makes outdoor growing increasingly unreliable. "These greenhouses and hoophouses are absolutely necessary now and into the future," he says.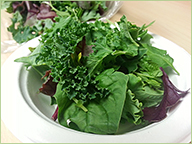 This year, in an effort to increase access to healthy, locally grown food for children, Growing Power has developed a kale salad that will be delivered to schools throughout the winter.
"We have kale growing year-round," Allen says. "It can handle extreme temperatures, and it's one of the top five most nutritious crops. Our taste tests have proven that kids don't like pure kale, so we wanted to come up with a salad with four or five greens, which we have tested with kids. The kale salad we're introducing this year to the school system will have kale, chard, pea shoots, and sunflower shoots.
Kale and chard, he notes, are crops that can be established in August and harvested leaf by leaf all winter. Growth will slow in midwinter but pick up again as the days lengthen. To make sure the farm will produce enough kale and chard for the school system, multiple hoophouses will be planted with them this month. Pea and sunflower shoots are quick crops that can be planted frequently in heated greenhouses.
Growing Power's Rising Star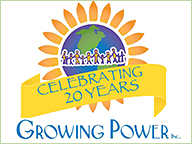 Will Allen started Growing Power, celebrating its 20th anniversary this year, when he bought a vacant garden center with six greenhouses on a 3-acre lot within the Milwaukee city limits. Will was raised on a farm in Maryland and after college played professional basketball for several years, then built a career at a major corporation. But he had farming in his veins, and he eventually decided to leave the corporate life to grow vegetables on a farm owned by his wife's family outside of Milwaukee. He bought the garden center to give him an urban outlet for his produce.
According to Growing Power's website, "The ultimate direction of Will's life truly changed when young people from the neighborhood, including kids who lived in the largest low-income public housing project in Milwaukee, began to ask him for advice and assistance with growing their own vegetables. Almost overnight, Will took up the mantle of teacher and trainer, and the impromptu gathering of neighborhood children became the Youth Corps, a program that continues today."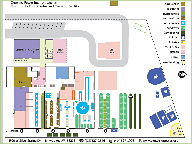 Growing Power has grown and stretched its programming continually over the past two decades. Today, there are 70 initiatives under the Growing Power mantle. Hands-on training is at the heart of most of them, as Growing Power helps people learn to grow, market, distribute, and work together to create sustainable food systems. Growing Power offers training programs for prospective urban farmers at its Milwaukee site, and it has established 15 Regional Outreach Training Centers in the US, with additional programs planned for South Africa, Zimbabwe, and Haiti. The organization has 65 staff and 25 interns.
In 2008, Will was awarded the John D. and Catherine T. MacArthur Foundation Fellowship, aptly known as the Genius Grant. In 2010, he served as a member of the Clinton Global Initiative, and Time magazine named him one of The World's 100 Most Influential People. More recently he helped First Lady Michelle Obama kick off her Let's Move! program to stem the epidemic of childhood obesity.
Innovations in Urban Agriculture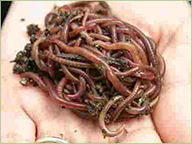 Growing Power is renowned for its innovative methods. A few examples from the home farm in Milwaukee:
The aquaponics system developed by Allen is easy to build and requires only a small pump to circulate water. Tilapia and yellow perch are raised in a large tank, which drains using only gravity into a gravel bed. Beneficial bacteria and watercress convert the fish waste into nitrogen. The filtered water is then pumped to growing beds to water and fertilize salad greens, tomatoes, and other vegetables.


Worm castings are produced by red wiggler worms in bins in the greenhouses. The worm castings are used to supply fertility to thousands of pots of vegetables and bedding plants grown there. Growing Power produces 100,000 pounds of worm castings every four months.
Compost is also made outside in a pallet compost system. Twenty million pounds of food waste is diverted from landfills annually — and Growing Power has the raw materials for its composting operations, which then provide the organic fertility for its vegetables.


Compost also is a renewal energy heating source for winter hoophouses. Compostable materials are placed on exterior walls and in big piles in the four corners, then capped with wood chips. The composting process generates heat inside the hoophouses, which helps plants keep growing even when outdoor temperatures drop to typical winter lows of 10°F or below.


A 10.8-kW solar electric system and solar water heating system is another source of renewable energy.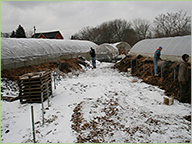 The farm also houses laying hens and ducks, beehives, and livestock including goats and turkeys. It has a farm store to sell products to the public. Growing Power also runs two farmers' markets and sells at numerous other markets in Milwaukee and the greater Chicago area. Growing Power has a role in numerous other community projects such as school gardens and community gardens. It partners with the Farm–City Market Basket Program, which provides a weekly basket of fresh produce grown by members of the Rainbow Farmer's Cooperative to low-income urban residents at a reduced cost. It trains teenagers in leadership and entrepreneurship. And it offers several farmer training programs that range from weekend workshops to a six-week intensive training for serious urban farmers.
On a Mission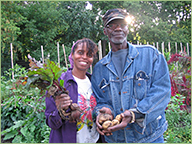 If all that seems like a lot of activity, remember that Growing Power's mission is broad: "To grow food, to grow minds, and to grow community." One leads to another, and to a holistic vision of better food for everyone in its communities.