Selwood Green & Norbert's Good Food • Walton & Halifax, Nova Scotia, Canada
40th Anniversary Grower Profile — November 2013
After more than 20 years of growing organic produce at Selwood Green, their farm overlooking the Bay of Fundy, Norbert Kungl and his family took their love of good food to another level.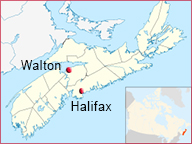 In 2011, they decided to open a year-round produce market and café in Halifax, Nova Scotia, 60 miles southeast of the farm.
Several circumstances contributed to this decision. Norbert had suffered a neck injury that made farming a lot more difficult. Around the same time, the Halifax farmers' market, where he has been a keystone vendor for many years, outgrew its building. An opportunity arose to provide a permanent home for the ever-popular farmers' market in a rehabbed warehouse on the harbor. The area was being developed into a cultural district, with a museum and public spaces, in an effort to attract locals and tourists alike. But the deal was contingent on having year-round businesses as well as the Saturday farmers' market.
And then there was that love of food.
Norbert's Good Food Vision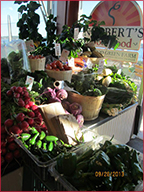 "I could be considered what the culture now calls a 'foodie,' " Norbert says. "I've always had that in me; even as a kid, I was always in the kitchen making something."
So Norbert's Good Food opened in the Halifax Seaport Farmers' Market. "We're the only farm-to-table café style restaurant in Halifax," Norbert says. Other businesses within the new market setting include a dairy, artisanal bakery, a farm that added a meat shop to their business, and a conventional produce and fruit grower.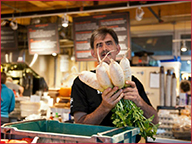 The menu at Norbert's Good Food is based on favorite family recipes, and all the produce comes from Selwood Green. Breakfast is served all day because Norbert says farmers are always hungry for a good breakfast, especially when they're at market. Vegetables are featured in nearly every dish, from the daily seasonal soup and salad selections to the Swiss Chard or Kale Egg Scramble. Norbert procures cheeses, meat, fish, breads, jellies, and more from other local producers.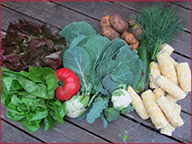 Since adding the restaurant and shop, Norbert is working as hard as ever, but he is as likely to be frothing milk for a latte as talking about his potatoes. He still attends the Saturday farmers' market because "my face is so intrinsically linked to the business," he says. He runs the farm with the help of an assistant manager and four employees.
Pioneering Organics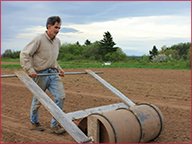 When he started Selwood Green in 1989, Norbert was unique in his area in trying to grow organically. His northern latitude makes some crops difficult or impossible to grow, and every season brings different challenges. However, Nova Scotia's maritime climate and the location of the farm directly on the shores of the Minas Basin give him about 200 frost-free days and up to 2600 heat units. Greenhouses, high tunnels and row covers extend the season to produce just about every crop that Johnny's has to offer.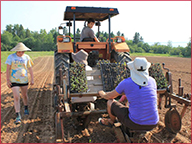 Norbert has long been involved in organic agriculture away from the farm as well. He is currently serving his second term on the Board of Directors of Johnny's Selected Seeds. He was asked to serve after a long friendship with Johnny's Canadian Territory Sales Representative, Chris Siladi, and after meeting Johnny's founder, Rob Johnston, Jr., at a conference for environmentally responsible businesses. As one of two farmers on the board, Norbert's role is to represent the perspective of fresh market growers in business decisions. On a personal level, he is a loyal customer because he values the reliability of Johnny's seeds and supplies.
Farming Your Sweet Spot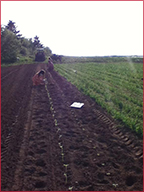 Because of his veteran grower status, he is often asked by beginning growers for advice on scaling up their farms.
"I'm very careful about recommending to people to size up," he says. "I'm quite certain there are few sweet spots in vegetable farming. So one of the early questions I ask is, 'What is your market?' Here in the Maritimes, it's not easy to go big, there's not much market, and there are a lot of financial considerations, including mechanization, storage, availability of labor, and so on.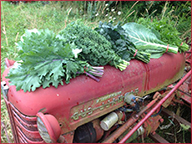 "I consider those factors, combined with the individual's personal inclinations, and work backwards to identify for the individual where their sweet spot may be."
"I thought, for me, the sweet spot was about 5 acres with two or three greenhouses and a few people to manage. That was the place where I was most comfortable. I got too big because the opportunity seemed to be there. It worked for a while, then we had a shift in the retailers here, from local buying and personal relationships to central buying from some distant office. It became a whole different business model."
Responding to Change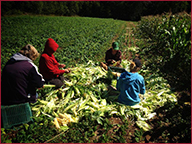 Now, Norbert is edging back toward his sweet spot. He has scaled back the farm, from 30 acres of vegetables at its peak to about 15 acres today. He has stopped wholesaling and picked up two new, small farmers' markets. And, of course, he is cooking his own produce at the café and selling it in his shop.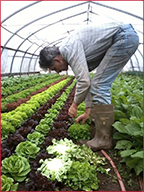 In winter, he says, business realities require him to buy organic produce from California. His customers understand and are happy to be able to continue to support him during the off-season. And there are times when he wonders if it wouldn't be easier to just buy all his produce from other farmers, rather than growing it himself.
"But so far, I can't get past the pride of saying 'Oh, yes, these are my potatoes.' There's a pride factor that protects one from radical business decisions. We take the farm-to-table concept seriously, and our customers are loving it."
Learn More