Paradise Farms Organic • Homestead, Florida
40th Anniversary Farm Visit — September 2013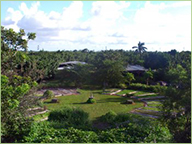 Paradise Farms has become a big name on the food scene in South Florida, thanks to the energy and enthusiasm of owner Gabriele Marewski.
Gabriele grows specialty produce for about 30 restaurants in the Greater Miami area. The chefs who buy her food collaborate with her in a series of on-farm dinners and brunches. She also offers "Weddings in Paradise" and a B&B farm stay, plus various retreats, workshops, and tours. This highly diversified farm of just 5 acres offers a model for other growers who, like Gabriele, have limited land but unlimited vision.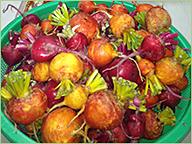 Gabriele bought her land, an abandoned avocado grove, 14 years ago and started growing lettuce, microgreens, and Florida avocados. Over time, she has added baby greens, edible flowers, vegetables, herbs, and tropical fruits. Oyster mushrooms are the latest addition. Paradise Farms is certified organic, and Gabriele follows the principles of Biodynamics. She has always focused on selling to restaurants.
"When I first started I just took my product to restaurants, and went around to the kitchen and showed it to chefs and asked if they wanted to buy from me," she says. "They said yes, and I asked if they could refer me to other chefs. For 14 years, it's been word of mouth — the product speaks for itself! Seven years ago we started having farm dinners. My ulterior motive with the dinners is to get the chefs to come down to the farm. When they come to the farm, they really get it; they understand the value of local food."
Events in Paradise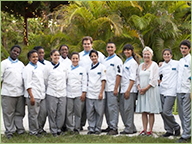 Paradise Farms hosts a monthly dinner during the fall, winter, and spring, when the weather in South Florida is pleasant. Each dinner is prepared by a team of three top chefs, with assistance from culinary students from a nearby college. Dinner is a five-course affair made with local organic products and paired with fine wines. Proceeds are donated to a local charity or organization dedicated to sustainable, healing, and healthy organic food.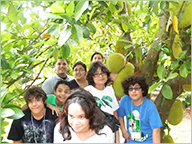 There is also a series of Sunday brunches, about six per year. They begin with a farm tour at 11 AM, followed by a catered meal at noon. Gabriele does all the organizing and management of these elaborate meals. "I've had an amazing learning experience, a great education in hospitality," she says.
In addition to the scheduled events, the farm welcomes visitors in many other ways. Groups can schedule a "Learning Lunch," which consists of a farm tour, educational programs about topics such as organic farming and subtropical gardening, and a meal with ingredients sourced primarily from the farm.
Paradise Farms also serves as a wedding venue and offers four cottages for overnight guests.
The Landscape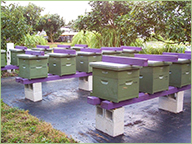 Paradise Farms forms a lush edible landscape, with raised growing beds arranged in a wide circle surrounded by a swathe of fruit and other subtropical trees. Paths meander through the property, and wrought-iron benches are strategically placed to offer visitors a place to rest and view the gardens. A large pergola covers a patio where dinners are served under the stars.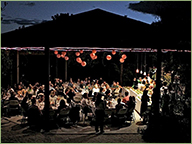 Bright colors accent the landscape — beds of vibrant flowers, red benches, purple and green beehives, floral art on buildings and screens. A sign at the entrance proclaims "Welcome — Please, no meat or cigarettes." (That's right, the gourmet meals are meatless, although local seafood is served.)
There is also a shade house where microgreens are grown, an office, a mushroom house, and a processing building for the produce — the only air-conditioned building on the premises.
Edible Flower Festival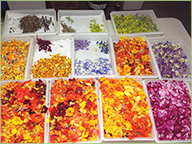 Gabriele grows more than 50 kinds of edible flowers, including annuals, perennials, herbs, and fruit flowers, all part of the farm landscape. She is dedicated to helping people appreciate the beauty and flavor of edible flowers, and one of her favorite events is an edible flower walking tour.
"In March, that magic thing happens on the farm where a switch goes on and everything goes into bloom," she said. "People are blown away by it.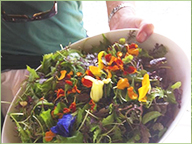 "We want to create awareness about edible flowers. People are coming to South Florida for what's unique. Everybody does a purple orchid flower on the plate, and I think it's great the purple orchid has opened the door. We're saying 'Let's expand it, let's make it unique.' I suggest to chefs, 'If you're doing a chilled cucumber soup, float a blue borage flower on top, which also has the flavor of cucumber. If you have a dish using peas, use sunhemp flower, which has the flavor of peas and the color of the sun.' It's about the story. When people go to a place, they want to hear the story, know the connections. When you come to a subtropical area, it's about vibrancy and color, it's dynamic — what better place to showcase that than on the plate?
"Now we're talking to mixologists about using flowers on their drinks. Any way we can get people to relate to plants is good. People who relate to nature become defenders of nature, and that's our goal."
Next year, she is planning to hold an Edible Flower Festival for the public, which will feature snacking stations with edible flower foods, the farm's own brand of tea made from dehydrated edible flowers, and other activities.
Microgreens in Paradise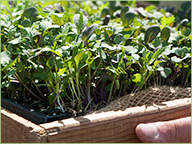 Paradise Farms has developed its own signature blend of microgreens, which are grown separately in trays then harvested with scissors and mixed together in the processing room.
"We have a Paradise Blend of kale, mizuna, arugula, beets, chard, and purple kohlrabi. We also grow individual microgreens of cilantro, celery, basil, and chives," she says. "The chefs use them as garnish on the plate. Cooking is art, and part of art is visual appeal."
Gabriele believes in hand-seeding and hand-watering the microgreens. In fact, she prefers to do almost everything by hand. "After 14 years, we just now got a tractor," she says. "I think there's something magical about people touching the seed. We get better crops when we hand-seed, better quality even than when we use the push seeder."
She has a staff of up to 10 people during the busy season, and several who work all year. "We are 90% women … well, no, we just hired a man, so we are now 80% women. And many of our people need to work year-round, which is why we got into mushrooms," she says. She tries to accommodate the varying needs of her workers as their lives change. For example, one valued employee brought her new baby to work, along with her mother to babysit.
Getting Started with Restaurants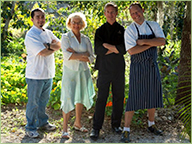 For those who would like to sell to chefs, Gabriele has these words of advice:
Grow what you like, what you have an affinity for. Take it to chefs. Chefs have to see it, taste it, smell it. And if they like it, they will become your customers. Developing a relationship is about having product to show. You don't want to waste a chef's time and say, "I'm thinking about growing something." And once you start, you have to be consistent.
In 14 years she has missed just one delivery day, because of a hurricane — and in that case the chef didn't want to take delivery that day. Paradise Farms has a protocol in place to prepare for hurricanes. The microgreens trays are covered with lids and stacked inside until the hurricane passes. Big tubs of water are filled ahead of time so the micros can be watered with a watering can if the electric pump goes out. Hurricanes have occurred four times in the life of Paradise Farms, she recounts, and "We don't miss a beat."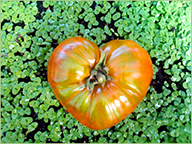 For the first five years of her business, Gabriele made all the deliveries, twice a week, every week. Now she has a delivery person and is able to focus more on projects that inspire her. She recently leased an adjacent 1.5 acres and is planning to sell at two farmers' markets next year.
As she talks about the myriad activities she's involved in, her enthusiasm for farming is tangible. "I can't think of any profession that's more valuable," she says. "Being a farmer, you're doing the important task of feeding people. Being an organic farmer, you're doing what you can for the planet. We're helping support our communities with our businesses. And on a personal level, there is nothing more satisfying than being in nature every day. What's not to love about that?"
Update: Having run the business as a certified-organic farm servicing top farm-to-table chefs since 1999, and becoming well-known for hosting dinners in Paradise for charity, Gabriele sold her farm in 2017.
Images reproduced with permission from Paradise Farms. All rights reserved.
Browse all of Johnny's 40th Anniversary Farm Visits & Grower Profiles.