Peach Crest Farm • Stratford, Oklahoma
40th Anniversary Grower Profile — October 2013
For Peach Crest Farm in Stratford, Oklahoma, the busy season starts in late August, when school begins session….
With 68 school districts as customers, Peach Crest Farm is absorbed with harvesting, packing, and shipping a wide array of produce — cantaloupe, cucumber, yellow squash, zucchini, cherry tomatoes, rosemary, dill, thyme, kale, sweet potatoes, turnips, butternut squash, beets, and watermelon radishes. All the way up until winter break, Peach Crest Farm will ship certified-organic produce and herbs to Oklahoma schools.
Peach Crest Farm began as a 100-acre peach orchard owned and operated by Susan Bergen, who came from a non-farming background but proved adept at managing the fruit operation and developing a line of value-added products such as jams, salsas, and barbeque sauces. Over the years, she bought an additional 230 acres of crop land near the orchard and expanded into vegetables. She was one of the first farms in Oklahoma to sell to schools, and she recognized the huge potential of the Farm-to-School movement.
Three years ago, she brought in James Cooper of Cooper Organics to manage the certified-organic side of the produce operation. James is the man who keeps it all moving — crop production, labor management, marketing, and shipping logistics.
"When I came, the foundation was there to take the business to another level," he says. "Now I'd like to turn the Farm-to-School initiative into a year-round program."
Leading the Way for Farm to School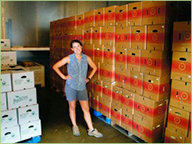 Certainly, the farm 70 miles southeast of Oklahoma City can grow year-round; Peach Crest ships all year to specialty markets, supermarkets, and restaurants. The challenge is to help school districts devise menus that use winter and spring produce.
James recently started working with a Fresh Cut Program that provides schools with fresh-cut turnips, sweet potato sticks, and a root vegetable mix. Farm produce is diced by a local processor and delivered fresh, not frozen, to the schools, where it is cooked. Peach Crest also works closely with the Oklahoma Department of Agriculture to promote local produce to school districts, which includes having chefs help with menu planning.
"We're trying to form relationships with buyers, to let them know they can order from local farms every day, just like they do from food distributors," he says. "Farm-to-School is successful because of our relationship with distribution companies, including Fresh Point, US Foods, Ben E Keith, Go Fresh, and Vinyard Fruit & Vegetable."
Selling to school districts is great for business, but it's personally gratifying, too. "A lot of kids don't get optimal nutrition at home," James says. "We are blessed to have the opportunity to provide children with access to nutritious options for their school lunches, and we are reminded of this each day that we harvest, wash, pack, and ship off our fabulous produce to hungry kiddos all over Oklahoma."
Keeping Food Safety a Priority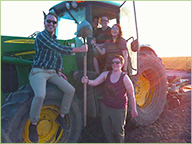 Besides selling to schools, Peach Crest Farm sells to supermarkets, including Whole Foods Markets, Natural Grocers, Homelands, Buy For Less, local co-ops, plus local restaurants.
"In the last three years we have formed a relationship with Vinyards, a locally owned fruit and vegetable company. They pick up product Monday, Wednesday, and Friday year round and distribute it statewide — it has set us free!" James says.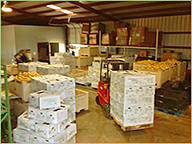 All of the farm's buyers and distributors require compliance with food-safety regulations, so Peach Crest got its systems in place early on. It undergoes a third-party audit every year, as well as ongoing in-house audits, and one person is solely responsible for food safety.
"Food safety is a really big deal," James explains. "The farm is on lockdown — you need to sign in to enter. My food never breaks the cold chain before it's delivered. I think it's really good for every farmer to learn about Good Agricultural Practices (GAP) and Good Handling Practices (GHP). It makes you look at everything so differently, especially the stuff that is easy to overlook when you're really busy. For example, your harvest bins, knives, and scissors need to be sterilized every day before you begin harvesting."
Herbs & Greens in High Tunnels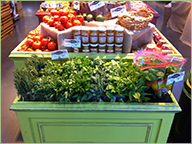 Peach Crest Farm has about 5 acres under plastic. This year, 80% of the space was turned over to perennial herb production to meet a growing demand for culinary herbs.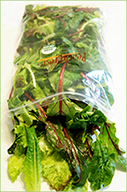 The herbs are grown in soil and, except for a few tender annuals such as basil, can survive the Oklahoma winters without any additional heat in the tunnels. James grows rosemary, thyme, tarragon, sage, oregano, and mint.
In the past, herbs were retailed in small plastic "clamshells," but James has worked with his buyers to eliminate the plastic. Now, herbs are bunched as they are cut and wrapped with a twist tie, just like greens. The stores stand the bunches up in water. "It makes a lovely display," James says.
The other high tunnel space is used for winter production of arugula, bok choy, collards, dandelion greens, kale, salad greens, and spinach.
Making the Transition from Small-Scale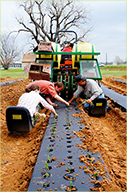 James grew up in Tulsa, Oklahoma, but spent many years away, working on other farms. He got his training at Potomac Vegetable Farms in northern Virginia, which sells at its own retail market and at farmers' markets in the Washington, DC area. He also ran his own direct-market farm and a retail fresh produce business.
Having farmed at various scales, James has found that he likes the wholesaling farm best.
"I was in the field for years," he says. "I'm passionate about growing, but it's hard on your body, so it's good to have other things to do. I used to drive a restaurant route two days a week, but I stopped that this year for the first time, and it's great! Now I have trucks coming to the farm five days a week. It's great for farmers not to have to do their own trucking, and it's great for food safety because of the cold chain maintained on distributors' refrigerated trucks."
"I think people need to recognize that farming is a profession, and that farmers deserve to make good money just like bankers, doctors, and lawyers. They have to get beyond the hobby mindset, or the idea that one spouse has to work off the farm. I also think wholesaling carries a stigma among small farmers, thinking, 'I'm going to get cheap prices.' But that's not necessarily the case. On the wholesale market you can still get a really fair price, and you can move volume."
James advises growers who want to scale up and get into wholesale that it really doesn't take significantly different skills. And even 10 acres of production, if intensively grown, can supply wholesale markets.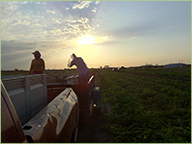 "I grow intensively on a big acreage," he says. "I use raised beds, 4 foot on center, 600 feet long, in 8-row blocks. We subirrigate with drip line underground. I've gotten away from plastic mulch because we've struggled with plastic in the wind in spring."
The biggest challenge to scaling up is labor. For many years, Peach Crest used contract labor brought in from Mexico through the US Department of Labor's H-2A Temporary Agriculture Program. This year, the farm tried something different: hiring non-violent offenders sent to them through a couple of different diversion programs. They had 33 employees at the height of the season, and 15 to 20 year-round.
Overall, the new employees are working out well. "We're seeing some of these lives change," he says. From providing safer, fresher, more nutritious food to offering better alternative employment options, it's clear that the folks at Peach Crest Farm are making a big difference in a lot of people's lives.