Above: Eliot Coleman with daughter and Farm Manager, Clara Coleman, at
Four Season Farm
in Harborside, Maine
Ergonomic tool design for year-round, scalable vegetable production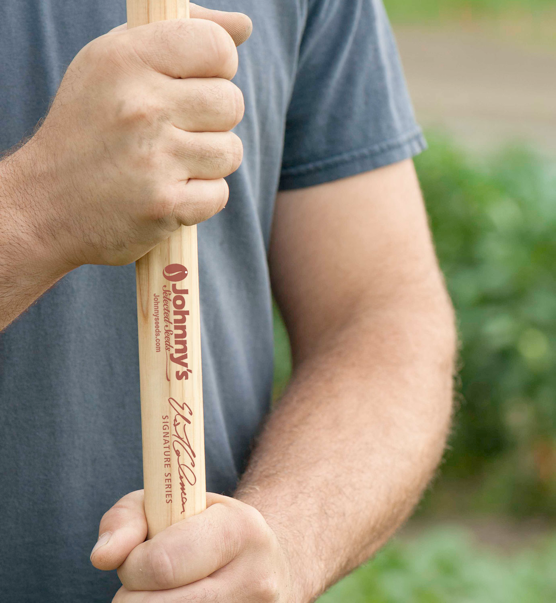 Eliot Coleman has over 40 years' experience in all aspects of organic farming, including field vegetables, greenhouse vegetables, rotational grazing of cattle and sheep, and range poultry. He is the author of
The New Organic Grower
,
Four-Season Harvest
, and
The Winter Harvest Handbook
. Coleman and his wife, Barbara Damrosch, additionally co-authored
The Four Season Farm Gardener's Cookbook
, and own and operate a commercial year-round market garden, in addition to horticultural research projects and tool invention, at
Four Season Farm
in Harborside, Maine. Eliot Coleman has served as Johnny's official tools advisor for over 20 years.
"I want to encourage all growers to look beyond the tools that are readily available and hunt up unique tools or create their own to make their work on their farm easier and more pleasant. There are lots of other growers out there looking to pioneer new systems and new crops who can benefit from your ideas and who can in turn inspire you with theirs. We need to invent the future of small farming by ourselves to make all of us more efficient."
— Eliot Coleman (2004)
Johnny's Research Department is honored to work together with Eliot Coleman to develop and test tools of superior design and performance for our home and market garden customers — we know you appreciate high quality and lasting value.
Forged over two decades ago by our founder and CEO, Rob Johnston, Jr., Johnny's partnership with Eliot is predicated on common core values:
Advocacy for small-scale sustainable agriculture.
A strong commitment to sharing knowledge.
A passion for ergonomic tool design and development.
In more recent years, Eliot's daughter Clara, manager of Four Season Farm, has also consulted with Johnny's, providing us with invaluable input and feedback to our tool design and trialing projects.
Eliot's designs and recommendations can be found throughout the Tools & Supplies section of our site and catalogs. Learn more about the time- and labor-saving tools that make up series through the videos and articles listed below.
Learn more about Four Season Farm and the principles that make for its year-round success.