Queen of Zinnias • A luxe gown fashioned from Johnny's cut-flower trial grounds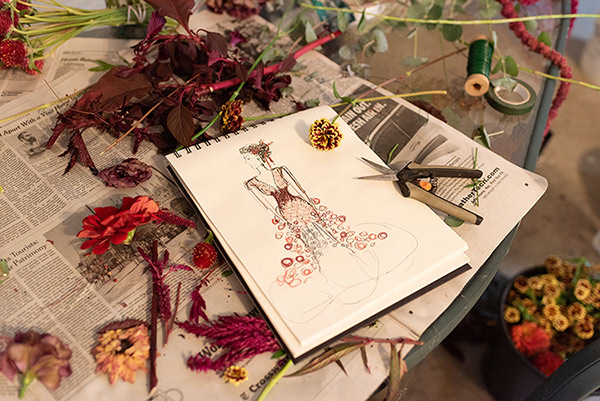 Hillary relied on her fine arts training to develop the garment design. "We used every zinnia we had in trial, plus some from my front yard…"
The floral team at Johnny's Selected Seeds in Winslow, Maine, is fully embracing the spirit of American Flowers Week by sponsoring floral fashion for our 2021 botanical couture collection. Hillary Alger, floral and herb product manager, and Joy Longfellow, manager of the floral trial program, have supported Slow Flowers designers in prior years, helping with the harvest and providing production. In the summer of 2020, the two floral experts agreed to create a gown of their own.
Hillary relied on her fine arts training and together with Joy, tapped their extensive knowledge of the Zinnia genus. "We took your urging seriously — to feature one type of flower," Hillary told me. "Zinnias are Johnny's second-most important flower crop after sunflowers, and we always have a big trial plot. Not only do we love them, but we have them in abundance — enough to make something extravagant like floral fashion."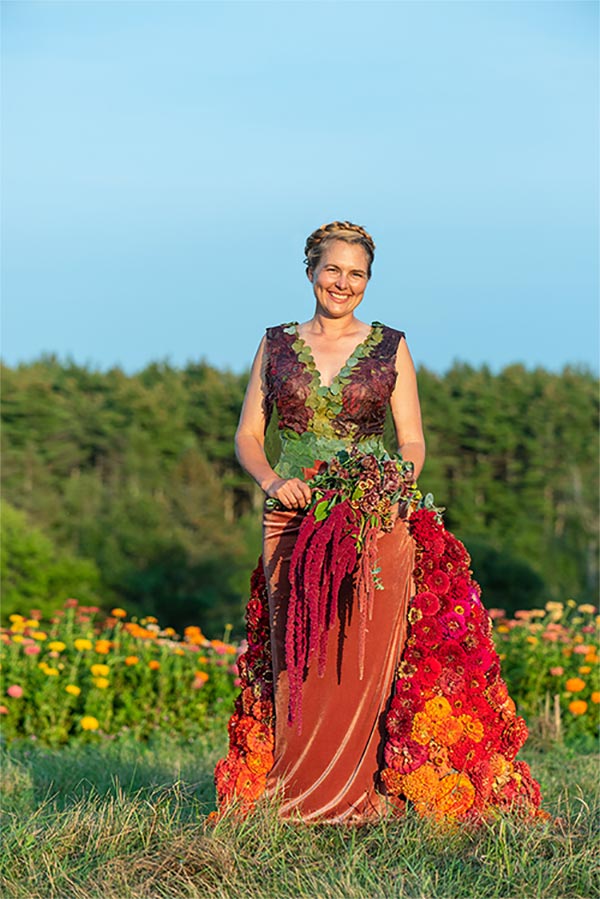 Designer: Hillary Alger
Photography: Kristen Earley
Model: Joy Longfellow
Hair/Makeup: Joy Longfellow
Floral Palette: Maine-grown annual flowers and foliage from Johnny's Selected Seeds

The women spent much of last summer brainstorming. "We kept asking each other, 'Can we do this?' 'Can we make it happen?'," Hillary said. "At one point, we decided we were in, and Joy and I walked the fields to figure out what appealed to us. We loved the eucalyptus and 'Mahogany Splendor' hibiscus leaves combined with zinnias for a bold, grand palette."
The project began with a foundation garment — a bridesmaid's dress in Joy's closet, one that fit her well, but was unlikely to be worn again. Hillary sketched a body-flattering concept incorporating the shape of Joy's dress and added a decadent floral bustle to trail behind.
She constructed the dress in two parts, first using fusible webbing to attach the wine-colored hibiscus and sage-green eucalyptus foliage to cloth panels for the bodice. "We needed to keep the leaves wet so they wouldn't curl off the fabric, so we spritzed the panels and layered them between wet paper towels until it was time to attach to the dress," Hillary explains. Volumes of fine-mesh window screening and layers of tulle netting were gathered to form the bustle — the canvas for thousands of zinnias.
After picking buckets and buckets of flowers, the Johnny's team, including volunteer co-workers, convened at Hillary's home to clip and glue flowers in an array of red, scarlet, rose, purple, wine, and coral petals. There are 39 zinnia varieties and seed mixes in the Johnny's catalog, many of them represented in this luscious garment. The finished train, covered in a floral pavé, suggests draped tapestry.
The team hit a snag when attaching the piece around Joy's waist, though. "The bustle was so heavy and the skirt structure wasn't strong enough to stay on Joy's hips," Hillary recalls. "My husband, Jon Hill, came home after work to find a shop full of flowers as we tried to solve the problem. Luckily, he is both a mechanical engineer and excellent sewer. He fashioned an industrial-strength belt-corset that fit around Joy's waist — and it was perfect."
Joy is more likely found wearing her favorite plaid shirt and jeans as she takes quantitative data in the flower fields. Dressing up in a zinnia gown and wearing makeup isn't her typical look. "Thankfully, I have a friend who is a professional opera singer, and she was excited to give me pointers and a bunch of her makeup supplies," Joy adds.
Johnny's staff photographer Kristen Earley documented the beautiful dress in the zinnia fields during a predusk golden hour session late last summer. She captured a perfect moment to savor, when the flowers are at their peak.
For Hillary, this was much more than a project to showcase zinnias and other cut-flower varieties in Johnny's catalog. "Making a flower dress was extra special this year, because for a lot of us at Johnny's it was the first time we had physically done anything as a group since March of 2020. It was a magical, joyful moment that only comes from doing something communally. A few people stayed on through the photo shoot, just to help and watch. They couldn't pull themselves away. We were all on Cloud Nine."
Elements of a Garment
Below are the zinnias that feature most prominently in our piece…
Celebrate All Seasons with Slow Flowers Botanical Couture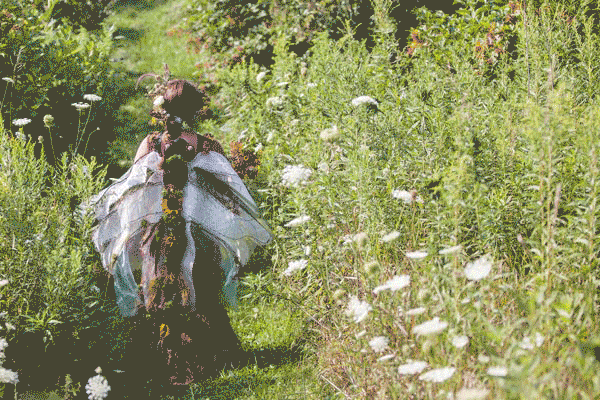 A WINTER TALE
Floral Palette:
 Washington-grown hellebores
Production support:
 Pamela Youngsman,
PoppyStarts
Designer:
 Carolyn Kulb,
Folk Art Flowers,
Model:
 Tasia Baldwin @_tasiajb
Hair/Makeup:
 DeLeana Guerrero,
Luxe Artistry Seattle
Photography:
Missy Palacol Photography
Location:
 Hyak Sno-Park, Snoqualmie Pass, Washington
MIDSUMMER FROLIC
Floral palette:
Wisconsin-grown native perennials, grasses, annuals and fruiting berries
Lead designer/flower farmer:
 Erin Schneider,
Hilltop Community Farm
Design assistance:
 Diane Mikonowicz, Rob McClure
Seamstress:
Linda Gillen
Model:
Aimee Ziegahn
Photographer:
 Patricia Espedal,
Treasure People Photography
Location:
La Valle, Wisconsin
Now in its seventh year, American Flowers Week takes place June 28–July 4 each year as the advocacy, education, and outreach campaign produced by Slow Flowers Society.
Inspired by the success of British Flowers Week, in 2015, Slow Flowers Society founder Debra Prinzing created the U.S. version of the domestic flowers promotion campaign. She chose to launch the virtual event during the week coinciding with July 4th, America's Independence Day.
"Of course, like everyone in the Slow Flowers Movement, I believe that we should be celebrating American-grown flowers during all 52 weeks of the year," she notes. "But by choosing to devote one full week to an awareness campaign, I believe we can heighten attention for this cause — both in the media and in the public."
Anyone involved in growing, gardening, or designing with domestic flowers is encouraged to use the #americanflowersweek hashtag to draw attention to the campaign and the Slow Flowers Movement. More resources and free downloads are available at americanflowersweek.com.
"What is the point of the Botanical Couture series? Is it frivolous? Yes! Is it strategic? Yes! By presenting flowers as fashion, photographed with editorial styling to tell a story, the American Flowers Week campaign shines a light on the talented growers and designers who are part of the Slow Flowers Movement. Moreover, it changes what we think of flowers. No longer just a perishable item to capture a sentiment in time, perhaps the flowers, foliage, foraged botanicals, and natural elements you see in this series will shift and expand your thinking. With flowers transformed as art or sculpture, as fashion and beauty, as a symbol of the human desire to connect with nature, there is much more to each bloom than one might imagine."