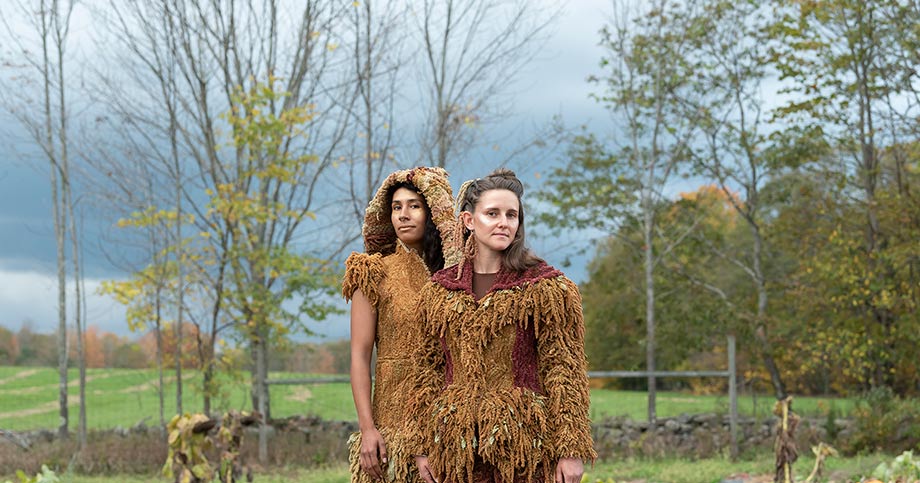 Johnny's Celebrates 2022 American Flowers Week

• Our 4th Botanical Couture Season
Great Grains • Novel application for a traditional Meso–South American staple
A traditional South and Mesoamerican food crop, upright Amaranthus cruentus and tasseled A. caudatus are today valued for their ornamental beauty, including in wearable fashions worthy of the runway.
For their fourth botanical couture contribution to American Flowers Week, Johnny's Selected Seeds flower specialists Hillary Alger and Joy Longfellow headed straight to their trial gardens, where all the magic happens during the year as they test and evaluate thousands of cut flower and herb varieties.
From late summer to early fall, one of the seed company's star annuals is the amaranth. Johnny's current product assortment includes seven varieties, from upright burgundy, coral, and copper forms to the long, trailing options in lime-green and deep red. "They contribute such a nice color palette for fall arrangements," says Hillary, who is Johnny's floral and herb product manager. Just like flower farmers, the Johnny's team plants a succession of amaranth to ensure continual harvest late into the season's first frost.
Amaranth blooms are reminiscent of chenille, a tufted fabric associated with vintage robes and bedspreads. The notion of creating an amaranth coat captured Slow Flowers' and Johnny's Seeds' imaginations. "I had my doubts that amaranth would lend itself to this project or be as beautiful as it came out, because the colors are a little faded," Hillary observes. "But it seems obvious now, because the texture of the flowers and the structure of the plumes are very much like textile fibers."
Hillary and Joy, who manages Johnny's floral trials, harvested hundreds of amaranth stems, keeping them from getting brittle with an occasional spritz of water after drying. "We have a space in a barn here that we use for just drying flowers and evaluation," Hillary says. "Something's always hanging up to dry."
To begin the design process, Hillary found a pair of velvet women's blazers at a discount store. "The velvet was the same color as the copper-colored amaranth," she recalls.
She wanted two distinct coat shapes, and the blazers were easily transformed to fit the two models, Kristina and Lindsay, two friends and fellow Johnny's employees. "They both work in shipping in the wintertime and on the farm here during summer," Hillary says. "We thought their chemistry would probably add a lot to the photo shoot because they always have a good time together."
For Kristina's coat, Hillary cut off most of the sleeves and folded them over make a cap. She deconstructed amaranth plumes, treating them like strands of rope or chunky yarn. "It's not efficient, but even though it was so much work, I found the process really fun and it gave me some quiet, 'Zen' time," she says. To create the separate "hood" piece, Hillary used a handloom to weave a tapestry-like cloth with more lengths of ropey amaranth and some of the plumes. The flat surface application and contrasting fringed detailing exquisitely transform a basic blazer. Amaranth-covered booties complete the styling.
For the second garment, modeled by Lindsay, Hillary used the dark red amaranth to apply dramatic detailing across the back and shoulders. The chunky coat is paired with short-shorts and Ugg-style boots, also embellished with layers of dried amaranth.
The benefit of using dried flowers for botanical couture design is that you can work on a piece over many days, or even weeks, she points out. "I have a dress form at home, so I worked on the coats in the evenings," Hillary explains. "Then Joy and I had a couple sessions where we worked together, and she also tackled some of the detailed smaller pieces, including the shorts and the shoes, on her own."
Kristen Earley, Johnny's staff photographer, met up with the design team and models late one autumn day to document the project. "It was during the same week that our pumpkin trial fields were open for employees to pick pumpkins," Hillary laughs. "While we were photographing Kristina and Lindsay, there were little kids running into the field and asking us what we were doing." The setting was just perfect to showcase garments made from seasonal amaranth, traditionally grown as a grain.
Months later, the dried garments are hanging in Hillary's office at Johnny's, including one coat still being "worn" by her tailor's dress form. "Once it's warm enough for the seeds to germinate, I think it will be fun to take the boots home and put them in my garden. With enough moisture and heat, they might just sprout. And it could become another art project."
CREATIVE CREDITS
Designer: Hillary Alger
Production Assistance: Joy Longfellow
Models: Kristina Alofaituli and Lindsay Peter
Photography: Kristen Earley
Location: Johnny's Trial Gardens, Winslow, Maine

Floral Palette:
Celebrate All Seasons with Slow Flowers Botanical Couture