Do you ever wish you had a crystal ball to see into the future? Since 2014, Slow Flowers has been tracking changing shifts, emerging ideas, and new concepts occurring across the American floral landscape. Many of the themes that catch my attention are gleaned from my conversations and interviews with flower farmers, floral designers, and flower sellers.
And while I don't rely on scientific forecasting tools, I do rely on my nose for fresh news. I literally get a jolt when I come across something Now, New, or Next… and I can't wait to share it with others.
More than making an educated guess, I've found that what becomes mainstream (aka a "trend") often begins along the fringes. So if, like me, you're one of those early adopters, some of these topics from my Floral Insights and Industry Forecast may resonate. Rest assured, these are timely and useful ideas that you can adapt for your farm, studio or stand. Here's an update of some of the top insights for the coming months.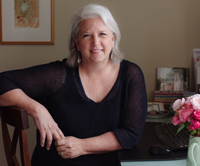 Debra Prinzing, Author & Founder of Slow Flowers
Photo © Mary Grace Long
#1 • LOCAL FLOWERS MOVE INTO MAINSTREAM RETAIL CHANNELS
Major wire services and mass merchants embrace LOCAL Flowers.
At least one major wire service has determined that there is customer demand for local and American grown flowers: FTD now devotes a single page of its website to the new Homegrown Collection, with the tagline: Thoughtfully gathered and locally grown on American farms.
Bravo! I predict this is just the beginning of mainstream channels acknowledging that the Slow Flowers Movement is a cultural shift, NOT a trend. Now, the question is: Will consumers be able to actually find these options?
The onus is on the consumer to type in search terms like "local" or "American grown" — and I have to say I hunted for a while before finding FTD's devoted webpage. I urge wire and online flower-sellers to go much further than this initial effort and create user-friendly links to sell and market their local or American-grown bouquets.
Mainstream also means grocery stores, right? While the embrace of local flowers represents only a small facet of supermarket retailing, we know the sky is the limit — there's nowhere to go, but UP.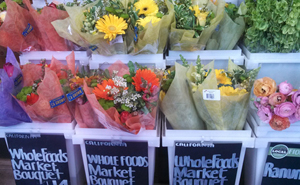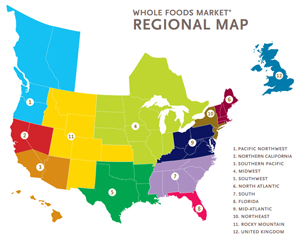 This allows for more targeted in-store messaging, labeling, and product information.


According to Diana Westcott, Whole Foods Market's regional floral buyer for the Mid Atlantic region (based in Landover, Maryland), sourcing locally is consistent with the chain's overall philosophy. "Whole Foods Market has always featured local flowers in season," she explains. "Our year-round #1 item, tulips, are grown in Virginia and New Jersey. In the summer, our peonies and sunflowers are grown in North Carolina, Maryland, Pennsylvania, New Jersey, and New York. We start the season with Carolina farms and move north as the weather grows warmer."
[As of this writing,] there are 11 Whole Foods districts across North America with floral buyers just like Diana Westcott. This decentralized floral purchasing model allows for targeted in-store messaging and labeling and improved staff product knowledge, with the goal of helping inform shoppers about their choices.
"We really prefer to source 'hyper' locally — within 100 miles of our stores," Diana says. "So many of our team members have actually visited their local farms. We introduce new local farms every year and our long-standing partner farms are constantly upgrading their selections with new flowers."
With grocery stores accounting for no less than 50% of all retail floral sales, according to industry sources, the best thing flower farmers can do is remove barriers that have previously caused grocery store buyers to be resistant to working with local and domestic flower farms. Offering consistent product quality, reliable communication and excellent customer service are attributes that give local flower farms an edge over competition from imports.
#2 • WHOLESALERS ARE DISCOVERING AMERICA
In the midst of global floriculture, with trade in cut flowers estimated at more than $100 billion per year, $13 billion of which takes place in the US, we've been seduced by the notion that the world is our oyster (or flower field).
In many markets around the country, the wholesale florist is the only commercial cut-flower and foliage source serving designers, shops and studios. Yet after branding themselves as the single portal to a world of floral options, some wholesale florists are returning to their roots, at least in part. They are proactively sourcing from American flower farms large and small to stock their coolers and shelves. And beyond this step, many also use signage and labeling to inform buyers of the origin of that product.
I believe the explosion of farmer-florists and the growth of small-scale floral agriculture in markets across North America has occurred in part because of frustration with the lack of or limited local sourcing by conventional wholesalers. Let me say that again: Farmer-Florists and small-scale floral agriculture have stepped into the gaping void created when wholesalers turned their backs on local flower farmers. And now they're waking up to a nearly-missed opportunity of which to take advantage.
#3 • MORE FARMS SELLING DIRECT
This insight is closely connected with item #2. The conventional wholesale model is changing as traditional channels of floral distribution are disrupted. I predict that more flower farms will seek and establish new ways to bypass the mainstream pipeline and market directly to florists and consumers. This is a hot topic and certainly one that's hard to find wholesale florists willing to go on record to discuss.
Last fall's Slowflowers.com member survey revealed numerous sales channels emerging among flower farmers. Granted, the majority of Slow Flowers farm-members are small-scale producers, but I believe they are the ones modeling how diversification and direct-to-florist commerce can succeed. When asked about their distribution channels, our respondents cited the following top three outlets:

70% are growing flowers for their own weddings and event clients.
This is followed closely by farms selling direct to other florists and wedding designers, at around 67%.
With 53% of flower farms reporting they sell to local flower shops.
After this top tier, the percentages drop down to about 33% of respondents who sell flowers via farmers' markets and CSA subscribers (basically consumer-direct), and about 25% who sell to local wholesalers and grocery/supermarket buyers.
#4 • RETURN OF BRICK & MORTAR
If you rely only on mainstream financial analysis or census data for your intel, then the landscape for brick-&-mortar flower shops looks bleak.
According to the November 2016 Dunn & Bradstreet industry report, there are about 14,000 floral establishments (single-location companies and units of multi-location companies) with combined annual revenue of about $5.5 billion. Yet, the number of flower shops has declined by about 40% since 2000. Dunn & Bradstreet cites a Society of American Florists prediction that the number of retail florists in the US will continue to drop, although the pace is slowing gradually.
OKAY, is this bad news? Not for Slow Flowers members who are opening brick-and-mortar flowers shops across North America.
Anecdotally, flower power is on the rise, as independent and progressive florists are signing leases and opening retail spaces in the same markets that have witnessed mainstream mom-&-pop floral storefronts being shuttered. These are the new florists eager to connect with (and buy from) local flower growers in their community.
#5 • MICRO-REGIONALISM IS BIG
Across the country farmers and florists are forming their own unique alliances for commerce, marketing, and promotion. The net benefit means more local flowers available to more consumers.
When we asked the Slow Flowers Community: "Are you part of a regional network for flower farmers or florists?," 42% responded YES, and 20% responded, "I wish there was a group in my area."
Based on the activity I've witnessed, it is now easier than ever to form such a group — they seem to be popping up all over.
In the past year, I've featured several such groups in my reporting, including the Maryland Cut Flower Growers Association, the Pacific Northwest Cut Flower Growers, the Greater Seattle Floral Association, the North Bay Flower Collective, the California Cut Flower Commission, New Orleans Flower Growers Association, the Southern Flower Collective, Hudson Valley Flower Growers Network, as well as networking groups in New England, Denver, Pittsburgh, Raleigh–Durham and upstate South Carolina, thanks to leadership of Slow Flowers Members.
As to the Why? Across the board, members of these groups cite NETWORKING as the number one reason for forming, followed by Marketing and Promotion (42%) and the opportunity to form a Sales/Transportation hub (22%).
#6 • FLORAL TOURISM: It's a thing
Far beyond visiting a seasonal U-Pick Farm, floral consumers are being lured to fields, shops, and studios for a combination of inspiring, creative experiences and those gorgeous flowers.
I'm a longtime veteran of garden and home tours, including having chaired or served on the committees of several such tours over the years. These insider opportunities are popular and successful because they give design and plant lovers a peek indoors, or a chance to step inside the garden gate — to see creative and private environments.

And now, flower farms are getting in on the act that I am calling floral tourism. Attendees of floral designer Tobey Nelson's recent 3-day retreat and workshop with Susan McLeary booked rooms at Comforts of Whidbey, a winery on Whidbey Island in Washington State, combining a bit of R&R and wine tasting with floral instruction.
Later this year, you can rent a glamping tent at floral designer Holly Chapple's Flowerstock gathering on her Hope Flower Farm in Virginia.
Or, check out Yoga on the Farm, an annual festival staged by flower farmers Adam and Jennifer O'Neal of PepperHarrow Flower Farm in Winterset, Iowa, which earns my award for the most creative agritourism event on a flower farm. PepperHarrow Farm is a quaint, biodynamic, 20-acre family farm devoted to creating a local whole food system with bees, heirloom fruits and veggies, and heritage animals. I love the community-minded celebration that draws yoga and floral enthusiasts from around their region. Certainly it is a ton of work to pull off, but the event builds strong relationships with customers who return for other PepperHarrow events, workshops and flowers, all year long.
Next Up
There are a few more items to wrap up my Floral Insights & Industry Forecast, which we cover in a deeper dive into Emerging Color Palettes & Shape-Shifts!