Choose Tools According to Your Preferred Cultural Practice
Gain efficiency from your lettuce growing efforts. Use this chart to select tools that are expressly suited to specific lettuce types and production practices, and enjoy optimal results, from sowing to harvest.
In the first column are listed the cultural stages at which you intend to harvest your lettuce (baby-leaf or head), as well as whether the seed is sown directly or started indoors and transplanted.
The columns to the right list the stage of the growing process at which different tools are used.
Scroll down to view the preferred tools, and click on the lettuce types and tool names and images to browse options.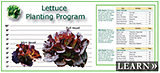 Best head lettuce varieties to plant in sequence, to ensure a continuous supply.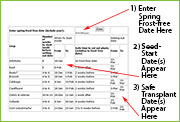 Determine when to start seeds inside and when to safely set them out.