Flowering
in the

Southern States
Profiles of 5 flower farmers who cope with temperature, humidity, pest and weed pressure, and other conditions across the Southern U.S.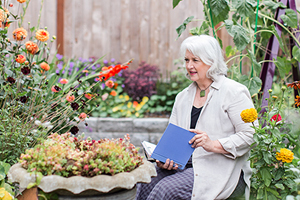 ---
NOTE
All images used with permission and courtesy of the contributors. All rights reserved.
Last fall, Slow Flowers Society circulated a mini-survey asking for input on growing cut flowers in southern states. We heard from 39 growers representing South Carolina (15); North Carolina (4); Texas (4); Alabama (3); Georgia (3); Virginia (3); Florida (2); Tennessee (2); Arkansas (1); Kentucky (1); and Mississippi (1).
Among other questions, we asked survey recipients to rank their top-10 flower crops. We've listed the results below, in descending order, along with 25 additional crops they mentioned. We also asked which cultural problems were the worst for southern flower growers and which months were their most active for growing.
In this article and our upcoming webinar on growing cut flowers in southern states (stay tuned for details!), we dig a little deeper into some of the unique issues of this region, which accounts for approximately one-third of the country's land mass.
SURVEY RESULTS
Top-10 cut-flowers for the South
Other popular flower crops
Astrantia, Ageratum, Cosmos, Delphinium, Dianthus, Eucalyptus, Larkspur, Lily, Narcissus/Daffodil, Orlaya, Poppy, Tulip, Mint and other herbs, Peony, Nigella, Gladiolus, Bupleurum, Foxglove, Veronica, Campanula, Yarrow, Phlox, Millet, Lavender, Rose, Sweet Pea
Most-cited cultural problems
Temperature
Humidity
Pest pressure
Most active growing months
April–October, with emphasis on spring and fall months.
MEET THE FLOWER FARMERS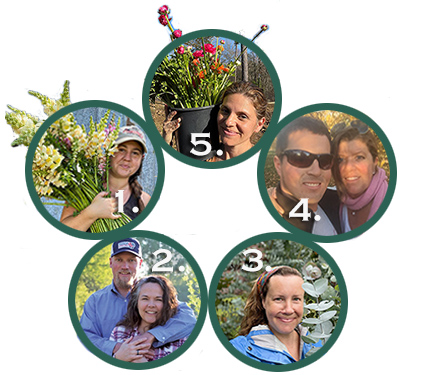 Earlier this year I checked in with several survey respondents to learn more about their seasonal flower-farming cycle, their crop selection, how they market their flowers, and unique climate issues in their region. I also asked each about their sustainable practices.
1 • FULL KEEL FARM
Julia Keel farms with her partner Earl Keel in North Central Florida. Farming on one-half acre since 2019, with Julia the principal grower and Earl working off-farm, the Keel family decided early on to grow specialty cut flowers and develop a wholesale market to supply florists in Gainesville and Jacksonville. "We started Full Keel Farm specifically to grow flowers because of our small-scale space and because of the demand for local flowers here in Florida; there is a deficit of flower growers here, especially ones like us who are growing for wholesale and selling direct to florists."
Julia has a master's degree in soil and water science, which she says has been an asset in terms of understanding her farm's soil chemistry. She is the cofounder of the Florida Grown Flowers group on Instagram.
CLIMATE & CULTURAL CONSIDERATIONS
"One of the things that growers in warm, southern climates have to think about is the interaction between temperature and photoperiod," she shares. "For example, China aster is nearly impossible for me to grow because of how our photoperiod and temperatures align during the key stages of growth. When the flower wants longer days (which elongates the stems), the temperatures are in excess, so the plant just flowers prematurely. It's important to look at these requirements to determine whether your farm conditions align with both factors."
Temperature challenges include planning for a few really cold nights every winter. "We typically have mild conditions with very few low-chill nights, but we always have a plan for our infrastructure for cold events when the temperature drops to 25°F (-4°C), or even down to 19°F (-7°C)," she explains. This means providing supplemental heat and adequate row cover for rare instances. "Conversely, as we move into spring and summer, it's the warmer temperatures that are really a factor," Julia says. "We are inland, rather than coastal, so we deal with higher summer day and nighttime temperatures. Zones can be misleading!"
CROPS
Full Keel Farm grows during all 12 months of the year, but only harvests flowers from February through June and from mid-September through Thanksgiving. "We made an intentional decision not to harvest through the summer," Julia says. "The flower quality is not there, the number of usable stems goes down drastically, and there's less demand because of the summer slow-down in weddings and events."
The harvest year begins with ranunculus and delphinium, followed by snapdragon, foxglove, strawflower, and statice. Most of the warm-season annuals are field-grown with the exception of celosia, which loves the high tunnels. Julia grows lisianthus from seed rather than plugs. "With our climate and growing conditions, lisianthus isn't hard to grow from seed because we have light intensity and the ideal temperatures. I'm getting lisianthus up to transplant size in 8 weeks, while I know for some it takes 12 weeks, and they may have to heat a greenhouse to achieve that."
The decision to drop ranunculus next year is "because of our higher winter temperatures," she says. "We've had to learn which crops are going to be reliable with temperature swings. For example, delphinium is totally fine down to 19°F (-7°C), and then when it's hotter, they do great in the tunnel."
There are drainage challenges due to their land's high water table and a naturally-occurring hardpan on top of which is sandy soil. "When it's dry, it's very dry, and there is no moisture retention. But when it's wet, we basically have a perched water table," Julia explains. "In the summer, when we receive 8–10 inches of rain over a few days, we have a few inches of standing water. Because of this, we have had some significant crop failures, where we lost approximately 70% of our early spring crops to extreme rainfall."
To remedy standing water, Full Keel has installed two 1500-ft2 high tunnels and has added 8 inches of topsoil and compost to all the beds. "We have trenched the aisles to convey water away from the beds. And we grow our dahlias in grow-bags. In the summer, they do really well in those root pouches. So even when the bags are in standing water in the fields, the soil around the tubers is evaporating through the side of the bag."
MARKETING
After producing and selling retail bouquets in their first season, it didn't take long for Julia to decide that Full Keel Farm would only sell direct to florists, beginning in 2020. "Although a farmer-florist model or hybrid retail/wholesale model is more common with growers in our area, we recognized there was a need for growers selling to florists exclusively. This year, we're growing larger quantities of fewer varieties to be able to supply more florists weekly, and to be able to send flowers to Jacksonville regularly in addition to working with the florists closer to me."
SUSTAINABILITY
Paper pots for seed starting
"I've started to use the paper pot system, and right now about 70% of our flowers are seeded in paper pots. They aren't perfect, but when we have really warm temperature and those seedlings are ready to go into the fields, I can get a whole bed planted quickly. With a transplanter, I can pull that chain down the bed in 5 minutes. Depending on the spacing, I can plant 1500 to 2400 seedlings in 30 to 50 minutes."
Beneficial insects
"We are controlling for thrips, aphids, and other soft-body pests. I have found that the assassin bugs and the minute pirate bugs are really effective predators in our climate. We have an established population of beneficial insects now, so they appear in the spring, even before we release any new insects for the year."
Irrigation
Julia primarily uses drip irrigation but she recently added in a temporary irrigation structure for overhead watering of transplants. "It's a movable, 100-foot-long system that has little risers with sprinklers on it. So now we overhead water for a week or two after we transplant, then switch to drip irrigation."
Fertigation
To avoid nutrient runoff, the farm uses an injection system to provide water-soluble fertilizer through the drip irrigation system. "This allows us to deliver small amounts of fertilizer more frequently into the beds. With high rainfall events we are extremely susceptible to nitrogen loss, so fertigation improves our efficiency. We adjust the quantity, types, and rate of fertilizer based on how the season is going."
2 • WILMOR FARMS FLOWERS
Founded in 2015 by Mike and Rita Williams, the family-owned agricultural enterprise is rooted in history. Located in South Georgia, about an hour from Savannah, WilMor Farms is based on land that has been on Rita's side for nine generations. The farm takes its naming from Mike's surname — Williams — and Rita's maiden name — Morgan. Now encompassing 3 acres, the operation began as a hobby farm and has grown into a diversified, viable and sustainable operation. "The first year we literally threw seed in the ground," Mike says. "A couple of months later, we had flowers and thought, 'Okay, what do we do now?' It was really a learn-as-you-go operation." With a degree in horticulture from the University of Georgia, Mike works full-time as the owner of a landscape company. Two years ago, Rita left her nursing career to farm full-time. With four children, this is truly a multigenerational cut-flower farm.
CLIMATE & CULTURAL CONSIDERATIONS
As Rita and Mike began to transition from hobby farming into producing flowers as a source of revenue for their family, the need to manage deer pressure was apparent. "When we started getting serious, we knew we needed to protect our crops, so we put up a deer fence," Rita explains. After doing research, they found Deer Busters to be an affordable option. "We have surrounded nearly our entire operation with fencing now," Mike adds. The 7½-foot-tall fencing is durable and easy to install. Mike installed a good portion by himself, but notes that of course, it's easier with two people.
Even when coping with heat and humidity, the couple claims to be "pathologically optimistic" about flower farming, Mike says. "It can be discouraging and frustrating, especially with these brutal working conditions. But we keep going. We have made millions of mistakes and continue to make them, but that's just the reality of flower farming. The worst part is that if we mess up, we sometimes have to wait a full 12 months to fix it!"
CROPS
Sunflowers are a high-volume crop at WilMor, with numerous succession plantings throughout the season. "We grow our sunflowers really close together to keep them from getting huge heads, which is what sunflowers usually do. We've found that the really big sunflowers take up the entire bouquet sleeve and leave little space for other flowers," Rita says. "Our sowing method gives us flowers with 3–4-inch diameter faces, and those work really well in our bouquets." Most of their annual crops are selected to support the sunflower as the focal element, including cosmos, plume and cockscomb celosia, stock, amaranth, ageratum, marigolds, zinnias, gomprehena, basil, and mahogany hibiscus. Celosia 'Flamingo Feather' is a favorite for adding interest to bouquets, she notes.
Perennial Rudbeckia triloba is another reliable choice for bouquet design because of its multibranched form. "Make sure to get into the perennial game early," Rita advises new growers. "Had we known this when we started, we would have invested in perennials a lot earlier. Now we are adding more to our perennials each year."
MARKETING
All of WilMor Farms' bouquets are wrapped in kraft paper sleeves and stamped with the farms' familiar logo. WilMor's primary outlets for their signature mixed bouquets are two local farmers markets and the Whole Foods store in Savannah. The opportunity to sell at Whole Foods arose when the floral manager sought out WilMor Farms at the Forsyth Farmers Market in Savannah. "I'll be honest; if he had not been so supportive in pushing us through the process, we may have given up," Rita says. "It makes me feel good about our product, and the fact that we could meet all of their requirements."
Adds Mike: "I really like the fact that we can have a relationship with the staff, whom we see when we deliver to the store. They are champion supporters — cheerleaders for our product. We might lose a little of that if we were to expand and deliver to Whole Foods' distribution center to serve more stores."
Rita and Mike remain loyal to the Statesboro Main Street Farmers Market, their closest market, and try to bring flowers to the Forsyth Market in Savannah a few times per month. "We have such a good customer base there," Rita says. Her customers know that when WilMor Farm isn't at the weekly farmers' market, they can find the farm's Georgia-grown bouquets at Whole Foods.
SUSTAINABILITY
Soil health
"We are focused on building healthy soil by planting cover crops and adding organic compost to each planting," Rita explains. "We implement erosion control methods, plant a diversity of flowers, and practice crop rotation."
Mulching
Mike and Rita are big fans of BIO Organix, a biodegradable weed barrier that is black on the bottom and white on the top. "This has really saved our labor because we plant almost everything in it," Rita says. The corn-based product has many advantages for their farm. "We tried the landscape fabric, and for us, it was a problem. With the white side up, the biodegradable material keeps roots cooler in our heat, which is a plus. And when you're finished harvesting or cutting that row, you just till it into the soil."
Compost
Before adding the biodegradable mulch, each planting bed receives a layer of organic compost and one application of general organic fertilizer. "We try to use OMRI-listed amendments, but we're not USDA certified organic," Mike notes.
Labor
"It's important for us to create a safe work environment and pay a living wage to our employees," Rita adds.
3 • ONE WILD ACRE
Peachey Trudell and her family moved to a 1.3-acre property on Charleston's James Island in 2017, motivated by the desire to expand their flower growing area beyond the "postage stamp-sized" yard where they previously lived.
CLIMATE & CULTURAL CONSIDERATIONS
"This year, we had an unusually cold winter for Charleston, including a freeze in late December," Peachey says. "Our typical winter weather means cold nights down in the 40s. By March, the temperatures climb to the 70s, followed by moist, humid summer weather. The heat and humidity are challenging not only for the flowers, but also for the labor — motivating myself to get out there in that weather. A lot of flower and produce farmers here take off July and even into the month of August. They're not necessarily off from working, but they're not at the farmers market or harvesting heavy quantities of flowers. It's just too hot." Spring and fall are peak tourist seasons in Charleston as well as when most weddings occur, which influences the flower farming cycle in turn.
"Spring is by far my biggest season. You have nice weather when you're planting all those cool flowers. The flowers don't need a lot of irrigation through the winter, so I don't have to watch their moisture level as critically. We have our irrigation on a timer and I have a temperature-controlled room to store flowers after harvest. It is not a cooler but an air-conditioned space away from our living space. I harvest early in the morning (with dew) or in the evening (with gnats). We installed an outdoor shower last year and it has been a welcome addition in the hottest months!"
CROPS
With a 100% field-grown operation in an area zoned for residential use, Peachey's annual selection includes cosmos, sunflowers, zinnias, celosia, globe amaranth, and basil. She has added spring-blooming bulb and corm crops such as anemone, ranunculus, and daffodils, which, depending on the seasonal temperatures, sometimes bloom in time for Valentine's Day floral sales. And she is considering planting tulips for early spring harvest.
"I plant four times a year. I plant in fall and late winter for early spring harvest. The flowers end up blooming at the same time, but the fall-planted ones have more time to establish roots and are sturdier. I plant in early spring for summer harvest (cosmos, zinnia, and lisianthus). Then, I plant in late summer for fall harvest." She often plants the same crops but changes the bloom palette by season. "I'll have whites and brighter pinks in the spring and summer and oranges and rusty colors for fall."
MARKETING
One Wild Acre sells direct to consumers through workshops and local pop-up events at three local coffee shops and a natural beauty retailer. Because she doesn't have a storage cooler, Peachey usually harvests each morning for that day's orders. "Most of my sales come through Instagram, with customers coming here to pick up their orders," she says. "I would like to start a CSA so [my schedule] is not as random!"
Bouquets are kept hydrated with compostable wraps and compostable bags. The outer wrap is kraft paper with a One Wild Acre logo stamp created by a local graphic designer (no sticker means one less piece of trash, she says). Colorful wool ties come from a local weaver who sells scrap bags of leftover yarn.
This year, Peachey will sell cutting-garden starter plants and seed-grown dahlia starts at local plant sales and through a collaboration with the Charleston Horticultural Society. "I have a seed-starting workshop in March and an upcoming visit from a local garden club where I plan to offer seeded kits as well as seed packets. Each student will take home 38 plants in deep-rooted trays, ready to plant into their cutting gardens." She likes the idea of expanding nursery offerings because it allows her to connect with home gardeners.
SUSTAINABILITY
Soil
"I like to layer up each fall with truckloads of compost. I also layer cardboard with leaf mulch for weed suppression."
4 • CHATHAM FLOWER FARM
Kate Meyer and John Fitzpatrick own an historic farm on Virginia's Eastern Shore. The closest major cities are Virginia Beach and Norfolk. They grow cut flowers, lavender, and herbs, and operate the Milby Barn Studio, where they host flower and art workshops. Having a destination farm is a big part of their brand. "We want to bring people to the farm to show them that there's more to us than flowers at the farmers market," Kate says.
CLIMATE & CULTURAL CONSIDERATIONS
Now in their sixth growing season, Kate says their area was recently reclassified from USDA Zone 7a to Zone 8a. "We're coastal and subtropical," she notes. "I have seen changes, especially last year when we were hit with a drought (with no rain from the end of May until the beginning of September) and temperatures were more brutal than usual. It's been very interesting to see what flourishes and what doesn't. Our first frost was 3½ weeks later than usual last fall and we're already ahead (temperature-wise) by one month this year."
CROPS
"We are streamlining and trying to become a boutique farm," Kate says. "There's something to be said for quality over quantity. Ultimately, I would like to specialize in boutique-y flowers to supply wholesale markets; yet I don't want to abandon our community which has always supported our flowers." Chatham Farm's flower production is a 50-50 perennial/annual split. Perennials include yarrow, larkspur, hollyhock, and cornflower, among other reliable bouquet ingredients.
"We have separated the year into three major producing periods," she says. "We start the year off with ranunculus and peonies; then hybrid Oriental lilies, gladiolas, and annual cuts; and finally dahlias with sunflowers, celosia, and amaranth in succession into fall. For our field crops, we primarily grow 3000 sunflowers and dahlias."
MARKETING
"We educate our customers so they understand seasonal growing. For retail we primarily supply our CSA customers, farmers market customers, and wedding clients. We also built a flower stand at the end of our driveway to bring people to the farm," she notes.
Kate has sold to Potomac Floral Wholesale in the D.C. area in the past, especially when she has quantities of specific crops, such as gladiolas. "We hope to start selling wholesale again because we have 600 plants and want to promote their comeback as a cool, abstract, ornamental flower."
SUSTAINABILITY
No-Till & Cover Crops
"We are a no-till farm and we grow under black landscape fabric because of our weed pressure. At the end of the growing season, we don't remove the fabric from the beds; we just roll it back, tarp the bed, and lay the fabric back down. We plant cover crops on some beds with crimson clover and a Johnny's mix that includes rye grass, field peas, vetch, and crimson clover."
A friend of Kate's who is a biodynamic food grower suggested that she plant cover crops in a 4-foot border around the perimeter of a tarped bed to suppress adjacent weeds that could sneak in.
Irrigation
"We have switched to overhead watering to give our flowers a good drenching and then skip a day."
5 • NOURISH BLOOMS
Katie Wolter and her family grow, arrange, and sell cut flowers on one-half acre just outside Auburn, Alabama. The proceeds from their sales generate 70% of the operating budget for the Nourish Foundation, a 501(c)(3) organization that provides fresh produce to food insecure families in their community, and Nourish Wellness, a clinic that provides multidisciplinary wellness care, focusing on nutrition, physical activity, and mindfulness to children and families. Katie is a part-time pediatrician and mother of seven, so she juggles flower farming with the help of her older children and a few part-time employees. She has two high tunnels and several low tunnels made with conduit and Agribon cover.
CLIMATE & CULTURAL CONSIDERATIONS
Like nearly every flower farm in southern states, Nourish Blooms endures high temperatures and humidity during much of its growing season. "We tend to have big fluctuations in temperature," Katie explains. "For example, most of the time we don't have ranunculus and anemones for Valentine's Day, but this year it was so warm that they bloomed early in the unheated high tunnels."
This year Katie plans to experiment with starting some summer annuals like zinnias in the high tunnel to gain a few weeks for a late May harvest. While many growers scale back during the summer months, Nourish Blooms harvests and sells flowers at Auburn's weekly City Market. "It's one of our biggest sales channels that runs from end of May to the end of August," Katie says. "We sell all of our summer annuals there — zinnias, celosia, cosmos, amaranth, sunflowers, and more."
She starts her dahlias late, saying she learned how 3 Porch Farm in Athens, Georgia plants late to avoid May and June pest pressure, harvesting later in August. "I stumbled onto this method, and my pest pressure is so much lower than when I started them early."
She notes the potential downside of this method when there is an early frost, as was the case when Auburn's first frost arrived on October 17, 2022. "I only had a month's worth of dahlias to market, which was a lot of work for a small return," Katie notes. "If I have a 'normal season,' with late frost, then I'll have dahlias through November."
CROPS
When she started farming in 2018, Katie followed the advice of Lisa Mason Ziegler, author of Cool Flowers, and Erin Benzakein, of Floret. "Lisa's book was the very first flower farming book I read, so my first season was all cool-season annuals. We planted them close to Thanksgiving. When we had a hard frost we covered everything with plastic, and they all survived. We try to direct-sow as much as possible." Katie also took Floret's online workshop. "I basically follow whatever Lisa, Erin, or Johnny's tells me to do!"
In the summertime, flower harvest begins at 6:00 a.m., when temperatures are ideally under 80°F (27°C). Katie has applied for a small business grant to convert a shipping container into a cooler but for now brings flowers indoors, where the air conditioning keeps things cool until processing and design take place.
MARKETING
Flower sales fund the Nourish Foundation, so most of the revenue comes from consumer-direct subscriptions, small events and weddings, and local farmers market sales. There are also ways for supporters to become "Bloom Buddies" by prepurchasing flower subscriptions, attending special events, and participating in other flower activities such as farm tours and workshops.
Katie occasionally sells direct to florists, especially when she has an excess flush of a specific crop. For example, when unexpected temperatures hit the 80s in February, "all of my ranunculus and anemones went crazy, so I reached out to local florists."
SUSTAINABILITY
Weed suppression
While Sunbelt black ground cover cloth is excellent for weed suppression, it does often get too hot for Nourish Blooms' warm annual crops. "We had to pull it up for warm-season annuals, so this year we're going to try mulching over the fabric to keep it cool."
Irrigation
Katie says she didn't have to irrigate at all during the 2022 growing season due to daily rainfall. "But the summer before we went a couple of weeks without rain, and my flowers began to suffer. I had questioned drip irrigation because ours tends to malfunction a lot and because we have heavy clay soil. I'm toying with the idea of overhead watering this year."
Soil
Any amendments Nourish Blooms uses are organic. This typically means ordering a truckload of mushroom compost and brewing compost tea for soil drenches and foliar spraying.
"Because of our rocky, clay soil, and our dedication to minimal till,  we prepare beds with a layer of cardboard, then a layer of some organic matter and some compost. It's almost like building a raised bed that's higher than the ground around it."
FIGURING IT OUT FOR THE SOUTH
The insights shared by five flower farms in varied climactic conditions across five southern states reveal what we've long believed about flower farmers everywhere: Growing flowers is an act of hope and persistence. These folks are intrepid and creative against so many variables outside of their control. What these conversations reveal is the need to constantly adapt, to learn from trial and error, and, most importantly, to share with others. That's the spirit we all embrace in this practice of growing flowers and bringing them to our communities, clearly revealed here. As Katie Wolter confides, "I often ask myself whether I am reaching my full potential as a flower farmer. And at the same time, what is my goal for doing this? If it's to be life-giving, to bring beauty into the world, and to give back to the environment, then I may be hitting my goals." We couldn't agree more.