Johnny's Educational

WEBINAR RESOURCES
Top-Performing Pumpkins for the Market Garden
About Our Presenters

Now in his eighth year as Vegetable Product Manager at Johnny's,
Pete Zuck
works in close collaboration with the Research and Breeding teams to select the pumpkin varieties offered by Johnny's and determine the direction of the breeding program.

As Product Technician at Johnny's
Nate Gorlin–Crenshaw
manages variety trials for a range of crops that includes pumpkins, winter squash, and cucumbers. Nate works in parallel with members of Johnny's Breeding team at the research farm in Maine.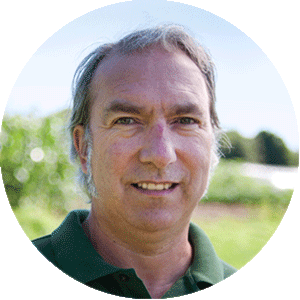 With a background in diversified market farming dating back 40 years,
Ken Fine
is a former Johnny's Commercial Sales Representative for the Northern Midwest and Great Lakes Region.
Welcome to the Resources page for our Top-Performing Pumpkin Webinar, a list of educational materials covering "how we make pumpkins here," plus comparison tools and guidance for determining which varieties will perform best for your unique needs and preferences.
OVERVIEW: Johnny's Pumpkin Product Manager Pete Zuck introduces you to his work, offering some history on Johnny's pumpkin breeding program, touching on the evolution of the pumpkin product line, and defining characteristics that make a great pumpkin stand out from all the pretty good ones.
Pete reviews Johnny's top-10 best pumpkin varieties, highlighting key features, making product comparisons, and identifying target markets, with an added dash of lore on how these varieties got where they are today in the overall assortment rationale, plus tips on matching your geographic location, market needs, and personal preferences to desirable characteristics.
The presentation is followed by a Q&A session in which Pete is joined by Product Technician Nate Gorlin–Crenshaw and former Commercial Sales Rep Ken Fine.
Top-Performing Pumpkins Webinar Resources
Additional Learning Resources about Johnny's Pumpkins